One of the exceptional privileges of attending Lutheran High Parker is the opportunity to gain practical, real-world skills in one of our six Academies: Art, Business, Lights Leadership, Music, Mission and Ministries, and STEM.
Our Business Academy gives students a hefty leg up in front of most of their peers. Before even entering their first college business class, our graduates already have valuable experience in finance, ethics, sales, marketing, entrepreneurial leadership--and now, thanks to Business Academy Director and teacher Emma Boyd, even in the stock market.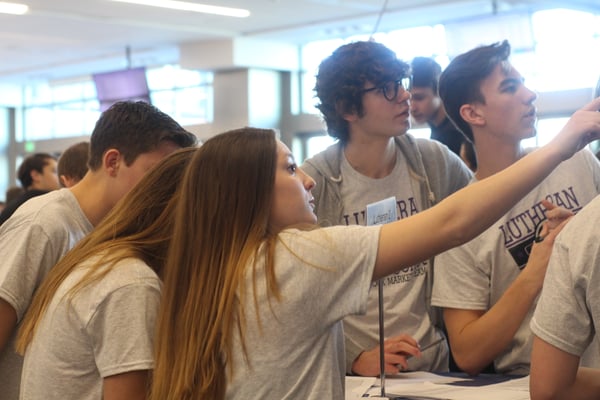 In the fall semester of 2018, Boyd led her first team competition on a stock market simulation website as a part of their investing unit in Personal Finance. Afterwards, one of the students' parents told Boyd about a mock stock exchange challenge his company, Charles Schwab in Lone Tree, hosts for local high schools. He wanted to see Lutheran High participate, too.
The Stock-Market Challenge is a free event hosted by Charles Schwab and organized by the non-profit organization Junior Achievement, which aims to prepare young people to succeed with programs dedicated to entrepreneurship, financial literacy and work readiness. Teams compete to try to build the largest portfolio by the end of the challenge.
Each team is given $500,000 to make investment decisions over two 30-minute trading sessions. Each minute represents a day, so teams have to work fast as the mock exchange occurs over two simulated months. To better make informed trading decisions, students get updates of world events and industry developments while experiencing the excitement and hustling of the trading floor.
In 2019, LuHi was able to send three teams to the challenge. This year students are still in the process of signing up for the competition, but LuHi plans to send five teams of 6-8 students, with a total participation of 38 students.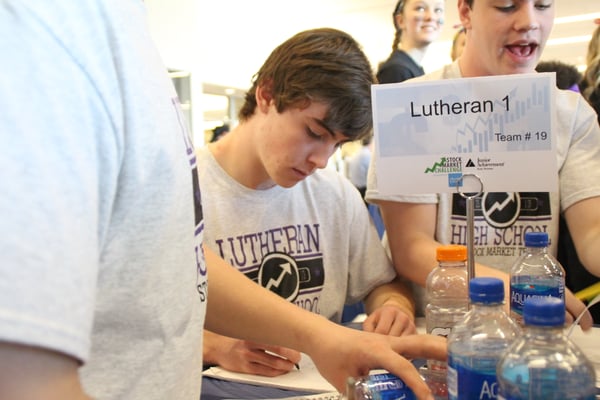 Boyd wants students to learn about the stock market while also having fun. "I would love for students to have a blast while representing LuHi (last year's teams made t-shirts)." She also wants students "to learn how to communicate and work as a team under pressure; to strategize to make quick, informed decisions; to understand stock market basics (portfolios, trading, ticker symbols, "buy low, sell high," even the ringing of the bell!); and to gain an appreciation for how global events affect businesses and industries."
Boyd has been providing business leadership at LuHi since 2018. In addition to directing the Business Academy, she also teaches Business Studies, Accounting, Sales & Marketing, Personal Finance, and a technical course called Digital Productivity.
Click here to learn more about or apply for the Business Academy.