Daniel Vanderhyde is one of LuHi's exceptionally talented teachers. He leads the AP Calculus and Theology III classes and has been in ministry at LuHi for nine years. Dive into our interview with him to learn how his faith in Christ informs and enlightens his teaching.
What led you to become a Lutheran school teacher?
My parents were teachers and I always looked up to what they did. I had some great teachers in elementary school and at Lutheran High, and some of them encouraged me to consider teaching.
What is your favorite thing about teaching at LuHi?
It's a huge blessing to be part of this community. I have wonderful friends and mentors that I see every day who encourage and challenge me in my faith. I have fantastic students who are willing to learn and be challenged. None of us are perfect. We have problems like everyone else, but LuHi is a place where God's Word is clearly taught and embraced, and so even our problems can point us to Christ. What a great place to get to work!
As a math teacher, how do you incorporate faith into your classroom?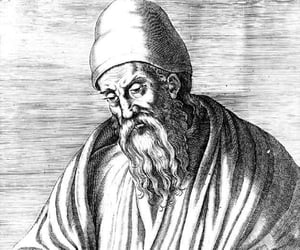 1. I believe mathematics is beautiful. Each day we get to follow the paths of some of the greatest explorers of all time - Euclid, Newton, Gauss, and countless others. These great thinkers did not invent the mathematical truths that we study; they discovered them. On the first day of class I share these quotes with my math students:
"I seem to have been only like a boy playing on the seashore... while the vast ocean of truth lay undiscovered before me." - Isaac Newton
"The universe cannot be read until we have learned the language... it is written in mathematical language." - Galileo Galilei
Two things are amazing here: first, that the universe is governed by logically ordered laws (which only appear more complex and amazing as our understanding of them grows), and second, that our own minds are governed by reason and logic that can have the ability to comprehend the laws of the universe. This is a powerful argument for a Creator. Random chance and chaos do not produce reason, logic, and order in the universe or in our own minds. I love sharing with my students that our ability to speak and reason sets us apart from all other living things. We are made in the image of God. Without our reason, we would not be able to do mathematics.
2. In my class we define math as "the language of problem-solving." Why study this? There are three good reasons: (1) Life is full of problems, so practicing problem-solving is always a good thing to do. (2) The specific skills and concepts we teach in our high school math courses prepare a student to be able to pursue any field or career they want. These courses are about opening the doors to various opportunities in college and beyond. (3) Problem-solving is ultimately a skill we will use to love the people in our lives. Our families and our jobs will bring to us a long list of people with problems. God calls us to use our skills to work on those problems out of thanksgiving that our ultimate problem - the problem of sin - has been dealt with.
"For the wages of sin is death, but the gift of God is eternal life in Christ Jesus our Lord" (Romans 6:23).
How does your faith inform the concepts you teach?
The concepts we learn in mathematics can be learned just as well by an atheist. You don't have to be Christian to understand mathematics, but acknowledging the Creator allows a person to appreciate our logical, mathematical universe. I try to approach the concepts we study in my math classes with a sense of wonder and acknowledgement of the beauty of God's design. Studying concepts that involve infinity is always fun. As a class we can marvel at the fact that our minds can apply logic to something that is so foreign to our experience, and come out with solutions that apply directly to the world of physics that we do experience.
What has been an important Scripture to you as a teacher?
As a teacher it's easy to fall into measuring my worth according to how I compare with other teachers or how smoothly my lessons go. There are always temptations toward pride on the one hand, and despair on the other. Psalm 62:5-6 is a good reminder for me: "Find rest, O my soul, in God alone; my salvation comes from him. He alone is my rock and my salvation; he is my fortress, I will never be shaken."
What words of wisdom do you have to share with LuHi students?
Read God's Word and be an active member at your church. High School is a time to wrestle with big questions of life and faith, and you want to be part of a strong Christian community while you're doing that. LuHi is a great place, but don't rely on chapel and Theology class as your only sources of God's Word and truth. Be plugged into a church. When you go to college, stay plugged in! Don't starve yourself of God's Word.
Thank you for sharing your wisdom, Mr. Vanderhyde! LuHi is grateful for your passion to teaching students why they learn and how faith and math transform every part of their lives. May God continue to bless your ministry to our school.