You know her as our British Literature and Public Speaking teacher, but did you realize Mrs. Hoener played a significant role in the founding of our Parker campus? She also enjoys reading (especially historical fiction mysteries), gardening, traveling, photography, and spending time with her family. Read on to learn more about one of our beloved teachers!
Mrs. Hoener grew up on a small farm in southern Nebraska with five siblings. Teaching always called to her. "I've just always known I'd be a teacher," she says. "However, it really solidified for me when I was in about 4th grade. That year we had a teacher who didn't care much about the students. I became determined to be a much better teacher than she was. I haven't looked back since."
She certainly hasn't! Mrs. Hoener has taught in an array of classrooms, including a small Lutheran school in Galveston,Texas; an adolescent psychiatric unit at the University of Texas Medical Branch in Galveston; an alternative school in Houston; and an international school on Spain's northern coast. But even with all her varied experiences, Mrs. Hoener always knew that someday she wanted to teach at Lutheran High in Denver.
Her goal was realized in 1994 when she accepted the position of English department chair and moved to Denver, where she also met her husband John. "He has been my biggest supporter and has endured my many long hours of grading essays and speeches," says Mrs. Hoener.
She taught at the Denver campus until 1999, at which time she was invited into an exciting new venture. "I was given the opportunity to lay the groundwork for a new campus in Parker," she says. "This included securing a temporary site where classes could begin, introducing LuHi to the Parker community, raising funds for the new campus, and recruiting students. After the temporary site opened in the fall of 2000, I continued to work on raising funds for the permanent campus (where the school now resides) until 2003."
At that point Mrs. Hoener focused on her role of "Mom" to son Joshua and daughter Christina, and she rejoined the LuHi teaching staff in 2014.
Mrs. Hoener says one of the gifts of teaching at LuHi is to have open conversations about faith as it relates to literature and public speaking. "So much of the history of the Church is reflected in literature. In British Literature we explore the context of a work, and often that context is related to religious beliefs of the time. Literature is filled with Biblical allusions, so we analyze how that allusion fits into that particular passage of literature."
She continues, "In Public Speaking, students sometimes choose complex, moral topics for their informative or persuasive speeches. In their speeches and in discussions after them, our Christian faith is sometimes challenged and often solidified. The freedom to have these types of discussions in all my classes is a true blessing."
Mrs. Hoener has many fond memories from her time at LuHi, including camaraderie with the amazing staff on and off campus, and fun with the Homecoming and Sadie's week competitions. (And she apologizes for getting Tommy out when she played on the staff dodgeball team.)
But there are two memories that top them all. "When my son was barely one-year old, he donned a hard hat and with a little shovel participated in the groundbreaking ceremony for this campus. He was so little I had to help hold him up during the ceremony. Last year I had the privilege of handing him his diploma (along with a big hug) as he walked across the stage at graduation. I look forward to doing the same at my daughter's graduation this year!"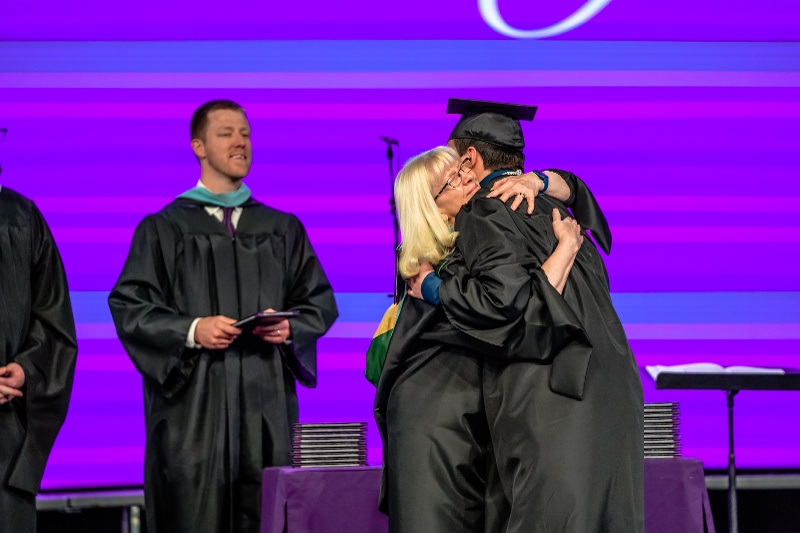 To close, Mrs. Hoener gives students a word of encouragement. "Keep your mind and heart open to where God wants to lead you. He has some amazing things planned for you! Trust Him, especially when where He is leading you doesn't seem to make sense at the time. God does not promise that life will always be easy. In fact, he says the opposite – you will have problems in this world. But stay strong in your faith and your moral convictions – you won't regret it."
Mrs. Hoener, thank you for loving our students well and for your help in establishing our campus! Lutheran High is blessed to have you as an integral part of this ministry.