The Lutheran High Community Is Thankful For...
The Lutheran High Community shares what they are thankful for this Thanksgiving.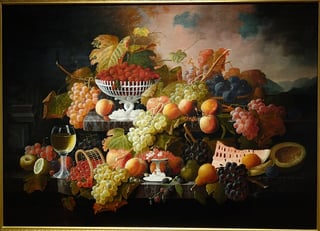 Enter his gates with thanksgiving, and his courts with praise! Give thanks to him; bless his name! - Psalm 100:4
The Lutheran High community is thankful to our Lord and Savior, Jesus Christ for the countless blessings that He continually showers on each of us. Take a look at what some of the Lutheran High faculty members are thankful for this Thanksgiving!
Thankful for the typical stuff. Family! Friends! Job!
As I've gotten older the typical stuff is still at the top of the list, however my number 1 is a Savior that shows grace and mercy and has a place reserved for me in His kingdom.
Jenny Quinlan - Theology Teacher
I'm thankful for my dog Lola, living close to my parents, and the LuHi staff & community.
Park Vogel - Social Studies Teacher
I am thankful for all of my fellow staff members at Lutheran, specifically Mrs. Davis for her enthusiastic support, Mr. Loesel and Mr. Zoeller for comic relief and of course my humble roommate Coach Stelling, the original renaissance man!! Totally incredible staff!!
Troy Stelling - Theology Teacher
I am thankful this year that both of my boys are home from College to celebrate the day with us. The house has been empty.
I am thankful for the staff, students, and families of Lutheran High School. I am so blessed to be a part of a ministry where Jesus Christ is lifted up on a daily basis. God is good.
Matthew Zoeller - Spanish Teacher
I'm thankful that so many people I heard in my younger years were so wrong about being married, having kids and getting older. Life gets better with age. I'm thankful for that all the time.
John Rinks - Development Director
I'm thankful for the warm welcome my wife and I have received from the Lutheran High School community in our first 5 months in Denver after moving here from Los Angeles.
I'm thankful for the people I work with!
Diane Hollenbeck - English Teacher
I am very grateful for my own family and my church and school families.
Matthew Buchholz - Science Teacher
I've got a couple. I'm thankful for the Royals finally winning it all, and I'm thankful for being able to work with a great faculty here at LuHi.
Paul Blomenberg - Science Teacher
I'm thankful for my loving wife, healthy son, and daughter on the way.
Daniel Vanderhyde - Math Teacher
Family, Faith, God's Word!
I'm thankful for working with the best Principal and Executive Director ever. Our whole staff is incredible, and I am so thankful to be included in this ministry!
David Black - Theology Teacher
Thankful for the certain hope we have in Christ amidst all the chaos we find in the world today.
Hannah Buchholz - Director of Admissions and Marketing
I am thankful for all the skilled cooks in my life who feed me delicious food, teach me how to grow my own, and let me in on their cooking secrets. Just a few specific names that come to mind are my husband Matt, my parents, my good friend Leah Abel, both my Grandmas, my sister in law Rachel, and my little sister Maggie.
I am also thankful that I get to work with such great people everyday. I wouldn't trade the staff at LuHi for anything. I probably don't say that enough!
Brooke Davis - Social Studies Teacher
I am especially thankful for the health of my family!