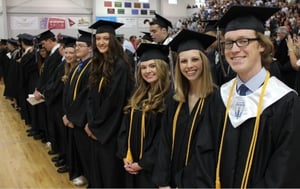 A blessing is a sending out. As when the church sends out missionaries with prayer and words of encouragement, LuHi wants to give the same gift to our graduating seniors. As Mr Stelling, our Senior Blessings Coordinator, says, "What better way to send out our senior class than with a blessing?"
Senior Blessings is a tradition that started back at the Denver Campus in 2000. It's grassroots were a chapel service led by the senior class and included a few testimonials and a student-made video. The event grew more formal due to the LuHi staff's desire to honor their students and send them off to the next chapter of life with prayer and encouragement.
Mr Ness describes Senior Blessings as a highlight of each year, "Senior Blessings at Lutheran High School has been a unique opportunity for us to celebrate our seniors, recognize outstanding achievements, and thank God for the impact the class has had on our school community. It's a time to reflect on their contributions, pray for their future, and give thanks for their time with us. We have been blessed to hear this tradition has been an encouragement to our graduating class and their families and helped set the tone for the Baccalaureate/Graduation service the same week. It's a significant highlight for staff to honor our seniors and we look forward to it every year!"
The Event
Now, 18 years later, the event is one of the most anticipated traditions for both LuHi staff and seniors. The evening begins with a short devotion that usually focuses around a bible verse picked by the Senior Class. Then, it moves into Department, Academic, and Athletic Awards.
Mr Stelling has planned and executed Senior Blessings since the consolidation of the Denver Lutheran and Parker Lutheran campuses 8 years ago. He says his favorite part of the evening is the Christian Character Awards,
"These are awards that are not Academic or Athletic focused but nominated and voted on by the staff. Each award is named after a different character in the Bible that a student resembles in actions. These are to me the most special awards of the night. Of course I believe that the top students in each academic field are worthy of recognition. But they are often given accolades. It is the Christian Character Awards that often go to students who may not feel they are recognized."
Two examples of Christian Character Awards are:
Ruth: This female student shows a great love and care for others and great loyalty to the betterment of the lives of others. "Do not urge me to turn back from following you…for where you go I will go, your people will be my people, your God shall be my God." Ruth 1:16
Peter: This student shows great improvement in understanding God's Word. "Long for the pure spiritual milk of the word, that by it you may grow in respect to salvation." 1 Peter 2:2
To make the event even more personal, each student receives handwritten notes from two staff members. The goal of these notes is to offer encouragement and remind every student they are loved and belong to the Most High.
Faculty Introductions have become a tradition inside the tradition. Each Department Head introduces the next Department Head - usually with a joke - and the "roasting" begins. "The faculty introductions show the personality of our staff - it shows how much we love each other and gets a few smiles out of the seniors."
Difference Between Baccalaureate and Senior Blessings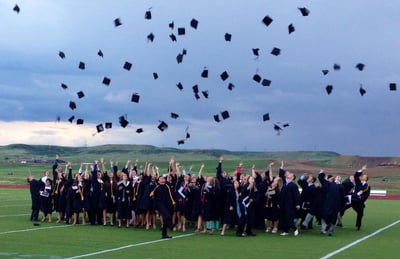 Senior Blessings doesn't take the place of a Baccalaureate service. A Baccalaureate is an worship service led by a minister. At Denver Lutheran, graduation week included Senior Blessings, Baccalaureate, and then Graduation.
Traditionally, Baccalaureate was moved from association church to association church from year to year. "For example, we might be at Bethlehem, then at Peace in Arvada, then over to Peace with Christ in Aurora. Often the service was held at the church of a pastor that had a graduating senior.
Senior Blessings is a more laid back time with students, family, and faculty. With the focus on the students and discipleship shown by faculty, where a Baccalaureate is to worship God."
One of the special aspects of Senior Blessings is that it is held off campus at a local church unlike just a normal chapel service in the LuHi gym. "I believe this may be unique to us. I believe it gives it a special meaning and setting. It sets the tone for the rest of the week's graduation events. And this year, with Graduation being on a Wednesday, it will be like a big, two-night event."
Mr Stelling - Fearless Leader
Sophomore Theology teacher, Mr Stelling, has been leading Senior Blessings for 7 years. He's a pro by now but will admit each year comes with its own set of unique circumstances. For example, with the growth of the senior class this year, Academic Letters and National Honors - which are historically presented to students as part of the evening - will be moved out of Senior Blessings and into the school-wide Awards Ceremony to help cut down the length of the event.
When asked why he chooses to lead this event every year he jokingly answers, "I don't! When the consolidation happened it was not included in the end of the year events. I had a senior graduating. I wanted him to have that experience. So, I spoke with Mr. Ness and the next thing I knew, I was finding a place and planning the event. I do believe that after the first one that Mr. Ness experienced, he was sold."
Senior Blessings is a way for LuHi to live out one of our core values - a highly relational environment - one last time. It's a final way to let the seniors know that the staff will always be there for them as they venture out into this word. "I believe this kind of encouragement pays dividends and is seen when many of our students return from college to visit with the staff."
This year's Senior Blessings will be held at Peace With Christ Lutheran Church on Tuesday, May 22nd at 7pm.