Time flies, and for prospective students (and especially their parents) the time to choose a high school can come quickly. Once the school year starts and you really ramp up your search and exploration of potential high schools for your child, your calendar is sure to fill up quickly.
This post is here to help you mark your calendar for admission events coming up in the first part of the 2019-2020 academic year. Plus, we'll offer some advice to help you navigate the process and make the best decision for your child.
LuHi Fall 2019 Admission Events
Fall is coming up quickly. Be sure to mark your calendar now for these key fall admission events: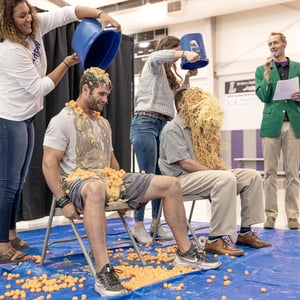 Preview Day is an excellent event for 7th and 8th grade students who want to get a "feeling" for high school life. During this jam-packed day of activities, students and their parents will take a look at the academic, art, and athletic departments at LuHi.
Students and their families will start with lunch to fuel up before the activities begin. We join in Opening Praise, led by our Worship Class. Then, students will break into groups so that they can navigate LuHi and learn about each core area.
While your child is exploring LuHi, you'll have an opportunity to ask questions and learn more from our Executive Director. The day ends with games and prizes, focusing on fun so that prospective students can relax, have fun, and meet their future classmates.
This evening event provides another opportunity to explore the campus, academics, and activities that encompass life at LuHi. Families will have an opportunity to meet and ask questions of Executive Director, Dan Gehrke, talk to teachers about their subjects, teaching styles, and curricula, and more.
Open House is a fantastic opportunity to immerse yourself in LuHi culture and get a feeling for what it's like to be a part of our family. Everyone is welcome at Open House - no RSVP needed (although they are always appreciated to help us plan for your arrival). Whether your child is in 4th grade, 8th grade, or anywhere in between, you are welcome to join us and learn more about life at LuHi!
Adhering to the required curriculum is important, but students at LuHi are also encouraged to pursue their passions. Whether it's math or science, history or technology, we are committed to helping your child explore and nurture that passion.
Our Spotlight on Academies event digs into our Academies to help students and their families understand how we nurture their passions in specific subjects, including:
Business
Art
Music
Mission and Ministry
Lights
STEM
Learn more from Academy Directors, and understand how participation in one of our Academies boosts your diploma upon graduation.
RSVP here.
Simplifying the Admissions Process
Whether you attend one or all of our fall events, we're here when you're ready to start the admissions process! Here's a quick walk through our process:
Schedule a tour with the Admissions Office. A personal tour ensures you have an opportunity to ask any and all questions, while visiting our campus with your own personal guide.
Schedule a shadow day. Shadow days are the best opportunity for your child to experience life at LuHi. Open to 8th grade students, we recommend scheduling a shadow day early in the school year.
Apply. Applying early "holds your place" with LuHi, even if you're not 100% sure where your child will be attending high school. Every year, our application opens on September 1st. The application is also where we can request transcripts and recommendations.
Recommendations. Your child will need three completed recommendation forms, plus transcripts, for admission. Requesting them is part of the application. Once it is submitted, forms will be emailed, then submitted directly back to the Admissions Office.
Sign up for a Placement Test. The High School Placement Test (HSPT) is required for admission. The test is offered once a month from October to January and can be scheduled by emailing Jodi.Hoehne@lhsparker.org.
Write an original essay. Requirements and topics for the essay change each year, so check the Admissions page for the most updated specifications. Essays should be typed, and should be emailed to the Admissions office.
Ready to get started?
There is a lot of information in this post. While we hope it helps you begin the process of choosing a high school for your child, questions are definitely normal. Please feel free to contact the LuHi admissions department with any questions, to schedule a tour, or for any assistance to help you choose the right school for your child.