Get out your calendars and try not to contain your excitement for all the LuHi fun to come this fall and winter. Whether you're a parent rooting for your kids or you're a student immersing yourself in the fun, these are the days to savor!
November 11: Veterans Day Service
Each year we are blessed to be able to honor our country's veterans in a special Veterans Day Service. This hour-long service features patriotic songs from our student and faculty bands, a time to thank veterans and remember their service, and a presentation by a local veteran to share their story. All veterans are welcome to attend this service and stay for a small reception afterward.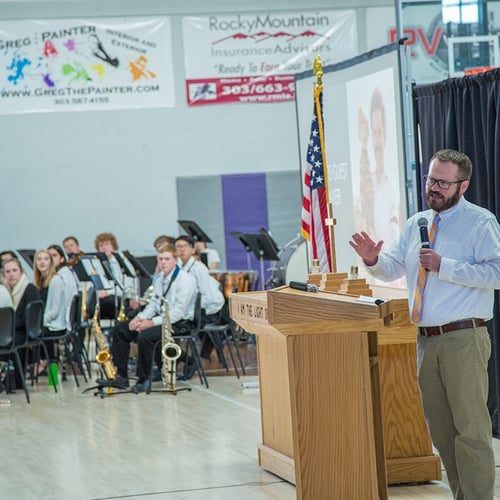 November 19: The Lutheran High School Auction
Join us for the 22nd Annual Auction on Friday, November 19th at 6:30 pm at Lutheran High! Enjoy delicious appetizers, desserts, drinks, and entertainment with friends; bid for a silent and live auction with amazing items and trip packages; and most importantly, support the wonderful ministry of LuHi! This is our main fundraiser of the year and proceeds support the Tuition Angel Fund as well as the Recruit and Retain Rockstar Teachers fund. Click here (https://www.lhsparker.org/auction) for more information and to view or donate auction items. Don't forget to invite your friends and family!
December 6 & 7: A LuHi Christmas
What's Christmas without "A LuHi Christmas"? Join us for one of our most cherished traditions performed by our talented musical ensembles. The Wind Ensemble, Bel Canto Choir, BluHi Jazz and Jubilate Choir will present their Christmas selections and the audience will get to sing along to favorite carols and Silent Night by candlelight. The concert is free, so invite your friends and family to hear the birth of Jesus told through Scripture, song, and especially the wonder of God's love.
There will be 3 performances:
December 6th, 7:30 pm at Our Father Lutheran Church
December 7th, 5:00 pm at Our Father Lutheran Church
December 7th, 7:30 pm at Our Father Lutheran Church
December 6-10: Christmas Spirit Week
Not that we want to jump ahead to worrying about finals (don't worry, it's not here yet!) but it's okay to look forward to our zany Christmas Spirit Week! Student Council comes in for the win with this fun-packed week before finals, comforting exhausted studiers with a hot cocoa station, Christmas carol serenades from the staff and a wardrobe contest for every day of the week. Will there be pajama onesies and ugly sweaters? You can bet on it!
December 13: Advent by Candlelight
This beloved tradition gives moms and daughters of Lutheran High a chance to bond together and prepare their hearts for the coming Savior. Female staff members decorate tables with a unique theme and provide delicious desserts while LuHi male staff members serve tea, coffee, and water. The elegant evening provides guests with an opportunity for fellowship, music, prayer, and an inspirational devotional message. Advent by Candlelight is a sacred way to begin the Christmas season for our LuHi community.
That wraps it up for our end-of-semester events! Check back with the blog and keep in touch on Facebook and Instagram to see student life photos, news, updates and more.