The LuHi STEM Academy is for career preparedness. The goal is that students would be better prepared and even ahead of the game for continuing their studies in their field of interest.
Our plan is for students to come out of STEM Academy already having experience through shadowing and collaborating in the field they are pursuing, as well as practical leadership and interview skills that set them apart from their peers.
Medical Track with CNA Certification
This year, we are adding a Certified Nurse Aide course to our course catalog. The CNA course is highly recommended for students pursuing the medical STEM Academy endorsement on their transcript. The Certified Nurse Aide course is to prepare and qualify students for taking the state of Colorado Board of Nursing exam to be a Nurse Aide. Upon passing the state exam, student will be able to work as a Nurse Aide in the medical field. This is a unique opportunity to get their foot in the door and a head start on pursuing additional or more advanced careers in the medical field.
Engineering Track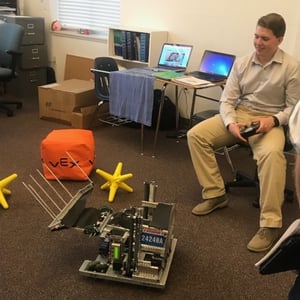 The field of engineering is quite broad. students will complete a few different shadow experiences to determine the area of greatest interest.
Participation in the Robotics Club or Cyber Security Club is an excellent opportunity for students who are interested in programming and mechanical engineering. Other opportunities for students will include shadow experiences, collaboration, leadership training, mentorship, etc.
STEM Academy Graduation Requirements
Students are expected to complete specific requirements to graduate with a STEM Academy Endorsement on transcripts, including:
4.5 credits of math
4.5 credits of science
a capstone project
collaborative community experiences
a mentor program with a professional in the field
quarterly leadership and job preparation training sessions that include interview practice, resume building, presentation skills and a Strengths Quest analysis.
Science Coursework
STEM Academy is designed with flexibility in mind, to fit the passion of the student.
In order to receive STEM endorsement, 4.5 credits of math and 4.5 credits of science are required. Those requirements will look different for each student as a variety of course selections are offered to fulfill them. For example: students who are interested in the medical field will take the general science courses including Micro and Macro-biology, General Chemistry, Inorganic Chemistry, and Physics courses. In addition to these courses, they can take Anatomy and Physiology, Organic Chemistry, and the nurse aide certification course. Taking these courses will provide them a strong foundation in the material covered as a pre-med student.
Likewise, students who are interested in engineering will have the same general course work, but may choose electives based on their desired emphasis. Some course options include: Astrophysics, Computer Networking & Hardware, Computer Science & Programming, Pre-Engineering, Web Design. If a student is looking for coursework beyond what is offered on campus, they can be connected with universities to find courses that fit their objectives. The purpose of coursework is to provide opportunities to become well-versed in the specific area of the STEM fields and select courses that fit their goals.
Shadowing and Mentorship Program
Community-collaboration is an essential part of the STEM Academy. Students will be set up with a mentor in the professional field, as well as within the school.
Students will shadow at least three people who are working in the career field they think they may be interested in. They will then complete an internship working alongside or for someone working within their career field.
Capstone Project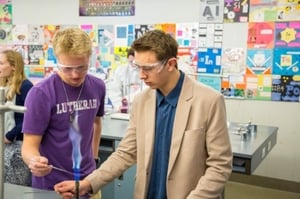 STEM students have the freedom to pursue their specific passions in their capstone project. This project is research intensive and will be presented to the community in May.
Previous graduates have completed research projects in their area of interest. One academy member interested in drones sought to develop possible prototypes that could be used for search and rescue purposes. Another member was interested in Robotics developed, built, and programmed a robot to compete in robotic competitions.
STEM Academy Director
Savanna Rogness is our new STEM Academy Director. She is excited about students getting to discover the possibilities of jobs they may be interested in. "I love that STEM allows for students to explore different positions and types of jobs. It's invaluable that students have an avenue to develop relationships with people who work in a field they might be interested in to be mentored. I enjoy walking alongside students as they are challenged academically in a subject area they love, explore possibilities for their passions, are poured into by professionals in their field, and develop skills that will set them apart."