What does it mean to attend a private school?
If trying to figure out the differences between public, charter, and private school options confuses you, then this article is for you.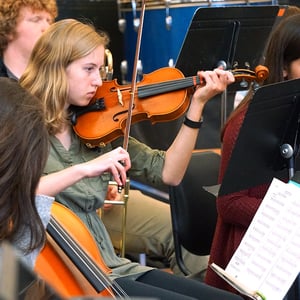 As your students prepare to start the next four years of their secondary education, you're likely weighing your options of which place will best prepare him or her for college and beyond.
If your child has attended a public school from K through 8th grade and you're considering private school for 9th through 12th, there is a lot to consider. Before even weighing specific schools, there is the task of really understanding the differences between a private school and public schools. Aligning your expectations with the realities of private education can help you make the best choice for your child.
Let's examine some key differences:
Cost
The biggest difference most parents notice between private and public schools is funding. In most cases, public schools are funded by...well, the public. School tax dollars pay for a majority of the education costs these schools (and students/parents) incur.
Private schools are typically funded by tuition payments, fundraisers/donations, and endowments. Almost all private schools in the United States hold "nonprofit" status, which means their primary focus is on students and providing a quality education.
While private schools do require a tuition investment from families, many schools (including Lutheran High) offer tuition assistance and scholarship programs to help families afford a private education for their children.
Programming
Public school curricula is defined rigidly by state laws. While private schools still adhere to state requirements in core areas, they have flexibility in the coursework they offer to students. Parents who choose a private education for their children for stronger academic support and performance should be sure to look for an accredited private school. Accreditation is only bestowed upon schools that meet stringent requirements, so you know that your child's school is held to a high standard.
Flexibility in this area allows schools to provide a range of options for students to explore and define their interests and passions. Testing out new areas of study in high school is an excellent way to prepare for college – and also to help students solidify their desired academic paths in college.
LuHi embraces this flexibility wholeheartedly. Our Academies allow students to build personalized curricula in order to pursue their interests and passions, while still completing required state coursework. Upon completion, students receive an "endorsement" on their diploma for their fields of study.
While our Academies provide a unique opportunity for students who choose to pursue those paths, many of our students elect our standard curriculum. LuHi has designed our academic curriculum to allow teachers to maximize their abilities and make a dynamic learning environment for students. During English classes, for example, students read novels, poems, and short stories and eschew traditional textbooks. The Science department is at the forefront of innovation, working from the latest journals and scientific advancements in the news instead of quickly-outdated textbooks.
Understanding Charter schools
In essence, Charter schools are "public schools of choice." Rather than sending your child to the closest school in your district, you can choose for him/her to attend a Charter school. While students must apply, Charter schools do not require entrance exams like most private schools. Charter schools are legally required to accept all students who apply. When demand exceeds capacity, a lottery system is often used. This can sometimes mean that enthusiastic students (and their parents) are turned away.
Charter schools do not charge tuition and are funded through government programs. While private schools are operated by a carefully chosen board, Charter schools are typically operated by a group of parents, teachers, or community members.
Due to their status as public schools, Charter schools lack much of the autonomy possessed by private schools.
The LuHi difference
Since 1955, Lutheran High has dedicated itself to providing an exemplary education for our students. Our robust academic programming includes the aforementioned academies, plus college-level coursework, extensive technology and business electives, and more. LuHi athletics include opportunities for all students to participate and gain valuable experience in teamwork, hard work, and perseverance. Students are actively involved in our arts and music programs, and our clubs, which include National Honor Society, Student Council, Robotics Club, Lions for Life, Yearbook, Cyber Security Club, and more.
Our passionate core of highly-qualified teachers and faculty nurtures tomorrow's leaders. Contact us to schedule a tour or learn more about our programming.