Teachers spend their summers laying on their couches playing Fortnite, right? Not quite. After spending about 275 days with you, their wonderful students, they need to make up for lost time! Many teachers travel, but summer is also a time to catch up on work and further their teaching skills.
Here is what some of your LuHi teachers are up to this summer.
World Travelers
Mr. Black is visiting his daughter, Stephanie, who lives and works in Europe. Stephanie, 2015 LuHi grad, teaches English and Literature at a Lutheran High School in Slovakia. Together, they will visit:
Krakow
Poland
London
Cambridge
Budapest
Hungary
Vienna
Austria
and Stephanie's home in Bratislava, Slovakia.
Some sights they will see include the Auschwitz Nazi camp, the Jewish Quarter, Schindler's Factory, the Buda Castle, Stephen's Basilica, and the House of Parliament. Stephanie lived in Cambridge for a year during college, so she's planning on showing her dad all the local sights.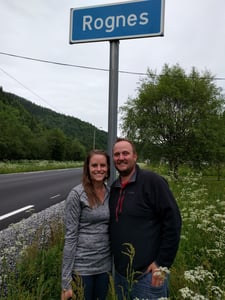 Mrs. Rogness is also headed to Europe again this summer. Last year, she and her husband visited family in Norway. This year, they are headed to Paris, Prauge, Warsaw, Geneva, and Zurich among other stops. While there, they plan to see "As You Like It" in Shakespeare's Globe Theatre, eat at the First Strudel House, and take the Grand Budapest Walking Tour.
Mrs. Han is spending 12 days with family and friends in China. Mrs. Eloe and her family are going on a mission trip to Juarez, Mexico. Mr. Kohlwey is leading a seperate mission trip to El Nino, Mexico. Mr. Schilling is headed to Columbia for the third time.
Ms. Obermueller is spending two weeks in Spain visiting her brother in Berlin and hiking the Picos de Europa. Mr. Rinks will go back to Isreal for his 10th year of working at an archaeological dig site helping to excavate the ancient city of Hazor.
America the Beautiful
Our teachers know there's plenty to see and do right here in America, too. Some places they are traveling in the States include Orlando, Maui, Kansas City, Moab, San Antonio, and Chicago.
Ms. Oates and Mrs. Davis, two of our resident Cubs fans, are headed to Los Angeles to to watch their team play the Dodgers.
Mrs. Hoener and her family are traveling to North Carolina for a family reunion. She says there will be about 100 people spanning five generations there. During past visits with family, they've explored many of the Civil War battlefields including Gettysburg, Antietam, Shiloh, and Vicksburg.
We have several avid hikers on our staff. The Vanderhyde's are planning on exploring the Grand Tetons and Yellowstone. Mr. Menges is going to knock out some more of the Colorado Trail as well as visit Bryce Canyon and Zion. Ms. Obermueller plans on hiking and camping around Mt Rainier in Washington. Mr. and Mrs. Buchholz are hiking the 211 miles of the John Muir Trail in California - Mrs. Buchholz is skeptical they will make it out alive.
Although Mr. Blomenberg can't visit any National Parks this summer (his wife is expecting their 3rd child soon!), he holds the staff record for most National Parks visited with his list topping out at 36. Here's his full spread:
Acadia
Arches
Badlands
Big Bend
Black Canyon of the Gunnison
Bryce Canyon
Canyonlands
Capitol Reef
Carlsbad Caverns
Crater Lake
Cuyahoga Valley
Glacier
Grand Canyon
Grand Tetons
Great Basin
Great Sand Dunes
Great Smoky Mountains
Guadalupe Mountains
Hot Springs
Isle Royale
Kings Canyon
Lassen Volcanic
Mammoth Cave
Mesa Verde
Petrified Forest
Redwood
Rocky Mountain
Saguaro
Sequoia
Shenandoah
Theodore Roosevelt
Voyageurs
Wind Cave
Yellowstone
Yosemite
Zion
Self Betterment
It's not all play time for teachers though. Summer is a great time for teachers to further their education, re-format their curriculum, and advance their teaching skills.
Our Art teachers use the summer to create. Mr. Allison plans to spend a lot of time in his studio. Check out the lion sculpture he's working on! Mr. Hollenbeck is participating in the first Trinidad Chalk Art Festival organized by former DLHS student Ily Ryling. He's also a featured artist at the Denver Chalk Art Festival on Larimer Square - be sure to go check out his work!
Ms. Noffze is finishing her Christian Counseling Certification program this summer. Mr. Loesel will graduate from CU Boulder with his Masters of Music Education. Ms. Webb is the music director at the Rocky Mountain Theater for Kids in Boulder. She's also playing with the National Repertory Orchestra in Breckenridge. Ms. Oates plans on re-working the Women's Christian Decisions curriculum and prepping for another successful volleyball season. All our coaches plan to spend almost every Monday-Thursday morning with their players in the weight room this summer.
Last but not least, with over 18 books on his summer reading list, Mr. Zoeller shares that, "Armed with my library card, welcome to my most ambitious summer ever as far as book-reading, fathering, and weed-pulling. Bring it on, July!"