Why Technology in the Classroom is More Important Than Ever Right Now
With advances in our technology, LuHi students are able to choose in person learning or an online option this school year.
At Lutheran High, we have welcomed our students and staff back to campus for the Fall 2020 semester. We have made numerous adjustments to create an inclusive environment that is accessible to our families whose students may not be ready or able to attend in-person classes. Whether living in a multi-generational household, or having regular contact with someone who is immuno-compromised, we have prepared resources for all students to continue their education seamlessly.
The world of distance learning has made leaps and bounds in recent months as COVID-19 has turned the education system upside down. Our tech-savvy students and teachers were ahead of the curve on this change, though! Having used Canvas, Google Suite applications, and numerous other web-based tools for quite some time, we all felt pretty prepared for the path we needed to walk. With the world headed for a more remote work life, we believe strongly in bringing technology into the classroom.
Technology in Our Classrooms
Our LuHi families are very well equipped to provide support to one another through Canvas, a Learning Management System accessed online. Students can turn in assignments, take quizzes, access the syllabus, and communicate effectively with teachers. They can also manage all class responsibilities through a synced calendar. In line with how the job market is structured and how it operates, these are invaluable skills.
Parents also have access to view their student's progress, completed or incomplete assignments, and utilize a calendar to help their teen stay on track. The accessibility that these tools provide is critical for fostering parental involvement, an imperative piece of a child's academic success. Of course, more challenges were presented in the face of COVID-19 and we feel that our LuHi families stepped up to handle those without missing a beat.
With pride, we watched our students and teachers master the world of Zoom to complete the Spring semester. We knew we needed a more long term solution to accommodate the different situations our LuHi families represented. So, each of our classrooms is now equipped with a television screen and webcam so that students can "Zoom-in" from home if they are not able to attend in person. They will be able to see the room just as if they were sitting at a desk. Their image will appear on the screen as well.
Teachers are able to communicate as easily with students on Zoom as they do with students sitting in their classroom. The importance of equipping our classrooms with the necessary technology to include all students in class has been apparent. We strive to create a blended learning environment where every student feels present.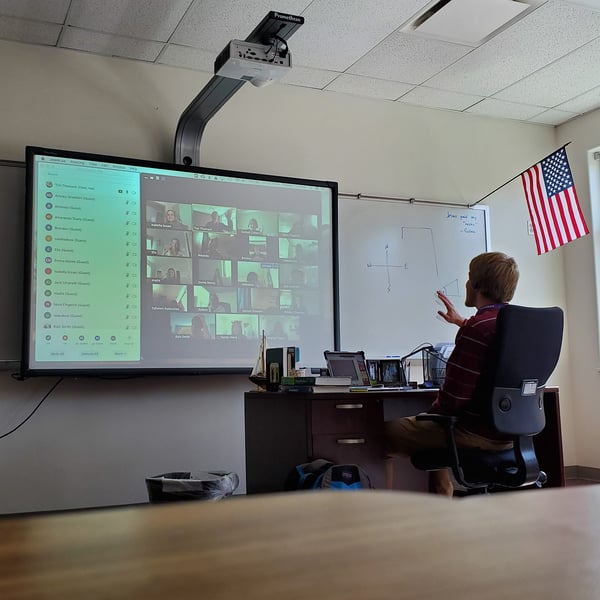 Additional Tech Tools for Teens
We covered a little bit about Canvas and its practical uses for managing schoolwork. There is no doubt that a plethora of online applications exist for things like time management, photo editing, group projects organization, and even limiting distractions. Here are a few that we've looked into so that you don't have to - who has time for that?
G Suite for Students
Google is pretty good at web applications and this set is no exception. Students can create, manage, share, and collaborate on a multitude of projects. Using Drive for storage, everything is connected.
We already covered Canvas - this is a different one. Canva is a great tool for designing and creating any kind of visual content you could think of. It has a wonderful collaborative set up perfect for virtual group work.
This is a fun app that allows you to study through games and flashcards. After you input the study set, it allows you to quiz yourself right on your phone.
A collection of step-by-step explanations of academic concepts, with visuals, Khan Academy is sort of like an educational YouTube. It's online video curriculum offers instructions, articles, quizzes, practice exercises, coaching/teaching tools, badges and proficiency marks. Students can pause and resume as needed to learn at their own pace. It's a great research and study tool.
Designed to prepare students for the ACT and SAT, this program will adjust to help them in the areas they need it the most. Practice questions and flashcards give them a sense of what the tests will be like. This is a great supplement to the SAT and ACT test prep all LuHi juniors get!
A self-described social learning platform for students, educators, and families, this application offers a fun way to discuss any topic with their community. They simply create a topic, share the link, and wait for friends, relatives, or teachers to add their own video. This is an especially meaningful tool as we find some of our students staying home during the pandemic.
This ePortfolio tools integrates into Canvas. All LuHi students will have access to a Portfolium account and this year it will primarily be used by Academy students. This tool follows students out of high school and can be used in college and into their careers.
Supporting Your Student
It may seem a bit daunting to face all of the technology that our kids now have access to - it can be downright intimidating! Be assured that you will not be left in the dark. Perhaps the best thing about all of the technology that we're welcoming into the classroom is that you can be involved too. You've learned Canvas just fine, so we know you'll learn these other systems as well. Find out how to set alerts and receive notifications and soon you will be just as savvy as those teens! Of course, reach out to our teachers if you need any help, they are becoming experts on all of these great tools and can certainly guide you as well.
Among the many things we've learned as a community over the past year, the importance of technology and remote work in the real world was a big one. As the nation slowed to a near halt and working from home became the norm, web based collaboration and communication tools were brought to the forefront. This seems to be the way the workforce is headed and we know that our students will be better prepared to make an eternal and positive impact on their world.