Why the Arts are Important in Christian Schools
Art is so important to a student's development. Learn how LuHi encourages participation in the Arts - including music, theatre, and fine arts.
It is pretty self-evident what a central theme the arts are to our lives when we consider the very first words of the Bible. Genesis 1:1 says "In the beginning, God created heaven and the earth." Our ultimate creator, God gave life and representation to every creature on earth. He is a magnificent artist and because we live in His image, we are all creators as well. At Lutheran High School, we have developed a high-quality arts program to help students flourish while bringing glory to God through their talents.
Fine Arts in Scripture
There are references to the arts throughout scripture, pointing to the importance of creativity and artistic endeavors in God's eyes. Chronicles chapter 2 speaks of Solomon's plans to build a beautiful house for worshiping God. Verse 14 tells of a man "...skillful to work in gold, and in silver, in brass, in iron, in stone, and in timber, in purple, in blue, and in fine linen, and in crimson; also to grave any manner of graving, and to find out every device which shall be put to him, with thy cunning men, and with the cunning men of my lord David thy father."
Such fine gifts of craftsmanship were given to this man, who will help Solomon build his temple, by God. We know that a man like this will have honed his talents over time as Ecclesiastes 3:11 teaches us: He has made everything beautiful in its time. Thus we know that, though we may be born with natural talents and abilities, we must work to develop them into the kind of artistic expression that will bring glory to God.
How the Arts Help Students Flourish
We know that the inclusion of the arts in our student's education is a wonderful way to cultivate and strengthen their relationship with Jesus. Through the creation and expression of their own chosen art form, LuHi students are able to see God's word and intention for their lives very clearly.
What's more, participation in fine arts programs helps kids build self-esteem, improve emotional expression, increase motivation, and broaden cultural exposure. There is no shortage of studies that show the benefits of a fine arts program. Creativity, patience, diligence, and experience with teamwork are some examples. These skills all transfer to academics, and that helps students truly flourish at Lutheran High.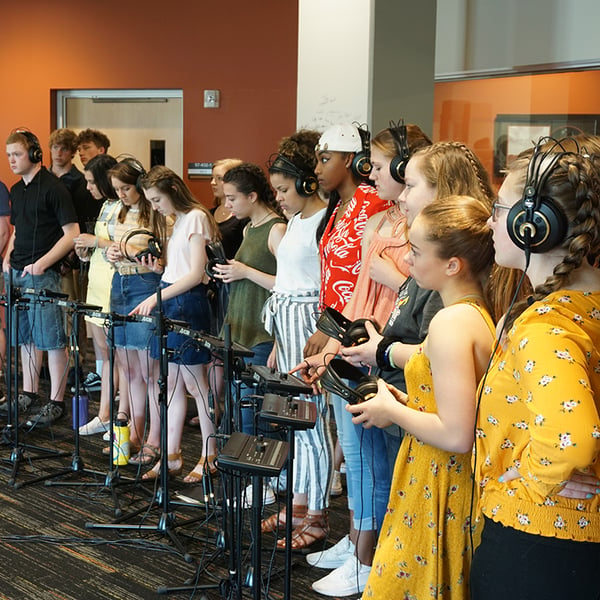 Encouragement of Passions
High school is a time of great discovery for many teenagers. They are beginning to see the world with more maturity and practicality than ever before. Whether they have already been involved in the arts, or they are just learning about the opportunities, we are committed to encouraging the passions they develop. We are also enthusiastic about showing students how their relationship with God can grow stronger and deeper through artistic expression. We believe that these experiences will guide them on their journey through high school and beyond.
Fine Arts at LuHi
Lutheran High School's fine arts program includes a wide variety of classes for students to explore. From ceramics, computer graphics, and printmaking, to drawing, painting and photography, there are many options. Art Academy is designed for students who wish to pursue a career using their God given artistic talents. They will develop a top notch portfolio that is geared toward an art major in college.
Performance arts at LuHi include music, theater, and Music Academy. With a new space in which to learn, prepare, and rehearse, our music program exists to perform music at the highest level possible.
There are multiple choirs and band ensembles available for students to join, and each performs at LuHi, as well as in the community. The theater department has a rich history of performing a wide variety of plays, musicals and more. From comedies to dramas and classical to contemporary productions, participating students receive a well-rounded theater experience.
By offering many outlets for creative exploration and expression of the arts, Lutheran High students gain a multitude of practical skills. Beyond that, they find great support in developing their own unique passions and talents. As God is our Creator, so we continue to create, bringing him glory as we do so. Our mission in the LuHi Arts Department is to prepare students to have the confidence, knowledge, and tools to find the courage to be creative. The benefits thereafter are profound.