For it is by grace you have been saved, through faith - and this is not from yourselves, it is the gift of God - not by works, so that no one can boast. – Ephesians 2:8-9
There is great value in volunteering our time to help others in need. Not only are we glorifying God with acts of service for our fellow man, but we are also building skills and character by getting involved. Especially important is volunteering as a high school student since you may have more time now than you ever will. You are also poised to enter the next stage of your life and building valuable skills (and that resume!) is critical.
In this article we'll talk all about the different ways to volunteer, what that impact will be, and how you will grow from these experiences. Lastly, we'll explore a little bit about Lutheran High School's "Saved to Serve" program that offers a multitude of service opportunities.
How is the Community Served?
There are some obvious answers to this question, and some not so easily seen. If you are volunteering for a neighborhood cleanup, the community will benefit from your clearing trash, doing some yard work, or maybe painting areas that are in need. But there are also some more nuanced ways in which communities can benefit from the service of others. Let's explore those.
1) Deeper Connections
Volunteering at places like nursing homes, hospitals, or hospice care facilities can bring a sense of connection to the community for people who are suffering physically, emotionally, and even spiritually. Reminding these oft forgotten populations that they are loved as God's children can go such an incredibly long way in reconnecting them to the world. Similarly, guiding younger children at a Vacation Bible School is a great way to lead by example and show them the way. Even setting up for or working various events for non-profit organizations can deepen your connection to others in the community.
2) Foster Hope
There are so many among us, especially in such uncertain times, who have begun to lose hope. Something as simple as a letter can brighten someone's day and remind them that they are not alone. Think of our brothers and sisters, away from home, serving our country in the armed forces. Charities like AdoptaPlatoon facilitate letter writing and delivery of care packages to deployed troops. These packages and kind words can truly stave off loneliness and desperation for someone who faces a dark reality every day.
And, think of how impactful a personal visit can be to a community that relies on aid for daily survival. Mission trips are a wonderful way to bring love and hope (as well as very practical and necessary help) to groups who are in great need. Whether you are able to go on the trip yourself, or if you can help get teams prepared for their mission, there is alway important work to be done in this area.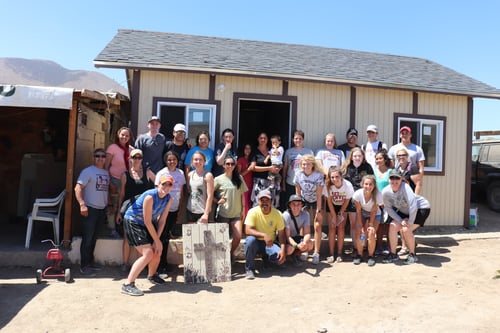 3) Better Equipped
Aside from the emotional and spiritual benefits of volunteering, there are also very tangible effects. Clothing donations may not be time related, but can provide men, women, and children with appropriate attire for all seasons - something that can be the difference in someone's survival. Sweet Dream in a Bag provides new bedding sets for children who have often never had sheets of their own. These kids are usually in transitional housing, like a foster home or group home, and have very few personal possessions. The bedding package is something they can call their own and can take with them, wherever they go. Equipping the community with what they need extends into the world of hunger. Food banks and pantries are most often run entirely by volunteers and serve thousands of community members every month. The Parker Task Force Food Bank provides perishable and non-perishable foods, emergency assistance, and referrals to other agencies. They also provide each visitor with a robust resource guide that will help them find any type of service they need, the ultimate in equipping community members with the tools they need to get back on their feet.
How are you Served?
The wonderful thing about volunteering your time for a worthy cause is that it's mutually beneficial. You are helping people in immeasurable ways, but you are also gaining so much as you experience the gift of giving.
1) Develop Skills
You may be working on a project that teaches you some very practical and hands-on skills, like building a house, or planting a garden, or repairing a leaky roof. Maybe you are learning to operate some piece of machinery or a special vehicle. All of these things are valuable, but think of the more subtle skills you will develop. Teamwork is very often a hallmark of volunteer work and you may even be called upon to lead your team. Whether this is natural for you or not, you will hone your leadership skills as you lend a hand in almost any volunteer situation.
2) Sense of Responsibility
Through volunteer work, we are constantly reminded of our responsibility to serve others. Matthew 10:8 says "...You received without paying; give without pay." The more that we engage in volunteering our time without any expectation of remuneration, the more we will embody this sentiment. It is healthy to really feel that sense of responsibility toward lifting others up in times of need. Not only does our service truly help others, we can also develop sincere compassion, love, and kindness for everyone.
3) Confidence & Connections
When you step outside your comfort zone and challenge yourself, you will be amazed at all of the positive impacts it will have on you. Your confidence will grow as you learn and accomplish things in service to others. And you are sure to meet others that you may never have encountered, had you not chosen the path of giving. Oftentimes, groups from different schools or churches join together for mission trips. People from all walks of life will show up to volunteer events because the call to serve is bigger than any one status, race, religion, or affiliation. What better way to connect with someone than a well intentioned day of serving others?
4) Build Compassion & Respect for Others
If you find yourself resistant to this experience of serving others, that's ok. But pay attention to that feeling and consider that THAT is why you need to jump in. We are often scared of what we do not understand and these opportunities for volunteering can help you overcome that fear. As you learn about the communities you will serve, and as you begin to do the work, you will find that you build compassion for others. Being of service to others truly fosters respect and love for those you serve. Keep an open mind and you never know what you might learn!
5) Yes, Volunteering Looks Good on a Resume
Though we do not encourage this to be your main motivation in serving others through volunteer work, service hours will reflect positively on college and employment applications. There are even college scholarships out there for high school students who contribute a great deal of time and effort to volunteering in service of the Lord. You should be proud of all you do to give back, but never lose sight of the true importance of the work you do.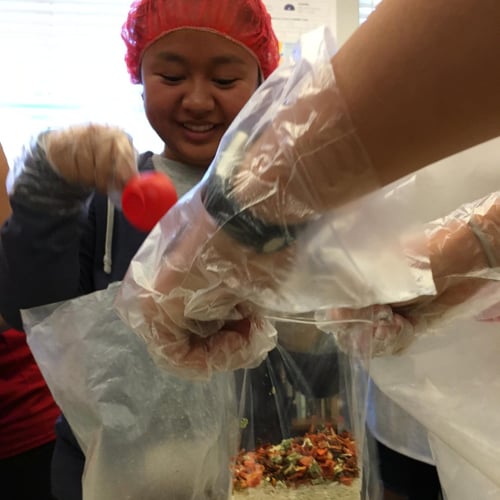 Saved to Serve
This program is our response to the saving grace of Jesus Christ. 2 Corinthians 5: 14-15 says "For Christ's love compels us, because we are convinced that one died for all, and therefore all died. And he died for all, that those who live should no longer live for themselves but for him who died for them and was raised again."
By serving others, we bring glory to God. Built into student life at Lutheran High are plenty of opportunities for volunteer service. In fact, we ask that all students complete 20 hours of volunteer work each school year. Our skilled leaders match each student's interests, talents, and time with appropriate organizations to fulfill that expectation. We use MobileServe to track time spent volunteering so that students can easily take their record with them when they graduate from LuHi. Please, have a look at our upcoming volunteer opportunities here and reach out with any questions.