So frequently in life, we are determined by our performances. We think getting into heaven looks like what Jack and Patrik had to go through to get into worship class. Unfortunately, some people think this is what it's going to look like in heaven: a process of weighing our deeds and trying to live up to expectations.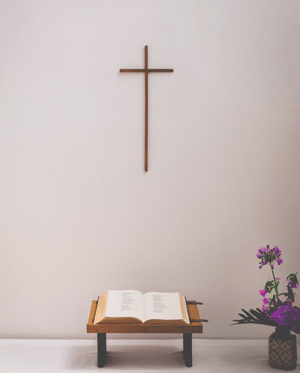 This is not how our God operates. It's not our performance that gives us our place in God's family but rather God's grace in sending His Son. Take a look at Ephesians 2: "And you were dead in the trespasses and sins in which you once walked, following the course of this world". Imagine if we did have to give an account to God. This is what we would bring - our trespasses and our sin.
We are used to a world where we have to work to earn everything: our grades, our jobs, money, relationships - all of these things have to be earned. They all require work. Our God is different. You don't have to work for your salvation. Look again at Ephesians 2, this time the second half of the chapter. "But God, being rich in mercy, because of the great love with which he loved us, even when we were dead in our trespasses, made us alive together with Christ—by grace you have been saved— and raised us up with him and seated us with him in the heavenly places in Christ Jesus."
You are a member of Christ's family. You are loved and cherished by him. Ephesians 2 goes on to say "So then you are no longer strangers and aliens, but you are fellow citizens with the saints and members of the household of God." Do you understand how wonderful that is? You are a part of his family. You are his child.
Leave today knowing that you are not determined by your performance. "For by grace you have been saved through faith. And this is not your own doing; it is the gift of God, not a result of works, so that no one may boast. For we are his workmanship, created in Christ Jesus for good works, which God prepared beforehand, that we should walk in them."