Devo: Behind the Scenes of Christmas
Today, we dive into a passage in Revelation to learn about Christmas from a different point of view. Jump into this Christmas devo!
Many of you have watched a LuHi drama performance put on by our talented theater department. But how many of you have witnessed what happens behind the scenes? Compared to what happens on stage it's not so pretty, even though it's absolutely necessary for making the actors and set and lights and music all come together to create a successful production.
Every year at Christmas, we sit in our seats and replay the scene from the Bethlehem stage 2,000 years ago. But we don't often talk about what happened behind the scene. The Book of Revelation gives us a completely different picture of Jesus' birth:
"A great sign appeared in heaven: a woman clothed with the sun, with the moon under her feet and a crown of twelve stars on her head. She was pregnant and cried out in pain as she was about to give birth. Then another sign appeared in heaven: an enormous red dragon with seven heads and ten horns and seven crowns on its heads. Its tail swept a third of the stars out of the sky and flung them to the earth. The dragon stood in front of the woman who was about to give birth, so that it might devour her child the moment he was born. She gave birth to a son, a male child, who "will rule all the nations with an iron scepter." And her child was snatched up to God and to his throne" (Revelation 12:1-5).
When was the last time you saw a red dragon in a nativity scene? It doesn't really fit with the silent night we sing about!
We've created a very serene Christmas story in our twinkly lights and cozy firesides and Christmas movies, but in truth it was a cosmic battle. Angels and demons waged war. Satan was there himself, fighting with every ounce of his lesser powers to prevent Jesus from being born into our world to be our Savior.
To be our Prince of Peace.
How are you feeling this Christmas? It's different for many of us this year as our world seems to be in shambles. It's common to feel anxious and worried. We're facing pain, fear, loneliness, insecurity, sickness, and uncertainty about the future.
These feelings can remind us that the very first Christmas wasn't peaceful, either. Mary experienced painful childbirth for the first time in a town far away from her family. She and Joseph were poor and living under Roman occupation. Satan used King Herod to try to destroy Jesus before he could even take his first steps.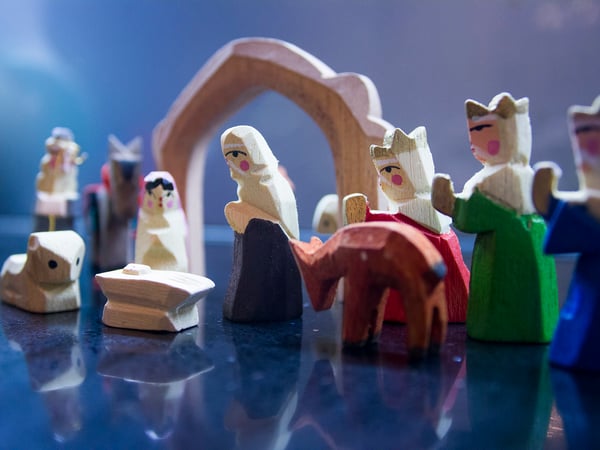 But Christmas is about victory! Satan's attempts to devour the vulnerable baby utterly failed. Jesus was still born into the manger and protected by God's angels to be God with us and to go to the cross to secure our salvation forever. Nothing can take that away. Not angels or demons or the present or the future or any power; nothing can separate us from God's love.
You may not see it clearly, but angels and demons are battling every moment while you enact the drama God has written for you. They're battling for your relationships, attitude, faith, calling, and for you, and that's why it's normal to feel afraid and to not have it together all the time. When you're facing difficult days or emotions, remember that God is still fighting hard for you behind the curtain of your life, and he's already won the greatest war.
Maybe it wouldn't be such a bad idea to put a dragon in your nativity at home this year. But if not, ask God to open your eyes to see him working behind the scenes of your life. Because God is always moving, and it will all make sense one day as you remain faithful to him.
Prayer
Prince of Peace, thank you for risking everything to come into our broken, chaotic world and to be Emmanuel, God With Us. Things aren't right just yet, and we feel that every day. But we know that you battled evil because of your unshakeable love for us. Help us to see you working in our lives. Give us peace that surpasses all understanding as we wait for you to come again and reign forever as our King. In Jesus' name we pray, amen.