How LuHi deals with social and behavior problems
Modeling good conflict resolution and holding young adults accountable are two goals we have at LuHi. This is just one way we genuinely care for students.
Our teenage years are years of turbulence and growth. As young men and women transition into adulthood, their physical and emotional changes, along with the pressures of school, can sometimes lead to social or behavioral problems. This is a normal part of getting older; however, how these mistakes or problems are handled can dramatically affect your child's emotional growth.
No high school is immune to these natural behaviors; however, here at Lutheran High, we deal with social and behavior problems in our own unique way. "Surviving high school" isn't how we do things around here. Instead, we surround students with adults who care, an environment where culture matters, and a Christian worldview that combined, we believe makes all the difference.
Effective discipline starts with a relationship.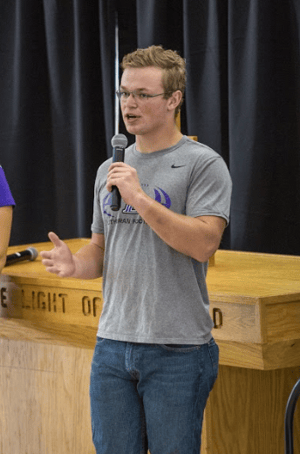 In some ways, being young is about making mistakes. Learning from them helps us grow into the strong men and women of tomorrow. For us, effective discipline starts before any mistakes are made. It begins by forming strong relationships with our students.
Every member of our faculty and staff makes a concerted effort to know every LuHi student. Since our doors opened over 50 years ago, we have strived to create an environment where teachers, staff, coaches, administration, and students are all family. We know each other's names, and genuinely care about each other. When your child joins our family, he or she will be known and understood.
Our students know this and feel this every day. So that when mistakes are made, there is a foundation of caring and trust behind any discipline.
Build a culture of love.
While at first glance this notion may seem sophomoric, we strongly believe that a foundation of love always triumphs. Since God is love, we want--and take great steps to ensure--a culture of love here at LuHi.
There are two components to our culture of love, as it pertains to discipline for social and behavior problems:
When social or behavior problems arise that merit discipline, we find that much of our discipline revolves around honoring others. Understanding how our poor choices and mistakes affect others, and being devoted to others in love while clinging to what is good and true, helps us repent sin and make amends.
When our students make mistakes and problems arise, despite a natural tendency to fear discipline, LuHi students have an innate understanding that our family is built around love, and that any necessary discipline comes from a place of love.
It is critical to understand the value of your word.
One of our goals here at LuHi is to nurture young men and women who will become impactful in their communities. Our students are taught and held to the standard that their word is vital to their effectiveness.
Our faculty and staff frequently stress the importance of ensuring a "yes" means yes and a "no" means no. Own what you say along with your actions, and adhere to your commitments without excuses.
When our students make mistakes (as all young people inevitably do), we use these opportunities to help mold them into young men and women with integrity. As such, we will give them opportunities to take ownership of mistakes. We empower them to correct any mistakes with others involved, and teach them to adjust and avoid making the same mistake again, mitigating any damage to their integrity and the value of their word.
Experience the LuHi difference for yourself.
Visit our campus and meet with members of the LuHi family to see why Lutheran High is the best choice for your son or daughter. We would be honored to welcome your child into our family! Contact us now to schedule a tour.