10 Values to Consider When Choosing a High School
We list 10 values that our families find important in a high school. These are expectations families hold us to when spending time withe their student.
Four years may not seem like a long time to you. But for high schoolers, that's a quarter of their life! Everything that happens in this time period has the potential to greatly impact their lives. Parents are wise to carefully consider the following ten values when choosing a school.
1) Character Development
Although academics are the primary purpose of education, a study by The Barna Group proves that solid character development is actually the top goal for many parents. All of us internalize the behavior we see around us, whether we realize it or not. You can memorize algebra equations from a textbook or Khan Academy, but learning to treat others with the empathy and respect that God calls us to requires an environment filled with other people living those values out themselves. At LuHi, we utilize Biblical theology, Christian staff and many other resources to instill strong integrity in our youth.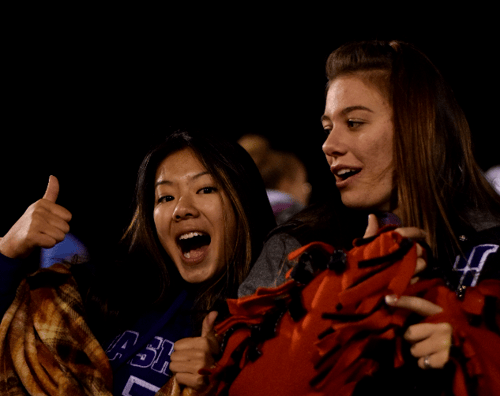 2) Commitment to Loving God and People
1 John 4:19 says, "We love because he first loved us." A high-quality education prepares students to influence the world through love in action. As Christians, the basis of this knowledge begins with our salvation in Jesus. As a result, we are committed to exemplifying love for God and each other in our classes and activities.
3) Caring Teachers
Notable researcher Brenė Brown says that vulnerability is essential in leaders. "Across the private and public sector, in schools and in our communities, we are hungry for authentic leadership – we want to show up, we want to learn, and we want to inspire and be inspired. We are hardwired for connection, curiosity, and engagement." At LuHi, teacher-student relationships are a high priority. Our smaller graduating class size makes it possible for students to be known by name and mentored. They are motivated by authentic relationships to fully participate.
4) Academic Excellence
Academic achievement is accomplished not just by teaching facts but also by giving students the skills for critical thinking, analysis, and ownership. It's one thing to just learn math formulas, but it's another thing altogether to learn how to define and apply these concepts in the actual world around us. At LuHi, students are held to high standards to help them succeed in all disciplines and electives. In addition, teachers pursue continued education in their fields so they are able to teach from the latest research.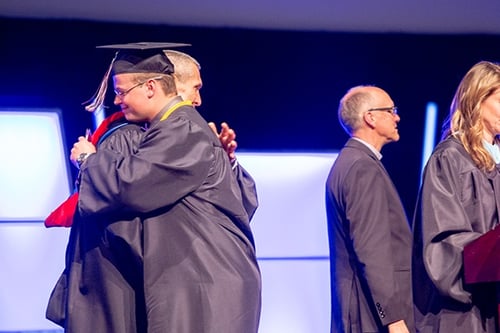 5) Chaos-Free Environment
According to the Association for Supervision and Curriculum, when students feel safe at school they are healthier, more engaged, and achieve greater success in academics. At LuHi, we strive to maintain respect for our brothers and sisters in Christ. Students are free to ask questions, disagree, and grow into the unique people they're designed to be. Our staff members maintain a strong presence and supervision in the school hallways and at after-school activities. Discipline is consistent and clear so students know exactly what the boundaries are. They thrive in the secure environment they have at LuHi.
6) Accessible Activities
We are a small community with big opportunities. LuHi offers multiple musical groups, theater, fine arts, athletics, and extracurricular clubs. With only 600 students, students can participate in many activities, rather than having to choose one or two all-consuming activities as is often the case in larger schools.
7) Positive Peer Pressure
High school students are not immune to peer pressure, regardless of which school they attend. That's why LuHi creates an environment of positive peer pressure. We develop student leaders so they can be good role models for each other and "spur one another on toward love and good deeds" (Hebrews 10:24). When issues do arise, we practice biblical conflict resolution as seen in Matthew 18. Students are taught to go to the person who hurt them and have a face to face conversation. Bringing a mediator is encouraged if the student doesn't feel like they can do it on their own. We put in the time and conversations to bring about forgiveness and resolution.
8) College Preparation
High schools that tailor education to their student's needs are more able to adequately prepare students for their specific education and career goals. LuHi has a wide selection of AP courses, dual credit college classes and six Academies that offer intensive learning in certain subjects.
9) Life Preparation
The transition into college or professionalism happens quickly after high school graduation. LuHi offers multiple classes and experiences to prepare students with practical life skills that will help them succeed in all arenas. Two classes that are particularly helpful for students are Men's Christian Decisions and Women's Christian Decisions. Students learn about health and sexuality, family leadership, and making Biblically-based life decisions in a modern world. Multiple electives such as Web Design, Personal Finance, Business Studies, Leadership, and Sales and Marketing give students professional skills they can use immediately upon graduation.
10) Community Impact
Every high school should do its part to make their local community stronger. LuHi participates in many events that unite the students to the businesses and organizations around them. For example, we are a business partner of Parker Arts and were a featured group in their "Give Local" Colorado Gives Day event on December 4th. In addition, students serve a number of nonprofit organizations through their community service hours - 20 are required for each student each year. Students, parents and staff volunteer together at our LuHi Serves events. We serve because we know we are better together.
As you consider a school for your child, think first and foremost about your child's character. Many institutions offer a good education. But if you would like your child to become a person of integrity that pursues excellence and Christian impact on the world, then Lutheran High is the place for you.