How LuHi's Core Values Prepare Students to Flourish Beyond High School
How do you define success? One goal of LuHi's core values is to set students up for their personal definition of success while being rooted in scripture.
How do I define success?
That's a question every high schooler needs to ask as they consider their future. It's easy to be short-sighted and think the only goal after your graduation is going to the college of your choice. But, life is so much more than college - after all, undergrad is only 4 years of your life.
So ask yourself, is my success going to be defined by setting specific goals and reaching them? Graduating from college? Entering into a satisfying job or career? Beginning a family?
A rewarding life encompasses not one but many things. "We like to think of student success as not just the letter-grade, but developing that whole person," says Principal David Ness. "Not just in terms of academics, but also faith, commitment to extracurricular activities, commitment to studies, and seeing school as an opportunity to learn, grow, and be in a nurturing environment and prepare for the next phase, which is adulthood."
LuHi's three core values foster that encouraging and challenging school environment so that our students can flourish in high school and beyond.
We are rooted in Holy Scripture.
The secular world is increasingly bent toward relative truth. "Follow your heart," or "You do you" are popular catchphrases that pressure teens to make decisions based on their feelings rather than unchanging truth.
God shows us a better way. Lutheran High is rooted in His Word so that your kids can come to school and hear the transformative Gospel of Jesus. When kids are reminded daily of their value in Christ, they move from making decisions based on popular culture to what their loving Father says. Your identity is not in what college you get into or how high up the corporate ladder you can get. It is in Christ!
At LuHi they're prepared with the tools to discern what is true based on Scripture. It is inevitable that they will hear opposing ideas, especially when they graduate, which is why our Theology classes teach them how to understand and apply the Bible to their lives and in context with the world. We want God's Word to leave a deep impression on our students, even if it only plants a seed for the future.
We surround our students with highly talented teachers.
LuHi's teachers are talent whisperers—experts in helping students understand their subject area. They are people of integrity; dedicated to each student's success. They teach their subject matters from a Biblical worldview and help our students do the same. Combine these dynamic ingredients with a small class size and you've got a recipe for a powerful learning experience!
Our classrooms have vigorous discussions, creative experiments and deep questions that teach students how to solve problems, not only regurgitate answers.
But it doesn't end with academia. College, career, and life readiness are very important to our teachers. We offer courses like Web Design, Personal Finance, Leadership, and Business Studies to teach marketable skills. Courses like Men's Christian Decisions and Women's Christian Decisions prepare students to live in today's world by covering timely topics that young men and women face now and later. Our teachers and coaches lead sports, arts programs, clubs, and servant events that impact our students' character development. Most importantly, our teachers are visible and available to students in and out of the classroom.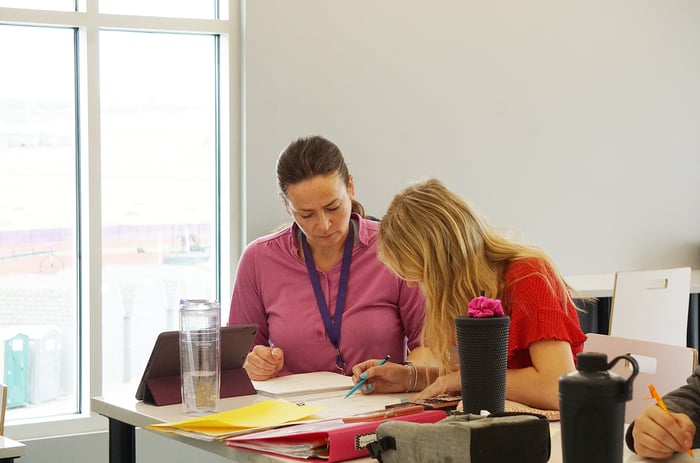 We provide a highly relational environment
How does LuHi make such a powerful impact on its students, families, community, and world? Love.
We are a family that loves because God first loved us (1 John 4:19). In a small school, our faculty has the opportunity to maintain personal relationships with students so we can check in on them—celebrate their victories, answer their questions, and help them when they're struggling. We offer several opportunities for parents to connect with other parents and to be involved, which is one of the strongest predictors of students' success in school.
Plus, our students love to have fun together! Over 90% of our student body is involved in extracurricular activities. Whether it's through conversation at the lockers or acting in a play or going on a retreat or serving in the community or multiple other ways, we love to be together. Do we always love as we should? No. But we've been forgiven much, so we use conflict as an opportunity to resolve it with grace and truth.
We're a family united in Christ, which means academics are important, but even more, we want our students to become confident, secure children of God. LuHi's three core values are a solid foundation for them. No matter where God takes them on their journeys, we give them the tools they need to flourish in their personal and professional lives.
This post was originally published in 2019, it has been updated in 2022.