Alumni Spotlight: Designer and Artist Kent Anthony Harris
Today on the blog we chat with Kent Anthony, LuHi Class of 2016, about his time as a student-athlete and his career in the fashion industry.
Today we are excited to share an interview with Class of 2016 grad Kent Anthony Harris. While he was at LuHi Kent was NHS president, a StuCo member, an Art Academy student, and part of the back-to-back-to-back State Track Championship team. Read on to see what Kent is up to these days:
Fashion and design are clearly your passion, what sparked your interest in that field?
Fashion, art, and design have always been a huge part of my identity. Creativity has been an outlet for me to express myself and has helped me find my voice. My background is rooted in fine art and through education, I was introduced to various forms of design. As I grew as an artist I begin to realize that my creative perspective did not need to be limited to one single creative discipline.
My goal is to manipulate and translate visual information utilizing a variety of mediums whether that be fine art industrial design graphic design or fashion design. While I do love the individual fields of fashion, fine art, and industrial design, I am most passionate about the overall creative process and see each discipline as a tool to achieve my vision.
Since graduating from college, can you talk a little about what a day in the life of a fashion designer looks like?
I graduated from Long Beach State with a degree in Industrial Design and currently work at Marty Moto as the Visual Communications Designer. We are a boutique luxury brand based in New York and serve an elite global clientele. At Marty Moto, I am responsible for product design, social media, communications with manufacturers, art direction, and graphic design.
I assist our Creative Director throughout the entire design process. This means my day-to-day work varies. Some days I am developing social media content and marketing strategies, other days I am sketching and creating tech packs for production, and still other days and creating mood boards and directing photoshoots.
You've participated in Paris and New York Fashion Weeks! Can you talk about those experiences?
Earlier this month, I was blessed to experience my first New York fashion week! Here in New York, designers were showing their Spring-summer 22 collections. Fashion week is one of the biggest weeks for designers. I was able to attend a few shows and this season. The highlight of the week was the Laquan Smith show. He is a brilliant African-American designer and made history by showing his incredible collection on the top of the Empire State Building. I think the best word to describe fashion week for me was surreal. Being able to build connections with designers, models, stylists, and influencers whose work I have always respected was a dream come true. I also have my own clothing line outside of Marty Moto and was able to meet a few dress influencers who wore my garments to some of the most exclusive shows and parties of the season.
Outside of New York fashion week, my work at Marty Moto has taken me to Paris and a few cities in Italy. While abroad, we worked to design our upcoming election and Met directly with manufacturers to review samples. This was incredibly fun and a huge opportunity. I learned a ton about the production side of design.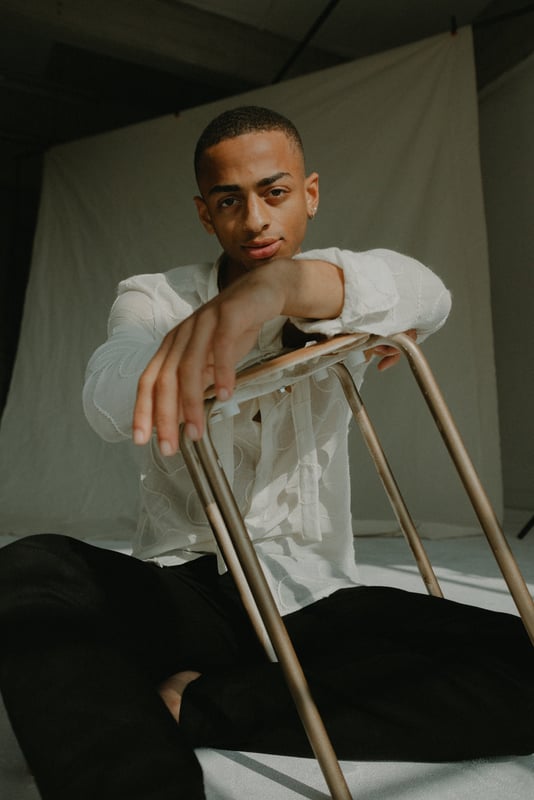 Can you talk a little about your time as a student-athlete in college? Did you have any notable experiences or face any challenges?
At Long Beach State, I was a student-athlete competing on our division one track and field team where I was a four-year team captain. I have the utmost gratitude for my incredible coaches and supporting staff at Long Beach State Athletics for mentoring me through my five years as a collegiate athlete. Going into college, I knew I wanted to pursue industrial design which was cause for some concern. Industrial design is a notoriously hard major that is incredibly time-consuming.
When I was a freshman, I had a conversation with my coach La Tanya Sheffield about my Academic and professional goals and she was willing to work with me so I did not have to compromise my academics for athletics. This resulted in many nights sleeping in the studio so I could make it to weight training in the morning and weekly one-on-one practices due classes conflicting with the team's practice schedule. College was a grind and there were many days that the workload seemed impossible, however, I had the best support system. I am very proud to be the first student-athlete at Long Beach State and one of few division one athletes in the country to be able to successfully complete an industrial design degree.
*Side note: Kent was named the Male Big West Scholar-Athlete of the Year in 2019!
Is there a particular Lutheran High teacher, coach, or staff member that has significantly impacted or influenced your life?
I owe much of my creative perspective to the incredible Mr. Hollenbeck at Lutheran High School. While in school, Mr. Hollenbeck never limited my creativity. This allowed me to experience many different creative disciplines and gave me countless opportunities. This gave me the confidence not only to pursue industrial design but to push the status quo showing that the industrial design profession is not limited to a set of products. While in college, I constantly worked to show that at its heart, industrial design is a methodology for creative problem-solving. I use a variety of mediums and brought in several outside creative disciplines including fashion to come up with unconventional solutions to traditional industrial design problems. Without the assurance that comes with being one of Mr. Hollenbeck's students, I don't think I would've had the confidence to explore my creative point of view.
How did Lutheran High prepare you for college and your future career?
I also owe a debt of gratitude to Mrs. Hollenbeck; she was instrumental in helping me grow as a leader through the National Honor Society. I was able to leverage my experiences in high school leadership and translate them both in the classroom and on the track.
As a whole Lutheran High School was an incredible experience for me. Both academically and athletically, I was able to develop the confidence to set high goals and pursue them in college and in my professional life. I am incredibly grateful for the education and the opportunities that I was provided with.
What advice would you give to current high school students?
My advice for current students at Lutheran would be to dream bigger, work harder, enjoy the ride, and know nothing is out of your reach. As a student at Lutheran, you are blessed to be in an environment where everybody is working for you to succeed. I encourage you to leverage your network and find comfort in the knowledge that nothing is unobtainable. It may not be easy but you can get it done. I also encourage current students to take a moment and understand how blessed you are to be in the environment and where you find yourself. Everyone is not provided with the same opportunities and being at Lutheran gives you a headstart on whatever you're trying to accomplish. Don't waste it. Put your head down, stay focused and work for it!
How have you seen God working in your life?
Simply put, doors have opened for me that I never thought possible. We live in a world of incredibly talented people, many of which work incredibly hard and are overqualified for the dreams they're chasing, and yet everybody does not get the same opportunities. I am incredibly blessed to be where I'm at and to be working towards my goals and that is simply a result of God working for me.
Thanks so much for your time, Kent! It was great to catch up with you. For more insights into Kent Anthony Harris' work, visit his website: https://www.kentharrisdesignandart.com/