Teacher Spotlight: Integrating Faith and History with Mr Doebele
Lutheran High History Teacher Mark Doebele is in his 17th year of teaching. He discusses how faith and history fit together in his curriculum.
Getting To Know History Teacher Mark Doebele
This month for our teacher spotlight edition we'd like you to get better acquainted with one of LuHi's outstanding history teachers. Mark Doebele currently teaches AP US History and US History. He's been living out his calling now for seventeen years, and this is his fourth year at Lutheran High School.
What led you to the teaching profession?
I didn't grow up wanting to be a teacher. While I was in college (and still not sure what I wanted to do) I had a good friend at my church say to me one day, "you'd be a good teacher.'' I chose to focus on history because of some amazing history teachers I had in high school and college. So, I tried it out and can't imagine doing anything else! I love my job, and I love LuHi!
What is your favorite memory from your time at LuHi?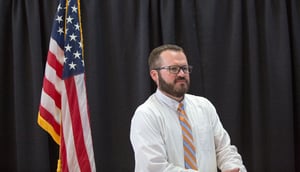 We do a special Veteran's Day chapel every year. They all have been really meaningful to me, but in 2017 my dad (a 24 year US Army veteran) gave the message. He talked about his time in Vietnam as a forward observer for the artillery, but more importantly talked about finding ways to serve the Lord and community on a daily basis. His sister (kind of the family historian) flew out from Virginia for it, too. It was pretty special. I have a framed picture in my classroom of the four of us from that day.
How do you incorporate faith into your history classroom? Along with that, how does faith impact your understanding of history?
I think discussions about faith come naturally to my class. I don't necessarily always plan to discuss some aspect of faith with each lesson, but through student questions or the topic of a lesson those discussions evolve. It leads to good conversations and some tough questions from time to time. My faith and its impact on how I look at history goes along with this. I always tell students that there are no coincidences in history (or life for that matter). Things always happen for a reason. I reference events in history that could be considered "major turning points" and try to connect how that didn't happen by mistake – just like how events in our own lives happen as part of God's plans for us. I make it a point to tell them I firmly believe it is not an accident that they are my students and I am their teacher – it is a divine appointment.
How do you prepare a student for entering a university and world that may be opposed to Christian thought?
We examine a lot of different sources of information to study history in class. Often, we have to look at who the source is by, the events going on surrounding the source, and if there could be any bias in the source. I think that skill can benefit a student entering into a world where they will be bombarded by lots of different messages and viewpoints. Look to where the information is coming from, evaluate it, pray about it, and remember the truth that is Scripture and God's plan.
Do you have a favorite memory or tradition at LuHi?
We do a lot of fun things that are memorable. Homecoming lip-sync competitions, dress up days, etc. But the Veterans Day service along with the annual soup & salad dinner we do on Veteran's Day to honor their service are pretty amazing.
What do you do for fun?
I enjoy hiking, hanging out with friends, catching an Avalanche or Rockies game, and once a week I clean out dog kennels at the local animal shelter. It's oddly rewarding for what the job really entails.
How do you stay connected to God? What would you say to encourage students in their faith walk?
One way is our chapel services at LuHi. We gather as a student body three times a week for them. While we do get some great messages from teachers and outside speakers, I really enjoy when the student worship group leads chapel. They usually include songs which we sing together. We have some talented kids with great voices. It's a great way to have some time for reflection and worship. As students move on from LuHi, I'd encourage them to find a church group or organization that they can get involved with right away.
Thanks for sharing your knowledge and passion for history, Mr. Doebele. Yours is a good reminder that nothing in history or in our lives happens on accident. We have a God who "works all things together for the good of those who love Him, who have been called according to his purpose" (Romans 8:28). May God continue to bless your ministry at LuHi!