Devo: Hearing God's Voice
Today, let's dive into John 10 and see what Jesus, our Good Shepherd, says about hearing His voice.
How do you recognize your coach's voice?
When you're playing a game—let's say basketball—you're in a crowded gym with screaming voices, all saying different things. You hear excited fans, your cheering mom and dad, yelling players from both teams, and the opposing team's coach giving directions you shouldn't listen to. In the middle of the cacophony, your coach is also yelling instructions to you. How do you discern which voice you should follow? How do you recognize your coach's voice?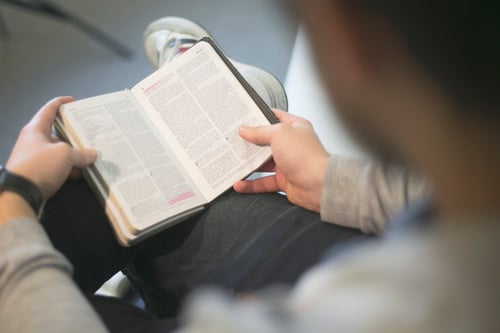 In John 10, Jesus uses the example of sheep and their shepherd to show us how to listen for the right voice.
"The gatekeeper opens the gate for him, and the sheep listen to his voice. He calls his own sheep by name and leads them out. When he has brought out all his own, he goes on ahead of them, and his sheep follow him because they know his voice. But they will never follow a stranger; in fact, they will run away from him because they do not recognize a stranger's voice."
Did you notice how the sheep recognize their shepherd's voice? They know it is him for two reasons: because he calls them by name, and because they recognize his voice. In fact, they run from a stranger.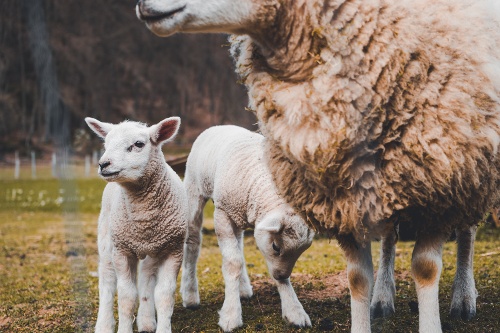 I didn't realize how realistic this actually was until a few years ago when I heard author Margaret Feinberg describe the time she spent with a shepherdess and her sheep. The sheep grazed in the field, and as Margaret and the shepherdess walked through the gate, they spoke in whispers. When Margaret asked why they were whispering, the shepherdess demonstrated what happens when she raised her voice.
"Sheep, sheep, sheep," she called.
All the sheep came running immediately.
Do you recognize when Jesus calls your name?
Do you come running when he calls?
If not, it can be because you're listening to the stranger's voice.
Our noisy life is filled with competing voices that drown out Jesus' voice. Sometimes it's the enemy who comes to steal and kill and destroy (John 10:10). He lies and tells you you're a horrible basketball player for missing that free throw so you may as well give up the rest of the game. This is not Jesus' loving voice.
Sometimes these voices come from well-meaning people. Like if your best friend wants you to go to a party with them that will be fun but will also have alcohol. Your friend is not purposely trying to get you into trouble, but you know this is a dangerous path. This is not Jesus' invitation.
Sometimes these voices come in the form of busyness. Maybe your boss changes your work schedule to Sunday mornings so that you can't go to church. Work is a good thing, but if it takes you away from a priority in your relationship with God, listen to God's still, small voice. Is it his assignment?
But how does that still, small voice sound?! You ask. How do I know when God is speaking to me?!
As Christians, we often make listening to Jesus more mysterious than it is. But God doesn't hide or disguise himself. He makes himself the Gate so we can walk through him into clear, purposeful, eternal life with him.
"Very truly I tell you, I am the gate for the sheep. All who have come before me are thieves and robbers, but the sheep have not listened to them. I am the gate; whoever enters through me will be saved" (John 10: 7-9).
When you become God's sheep, he gives you the Holy Spirit to help you recognize his voice. You hear him through his word in the Bible, through the wisdom and encouragement of other Christians, and through his quiet voice.
Most importantly, he calls you by name. Because your Good Shepherd knows you, he knows exactly how to speak so that you will recognize his voice.
Prayer
Good Shepherd, sometimes I'm not sure which voice to listen to. I confess that sometimes it's because I don't want to. Sometimes it's because I don't sit still long enough to hear. But help me to be still and know that you are God. Thank you for rescuing me, protecting me, and calling me to follow you! Amen.