Devo: The gold in the middle of the rainbow
How do rainbows and God's faithfulness connect? Today we dive into two great verses from God's Word to learn more.
As a kid, did you ever want to shimmy up a shiny rainbow and slide down to the pot of gold at the other end? It's one of the imaginary adventures of a child's lifetime. It can be disappointing when you grow up a little and learn that a rainbow is actually an optical illusion. But if you dig a little deeper into the science of rainbows, the truth is even more valuable than gold.
Here are some fun facts about rainbows:
Did you know that a rainbow is actually a complete circle? Typically we can only see the arch shape because the circle is broken by our horizon. But from a plane or a high building, it's sometimes possible to see the full circle of a rainbow.
No one sees the same rainbow because its shape and color are determined by the viewer's perspective. It will look different depending on where you're standing, where the sun is shining, and the shape of the horizon.
The sun is usually behind the person looking at the rainbow.
The center of the rainbow is exactly opposite the center of the sun.
It's widely known that God sent a rainbow to Noah when he promised he would never destroy the earth again with a flood. But isn't it interesting that a rainbows' beauty depends on perspective? That each person will see a rainbow differently?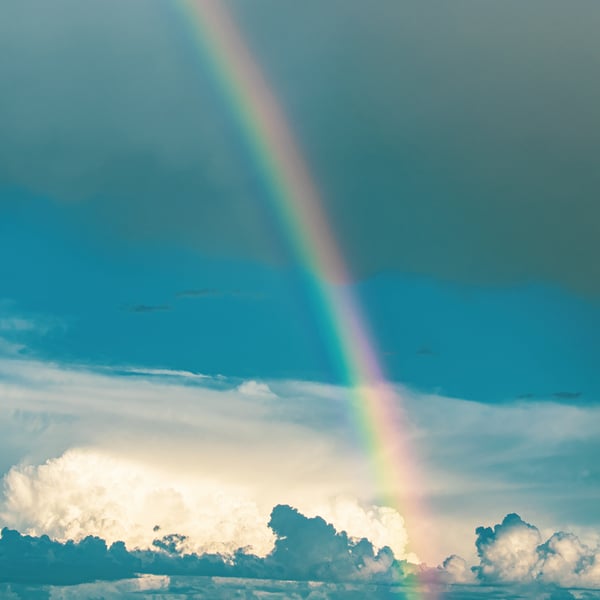 It's a lot like how we view God's faithfulness in our lives.
From where you're standing in life, what do you see outside your window? Sometimes it's easy to believe in God's faithfulness. Sometimes you're healthy, you've got good grades, and your relationships are solid. From where you stand, you see sunshine and rainbows.
Other times it's hard to see God's faithfulness. Maybe you feel like you're mentally or physically falling apart. Maybe you wonder why God isn't answering your prayers, or you're just having a terrible, horrible, no good very bad year. From where you stand, you only see rain and heavy clouds.
Wherever you find yourself today, God has a pot of gold for you--even in the middle of the downpour--and it's in this Bible verse:
"The steadfast love of the Lord never ceases; his mercies never come to an end; they are new every morning; great is your faithfulness." Lamentations 3:22-23
God's faithfulness, just like a circular rainbow, never ends. He is an always-giving, promise-keeping, forever-faithful God!
He gives new forgiveness every day; he loves you when you feel unlovable; and the Son is always behind you, shining through the rain to reflect light in the darkest places of your life.
Even though you may only see half of the rainbow of God's plan in your life, there is someone who sees the full picture: your Creator. In fact, he not only sees, but designs it in a brilliant technicolor spectrum of promise.
The next time you see a rainbow in the sky, remember that how you see it depends on your perspective. Let God's creation remind you that one day you will be able to see his complete, full circle plan, and it will be the most glorious rainbow of all.
"Now we see only a reflection as in a mirror; then we shall see face to face. Now I know in part; then I shall know fully, even as I am fully known" (1 Corinthians 13:12).
Prayer
Your steadfast love, Oh Lord, extends to the heavens, your faithfulness to the clouds! (Psalm 36:5). Help me to remember that your plans are always good, even when I can't see the full rainbow. Forgive me when I'm impatient, and give me strength to persevere in this beautiful, unique life you've created for me. I trust in your forever love. In your name I pray, Amen.