LuHi Alumni Spotlight: Beth Uhlig doing TB research in med school
Alumni Beth Uhlig (2011 Lutheran High School grad) is a first year medical student at Johns Hopkins University. Read her story here.
written by Taylor James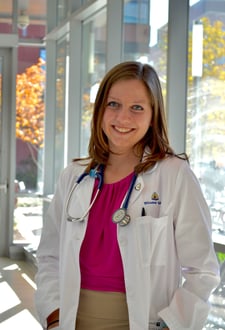 Lutheran High School alumni Elizabeth Uhlig has already accomplished extraordinary things since leaving high school. After graduating in 2011 with outstanding honors (including Valedictorian), Beth went on to Baylor University for her undergraduate degree. She completed her time at Baylor, which gave her the knowledge she could use to continue on to Johns Hopkins University Medical School and research countless areas in the medical field. Beth is now a first year medical student who has already begun to gain the tools that will allow her to succeed in everything she does. With an amazing love for God, others throughout the world, and her studies, Elizabeth has a stunning ability to make a lasting impact. She graciously reflected on her experiences in this interview:
Where did you first go to college and how did that prepare you for medical school?
"I went to college for four years at Baylor University in Waco, TX, and went straight to medical school the fall after I graduated. I owe so much gratitude to several mentors there who took me in and showed me the value of becoming a compassionate physician."
What are you currently working on in medical school?
"As far as classes go, we are in oncology right now. We start a new block every few weeks (i.e. Infectious Disease, immunology, cardiology, etc.) and it's been really exciting to go into clinic each week and be able to understand more and more of the disease processes and treatment of our patients. I'm still just a first year student so I'm really inexperienced, but it's great to be at a point in my education where I get to delve so deeply into the subjects that are so interesting to me. In addition to this, I spend time weekly in the clinical setting, developing skills in patient interviewing and physical exams, and applying classroom information to real life. I will be on the wards full-time come third year."
What have your mission trip experiences been like?
"I spent three summers in a small community in rural western Kenya that had an especially significant impact in my journey toward medical school. My experiences working in the Straw to Bread Clinic in Kenya were an incredible and applicable source of education. Straw to Bread is a 501c(3) non-profit that improves the health of an impoverished community in rural Kenya, largely through an annual trip to provide medical care and assist the development of sustainable projects. During my three trips to Kenya, I collaborated on community health projects and worked in the clinic, assisting physicians as they carefully worked through differential diagnoses and treatment decisions with minimal technological equipment. I learned so much about the value of medicine in such under-served areas, which will influence my future as a physician."
What kind of research have you worked on, presented, and where have you presented it?
"My greatest research experience in undergrad was working on my thesis, which was a requirement of the Honors Program at Baylor. I completed this project in partnership with the community on the Nyakach plateau in Kenya. I drew upon my interest in cross-cultural communication as well as my love for layout and design that began when I worked for the school newspaper at Lutheran, and designed picture-based medical instructions to use in our clinic. The goal was to improve communication to our non-literate, non-English-speaking, and uneducated patients, and the study came out with positive results. I presented this project in several places, including at the Unite for Sight Global Health and Innovation Conference at Yale University.
Following my global health interest and my experiences in Kenya, the Infectious Disease block in medical school was particularly fascinating to me. I have since started working on tuberculosis (TB) research with a physician at the Bloomberg School of Public Health across the street. TB still has a huge toll on morbidity and mortality worldwide, and the very places where TB is common also tend to have less access to health care. Each undiagnosed case of TB is not only dangerous to the patient, but also all the people he or she could infect, so I'm excited to work on research that studies the implementation of programs that actively find and treat TB cases to help bring down its prevalence."
How do you live out your faith in your work?
"At this moment in time, as my primary work is learning material and skills and preparing myself for future medical work, I use my faith as a place to fall back on and as motivation to continue my progress in learning. One of my mentors at Baylor enthusiastically encouraged my intellectual perspicacity, treating the love of whatever you are studying as an act of worship, or "playing in the Kingdom."
I have come through times when I have felt burnt out, overwhelmed and incompetent, and I try to keep the perspective described in a spoken word poem I came across – "Your degree is not for you. It is for those who are hurting. So relish in the opportunity to foster your gifts. Breathe in deeply the air of freedom to learn and bathe in God's grace that you get to learn how to love his children better. To listen to people better. To heal people better." (Finals Week by Stefan Vandenkooy). I use that to remind myself during times when I feel like I'm getting nowhere, that I'm not just memorizing genetic translocations or metabolic pathways, but I am preparing myself through this education to love people better, more effectively, via the pathways of medicine and public health. I hope to hold onto the mindset that the situation I'm in now is an intensely valuable privilege, and to retain the purpose I had for starting medicine in the first place.
My faith has also played a role in processing the interactions I have had with my patients. The patients know that at this point, they are the ones educating me, and I am extremely grateful for the way in which they have let me into the most vulnerable parts of their lives, sharing their medical journeys as well as their joys, pain, and challenges. They have had a profound impact on me."
How did Lutheran High School prepare you for where you are today?
"I see high school as a time when many interests and themes integral to my medical education journey began. I first developed an interest in learning Spanish during classes in high school, and in the years since have pursued and developed my skills in the language, hoping to use them to provide better care and communication for my Spanish-speaking patients. As previously mentioned, my skills in layout and design have been a creative outlet for me but also applicable in so many ways that I could never have imagined. The writing skills I trace back to AP Literature and AP Language have been immensely valuable in a hundred different settings, and I still look back upon my time as a "student athletic trainer" for girls' basketball as an opportunity way at the beginning to explore my interest in medical care. Throughout my whole time in high school, in classes, sports, and student council, I developed a work ethic and background of faith that has impacted and enhanced many of the experiences I have had since then."