Alumni Spotlight: Mary Dyson, class of '18, helping out in the Performing Arts Dept
Mary Dyson, class of 2018, is back on campus helping senior one-act directors hone their craft and get ready for their shows.
The Performing Arts Department is excited to welcome Mary Dyson, class of 2018, back to LuHi in a new role to help coach students as they direct one-act plays. She shares, "I will be there to facilitate and help out in any way I can! I am excited to help out with the Performing Arts Department because it has grown so much since I've been here; it's so cool to see so many students involved and working so hard."
Student-directed one acts open the first weekend of November on campus at LuHi.
Head of the Theatre Department, Jillian Lietzau, shares her excitement to have Mary working with Performing Arts again, "Ultimately, Mary is a trained theatre professional bringing her skills and expertise to our students firsthand. Mary will be working as a director of the Theatre Showcase as a whole. She will work closely with the student directors, being a sounding board for their ideas and giving advice and guidance on the best way to implement those ideas. Giving feedback and suggestions to our directors to help them through staging scenes and creating strong characters. Helping them with some of the creative and technical difficulties associated with any show. Mary will also assist Mr. Rudzinski, our tech director, and our student tech crew with the tech elements of this show. She'll partner with the student directors and Mr. Rudzinski to facilitate tech needs such as props, lights, sound, and coordinating scene changes. Mary has always brought so much joy and excitement to our theatre program. It's wonderful having her back!"
Mary recently graduated from the University of Wyoming, studying theatre and dance. She was involved in several productions while at UW. "I had the opportunity to be involved in shows in many different roles. I was a performer, director, stage hand, stage manager, and designer in various shows from dance productions, musicals, plays, play readings, and student productions."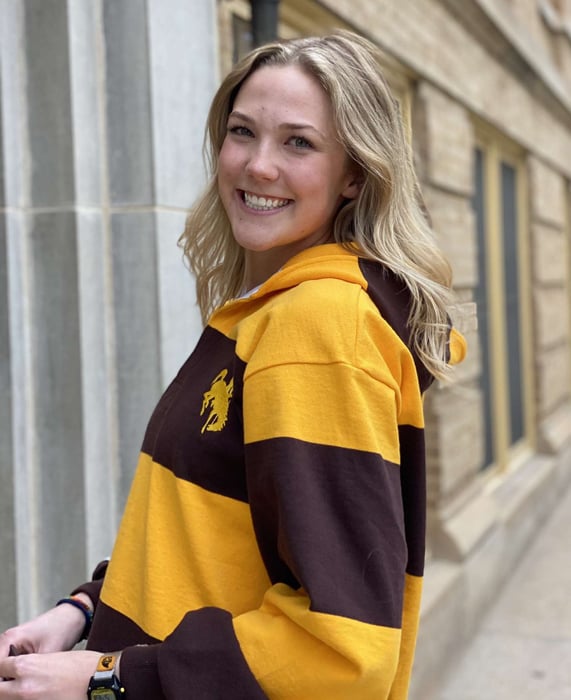 After graduating from UW, she spent six months interning for Disney in Florida. She shares a little about her experience:
"As for Disney, my role as a cast member was in Tomorrowland in the Magic Kingdom, working at the Astro Orbiter and Peoplemover! My job was to help run the two rides and ensure everyone was safe. I had a great time getting to know the wonderful people who work at Disney as well as interacting with so many new people who were visiting the parks. I applied to the Disney College Program in my last semester of college and went through an online interview process. After a bit of time, I was accepted and given a role and spent six months in Florida doing my job and getting the full benefits that all Disney cast members receive such as free admission to the parks! My favorite part about it all was being able to see the behind-the-scenes stuff that goes on at Disney as well as seeing how happy you can make people by being kind and offering help in the chaotic parts of the day."
While still at LuHi, Mary participated in Worship Class, was the scarecrow in Wizard of Oz, Topsy in the King and I, and Yenta in Fiddler on the Roof. She also received superior rankings in the solo acting competition at the Colorado Theatre Conference.
Ms. Lietzau shares some memories of Mary's time with the LuHi Performing Arts Department, "When Mary played the scarecrow in Wizard of Oz, she was so spot on with this role that after seeing her performance, many people (including the Bobby G adjudicators) said she reminded them of Ray Bolger who played the scarecrow in the original Wizard of Oz film. And she really did emulate him in every way in her performance. What an awesome compliment!"
Mary says her time in the LuHi Performing Arts Department shaped her during her formative years. "It's hard to choose just one LuHi teacher to give a shout-out to since all of them have always been so kind and welcoming to me - especially when I would pop in after I graduated. But my shout-out goes to Mr. Loesel and Ms. Lietzau since they were there with me when I wanted to start pursuing theater and performing. They are amazing teachers, leaders, and people with a very obvious passion for theater and the arts!"
Advice to current high school students
Mary shares, "My advice to current high school students is to pursue your passions and the things that make you happy. Life changes all the time, and so can your career. Just follow your heart, follow Christ, and you'll find joy just about anywhere."