Teacher Spotlight: Megan Obermueller
Have you met LuHi Spanish teacher Megan Obermueller yet? Get to know her in this month's teacher spotlight.
This month's Teacher Spotlight features Megan Obermueller who has been teaching Spanish at Lutheran High School for six years. Read on to learn more about her and why she chose to make LuHi her home.
Can you tell us a little bit about your background?
I grew up in Seward, Nebraska and attended college at Concordia University where my dad was a professor. During college, I studied abroad for a semester at the University of Costa Rica and then lived nearly a year in Venezuela immediately after graduating. My first teaching position was in Roseville, MN at Concordia Academy before moving here to Colorado.
How long have you been teaching?
I just finished up my 20th year!
What drew you to teaching a foreign language?
I knew early on that I would go to college for secondary education. I actually loved all subjects as a student, but I felt like teaching Spanish would give me many opportunities to be creative in the classroom. Studying Spanish is also so closely tied to people, culture, and building relationships. My life has been made richer and doors have been opened because I am able to speak Spanish. I'm hoping that comes through in my classroom. There are job opportunities and so many great reasons to study another language, but my passion is connecting with others.
What is your favorite activity to do outdoors?
I'd like to say surfing, but I don't think it counts if the only waves I can catch belong in the kiddie pool. So, hiking and sitting around a campfire it is!
Do you have any hobbies?
I love to travel, help at our family's Christmas tree farm, and cheer on the Nebraska Cornhuskers. Tell us something unique about yourself. In Bob Barker's last year hosting the Price Is Right, I flew to Los Angeles with my brother and two friends. We slept on the sidewalk in line at the studio because they always give out more tickets than there are actual spaces.
We got into the studio audience and my brother's shirt said "Pick My Sister!" They didn't pick me. Their loss! The whole thing was a lot of fun, though.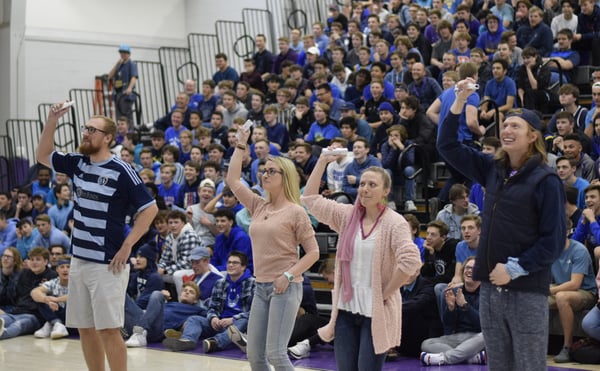 How do you see God at work in your classroom?
The fact that I'm in year 20 is a testimony to Him behind the scenes. It certainly hasn't been by my own strength and doing. I'm grateful for God's continued patience and encouragement for both me and my students. I pray my students come in the doors and know they are cared for and capable of learning the material. It's especially fun to hear how former students have pursued the language and to see how God has used the building blocks of high school Spanish to make an impact on their lives.
What do you hope to bring to LuHi students?
Joy in learning another language and cracking open the door to help them see the value in learning it.
Do you have any favorite Bible verses you'd like to share?
"The thief comes only to steal and kill and destroy; I have come that they may have life, and have it to the full." John 10:10
We had a wonderful time learning about Mrs. Obermueller and we greatly appreciate that she is a part of the LuHi family. Swing by her classroom sometime and say ¡Hola!