Teacher Spotlight: Rachel Andersen
Meet Rachel Andersen one of our music teachers! She teaches Music Theory and Wind Ensemble and also leads BluHi Jazz.
For this month's teacher spotlight, we feature Ms. Andersen, our music teacher. She has been teaching at Lutheran High for 5 years.
Can you tell us a little about your background? Where did you grow up?
I moved a lot growing up. I was born in Oregon and also lived in Arizona, South Carolina, and Virginia. I got a Bachelor's in Saxophone Performance from Colorado Christian University in 2014. Besides teaching at LuHi, I've worked as a church music director, private lesson instructor, choir accompanist, freelance performer, and theater director. I got a Master's in Saxophone Performance from the University of Denver in 2019.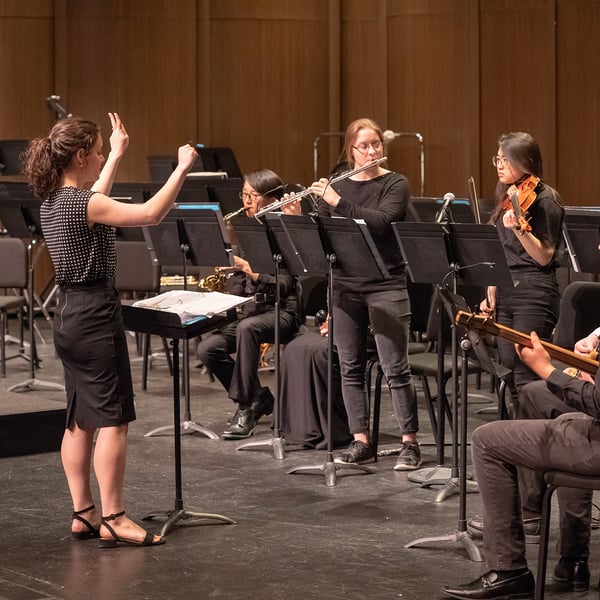 What led to your decision to teach music as your career?
I love making music, talking about music, and thinking about music. I thought that I'd be a Spanish translator and freelance performer forever, and teaching wasn't really on my radar. God had other plans, though! I'm so thankful that He led me to LuHi. I absolutely love teaching and now I can't imagine doing anything else.
Which instruments can you play?
My primary instrument is saxophone. I also play piano, organ, oboe, flute, and percussion. I play a handful of others, but not well!
What is your favorite piece of music?
That's a tough question! Probably October by Eric Whitacre, but Shostakovich's Symphony No. 5 is a close second.
What do you love about teaching at Lutheran High School?
I love getting to talk to students about their faith and how it impacts what they're studying. We have such intelligent, passionate students. Working with them is a lot of fun!
There have been some changes/moves with the music program's space. How has that impacted you and your students?
The new Performing Arts Room is a great space for all of the ensembles. The acoustics are designed so that they're ideal for choirs if they're facing the mirrors, and for instrumental groups if they're facing the back wall. The new space also gives us more storage for percussion instruments and makes it much easier to space students out so that we can keep making music, even during Covid.
Can you talk about some challenges you have overcome over the past year? How have you kept music alive at LuHi?
The biggest musical challenge we've had this year is figuring out how to navigate Covid restrictions for performances. We've had some performances that were only streamed online and some that were streamed but also had a small live audience. I'm looking forward to the day when we can return to fully in-person performances, but I'm also thankful for the technology we have that makes this possible, as well as the students' flexibility and patience as we work together to bring music to as many people as possible.
Where does music fit into the life of a LuHi student? How does it relate to strengthening a relationship with God?
Music is an important part of the human experience and should be part of the lives of all LuHi students. Wind Ensemble, BluHi Jazz, Bel Canto, Men's Choir, Jubilate, and the spring musical are all fantastic opportunities for students to make music. If that isn't someone's thing, singing during chapel and attending classmates' performances are also great ways to fill the need for music. Music is a beautiful gift from God. It gives us a way to praise Him, pray, and express the creativity innate in all Image Bearers.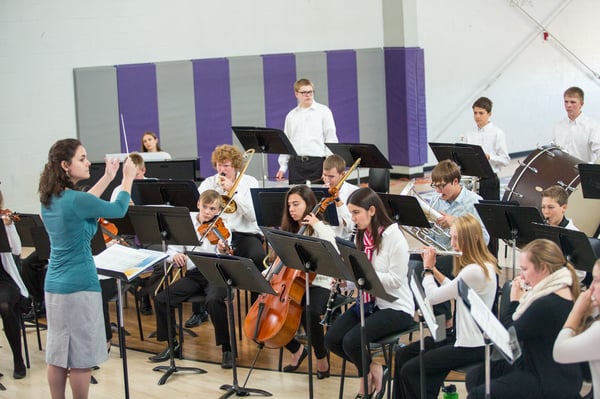 If you could perform with any famous musician (alive or passed), who would it be? Why?
I'd love to perform with Wynton Marsalis. His passion for music, zeal for education, and his place in jazz history is inspiring. Not to mention he's an amazing trumpet player!
Thank you for sharing about yourself with us, Ms. Andersen! It's been a pleasure getting to know you better - we're all looking forward to the next in-person music performance too!