Two Options to Earn College Credit at LuHi
Dual credit and concurrent enrollment classes expose students to college-level classes while in high school. Plus, tuition savings is signficant.
BY Lutheran High School Guidance Dept
At LuHi, students have two options for earning college credit while in high school. These options help our students tailor their high school education to their interests and give them a head start in college. Let's dive in.
Option 1: Dual credit from classes taught by LuHi teachers
Many people are familiar with Advanced Placement (AP) classes, but dual credit classes, a lesser-known option, pack a big punch in the college prep scene. LuHi is pleased to offer this unique advantage for our students. If you've ever wondered what dual credit means, read on for the benefits they offer students looking to get ahead.
Take a college-level course in a guided environment
A dual credit course is a single course taken in high school through an accredited college or university. Students receive immediate in-person instruction in the classroom from their current high school teachers. Discussions, assessments, and expectations align with the college curriculum but are made accessible by a teacher who is familiar with high schoolers' needs and learning styles. At LuHi, this is a major benefit because of our rockstar teaching staff and highly relational environment.. Students get the benefit of our culture plus a college-level course for credit.
We work with two partner universities who currently offer the following subjects:
Colorado Christian University (CCU): AP Literature, AP US History, and Music Theory. Students pay $200/class (less than $67/hour). CCU also offers a large array of online class options not taught in a LuHi classroom but where students can earn college credit just the same. Most students who go this route use their study hall time to work on their online college courses.
Concordia University Nebraska (CUNE): Spanish 2-5, Mandarin 1-4, and AP Language. Students pay $256.24 for 3 credit hours (about $85/credit). They must have at least a 3.0 GPA to apply and pass with a C in order to earn college credit. In the future, we are looking to add Speech and AP Literature to this lineup.
The average cost of a class at a public, 4 year university is $936 or $312/credit hour. And that's not factoring in the higher cost of private or out of state universities. For a more in-depth breakdown of college classes per credit hour, click here. So while LuHi students can take all the classes listed above without opting in for dual credit, the tuition savings benefits are significant.
Students who pass dual credit classes with a C earn college credit without having to take a special exam, as they do with an AP class. This is an important distinction to make because not all universities accept AP credit on transcripts. In recent years, material in AP classes has been updated slowly by the College Board, and therefore advancement of material isn't as current as that in university classes. Also, many schools used to require an AP score of 3 out of 5; now many schools require a 4 or a 5, while some don't accept the AP credits at all.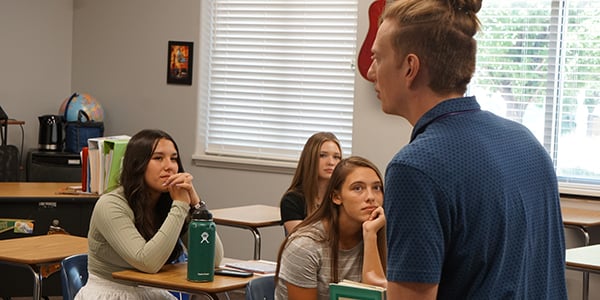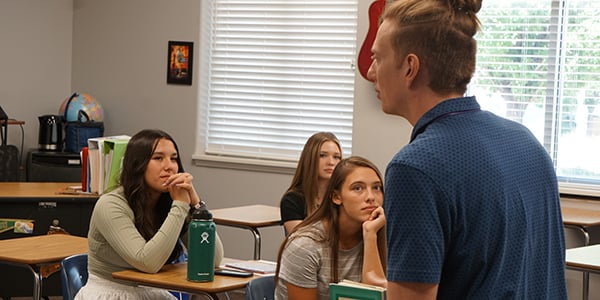 Option 2: Concurrent enrollment through online college courses
The end result is largely the same for students who opt to take concurrent enrollment classes through online college options. The difference is in the experience. While dual credit classes are taken in person at LuHi and taught by LuHi teachers, concurrent enrollment courses are done online and offered directly through the university.
With concurrent enrollment, course options abound. Basically, any online gen ed the college has available online will be available to the student. Another benefit for students is the freedom of a self-paced class. Many LuHi students take a study hall during the school day to block out time to work on these classes. Online college courses are taught by college professors and students will have college-aged peers in their class.
Although students can pick a college of their choice, LuHi partners with three universities:
Grand Canyon University (GCU): Students may take general education classes, including Accounting, Psychology, Sociology, College Algebra, Economics, Criminal Justice, and more. Courses taken through GCU usually last 7 to 9 weeks, which gives students the flexibility to take multiple classes per semester.
Concordia University Wisconsin (CUW): CUW online classes include Sociology, Psychology, Accounting, Marketing, Computer Science, and more. These dual credit classes are 15 weeks in duration.
Colorado Christian University (CCU): CCU also offers a large array of online class options not taught in a LuHi classroom but where students can earn college credit just the same.
A benefit of taking a class through one of our partner schools is tuition discounts. CCU classes are $200/class or $67/credit and CUW classes are $225/class or $75/credit. GCU classes are 4 credits each at $52.50/credit or $210/class. Like dual credit classes, the tuition savings can really add up!
Earn college credit that will follow your student to their university
Dual credit and concurrent enrollment coursework are accepted as transfer credit at a 98% rate at accredited universities across the country, as long as students have achieved a final grade of at least 78%. If these options sound like a good fit for your student, reach out to our Guidance Department for more information!