Devo: What The Office Can Teach Us
Do you love The Office? We do. How does that connect to Jesus and bible stories? Read on to find out!
How many of you have been obsessed with the TV series "The Office?" I sure was. I watched it when it aired from 2005 to 2013, and when I lived overseas for a year I actually Skyped with my family so they could point it towards live TV and I could keep up the Dunder Mifflin Paper Company. Recently the popular mockumentary TV series made a comeback and people are obsessed all over again.
So just what is it about The Office that's so appealing? Besides Jim's hilarious pranks and Michael Scott's awkward leadership, I'm convinced that the main attraction is the direct eye contact between us and the characters. The actors are interviewed by the cameramen and looking straight at us, and we feel like we're watching their life unfold in real time. We're a part of their story.
As you read the Bible, and when you read about Jesus, have you ever imagined yourself in the Gospel stories? The next time you're reading about the blind man being healed or the Sermon on the Mount or the feeding of the five thousand, place yourself in the situation and ask yourself:
Am I in the crowd on the hillside, curious or skeptical or______?
Am I one of his disciples, called to follow but feeling inadequate?
Am I one of the sick healed, knowing life before Jesus and life after Jesus?
Am I a Pharisee, confused about God's plan?
We all have times in our lives when we feel like a bystander, dedicated follower, leper or Pharisee. But wherever you find yourself in the stories, here is the truth:
"But the eyes of the Lord are on those who fear him, on those whose hope is in his unfailing love" (Psalm 33:18).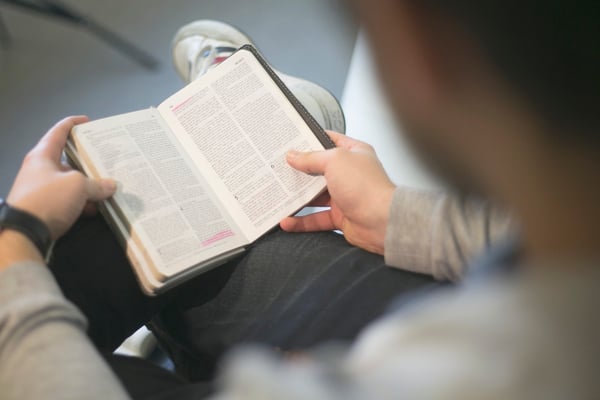 When you have a relationship with Jesus, he makes eye contact with you--not just the crowd, not just the Biblical characters we read about, not just your pastor or friend who seem to have it all together, but YOU. And he never looks away.
In the Gospels, we read about Jesus going out of his way to see a surprising selection of people and confess to them who he is. He saw poor fishermen in a boat and called them to be his closest friends. He saw the outcast woman at the well in Samaria, a place Jews did not visit. He saw Nicodemus the Pharisee in a late-night meeting and told him about the secrets of God's Kingdom.
Even if you feel like no one else sees you, your Creator, Savior, and Friend does. He sees you in your doubts and insecurities and fears. He sees your funny quirks and laughs with you at your jokes. He sees your pain and cries with you. He sees you when you're outcast or hypocritical or depressed or feeling unworthy. Most importantly, he sees your sins and still loves you. Romans 5:8 tells us that we know for sure God loves us because while we were still sinners, he redeemed us!
Today, Jesus looks straight into your eyes and says, "Do not fear, for I have redeemed you; I have summoned you by name; you are mine" (Isaiah 43:1). And then he calls you to join him in His story, imperfect as you are, because you are perfectly righteous through him and have a unique role to play in sharing your story with the world.
Prayer
Dear Jesus, "Keep me as the apple of your eye; hide me in the shadow of your wings" (Psalm 17:8). Help me never to forget that you see me as I am, sin and all, and you love me. That's hard to understand on this earth because people don't love perfectly, but please give me the faith to believe. Help me to love just as I have been loved, and to see others as I have been seen by you. In your name I pray, Amen.