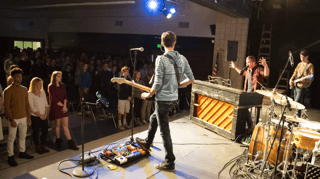 Our prayer and vision for our students is that they can stand strong in a world and culture that is challenging to the Christian faith. We hope each student will love like Jesus loves and be able to defend their faith in the face of internal doubts, honest questions by people in their lives or external persecution. In this way they can be leaders in the Body of Christ.
How We Develop and Strengthen Student Faith
Theology Classes
We disciple and teach the gospel through many things each day but specifically and intentionally through our Theology curriculum. Students experience the Word of God each year of high school.
Chapel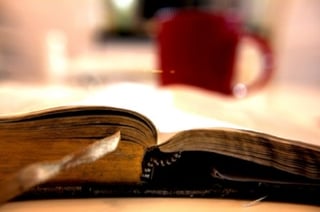 It is the opinion of some that gathering together, in person, as a group of believers is no longer needed in an age of digital information. If we can access Christian music, sermons, even full worship services online, why gather together in person? Can't we just grow closer in our relationship with God on our own? Isn't it just a personal matter anyway?
And let us consider how to stir up one another to love and good works, not neglecting to meet together, as is the habit of some, but encouraging one another, and all the more as you see the Day drawing near. – Hebrews 10:24-25
Chapel serves many important purposes in the spiritual life of the students. It allows our community to:
hear the Gospel message of Christ's death and resurrection
praise our creator
understand the importance of corporate worship
establish habits of worship and spiritual discipline to last a lifetime
Our chapel services are devotional in nature. The messages are rooted in the inerrancy of scripture viewed through the lens of our need for a savior and the blessing of the grace we experience through Christ's death on the cross and resurrection from the grave securing our salvation. The words shared remind the students that they are saved by grace alone through faith alone revealed to us through scripture alone.
Praising our creator is a regular component of chapels. With both staff and students helping to lead the community in song, students have the opportunity lift up their voices in praise and thanksgiving to the God that saves.
Make every effort to keep the unity of the Spirit – Ephesians 4:3a
Lutheran High School emphasizes the essential nature of gathering together as a body of believers. While chapel is an important component of a student's faith life, it does not replace being a part of a home church.
Chapel helps believers refocus in the midst of a busy day it is our hope that students are plugged in at a local church where they can experience the Lord's Supper, the blessings of an intergenerational community, and other ways in which believers can be strengthened through the local church. Hopefully this can also establish habits that can carry on throughout the rest of their lives.
All of this is to help each student have a very personal relationship with Jesus and to lovingly share with the people they meet in college or in the workplace the truth of who Jesus is.
We desire every one of our students know their identity in Christ as a beloved child of God. Their meaning and purpose is lifelong as they were created and chosen by God to love Him and love and serve others. Hopelessness is conquered by the confidence in their sure salvation/eternity and hope in the cross and what Jesus did there for them.
If you have questions or would like more information about how spiritual growth is nurtured and strenghtened at LuHi, please reach out to our Director of Campus Ministry Marty Kohlwey (martin.kohlwey@lhsparker.org). If you are a parent, Marty would be honored to give you resources and partner with you as your student moves through high school.