Greater Impact: Building Lifelong Faith at LuHi
Building lifelong faith at the high school level can make a difference in a student's post-high school life. Read about different ways we encourage growth.
High school is a pivotal point of life; it is both sunshine and storms. It can inspire or shake a foundation of values, self-esteem, knowledge, and even faith. According to Barna Group, three out of every five young Christians leave church either temporarily or permanently after age fifteen. That's a staggering statistic, and one that LuHi responds to very seriously.
Life's Four Big Questions
Marty Kohlwey is LuHi's Director of Campus Ministry and Senior Theology teacher. He says faith grows when students know why they believe. In the Theology curriculum, students learn the "whys" of Christian beliefs by working through Life's Four Big Questions. Simply put:
Who am I? A child of God.
Why am I here? To experience God's love and share it.
Is there any hope? I have eternal hope through faith in Jesus Christ.
What is true? There is only one truth found in the Father, Son and Holy Spirit.
Apologetics
Students study Apologetics every year, which helps them understand and explain the basis of their beliefs when meeting other worldviews.
Theology teacher Kevin Busch was recently contacted by a graduate who is thankful for his LuHi experience. Kevin says, "After his classes on World Religions and Apologetics at LuHi, my student is confident and prepared to share his faith with his peers at college. He explained to me how he has been talking to [his friend] about his faith and also learning a lot. It was so great to hear from him and see how seriously he takes his call as a disciple to be bold and to spread the love of Jesus."
Spiritual Disciplines
Martin Luther once said, "Christianity has not achieved its purpose if it has merely informed our heads but has left our hearts unmoved." Students are taught spiritual disciplines such as prayer, study, meditation, worship, service and simplicity so they can grow relationally with God as well as academically.
They see those disciplines enacted every day at LuHi. They see it in chapel worship, praying before classes and concerts and games, and in teachers and coaches who create a relational culture. They see it in the powerful testimonies of classmates like McKenna Turbyne, who was baptized last year.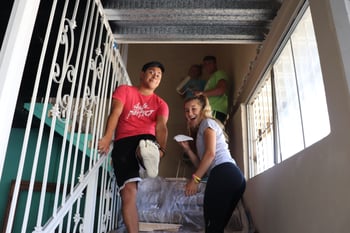 They also see it in our dedication to service. Students can participate in classes such as the Worship class, The Mission and Ministries Academy, and in clubs like the Lions for Life, which holds a weekly Bible study and attends the annual March for Life in Washington D.C.
Through our "Saved to Serve" program and "LuHi Serves" Saturdays for parents and students, we serve local and international organizations.
Post-graduation
Upon graduation, teachers encourage students to plug into a church or ministry. Raising lifelong Christians and giving students the tools to continue to grow in their faith is critically important. Graduates are invited to join current students on mission trips (there are often more former students than current). They can also attend a summer Bible study.
Marty Kohlwey asks students to stay in touch if they have questions, and he receives countless texts and emails asking for advice about secular classes, religious differences with roommates, and devotional materials. LuHi wants to be more than an alma mater; we want to be a support network.
It is LuHi's passion that our students not follow the majority and leave church after high school. Instead, with God's help, they will use the tools they've been given at LuHi to build on a faith foundation that can withstand any storm.
"Everyone then who hears these words of mine and does them will be like a wise man who built his house on the rock. And the rain fell, and the floods came, and the winds blew and beat on that house, but it did not fall, because it had been founded on the rock" (Matthew 7:24-25).