5 Things I Wish I Would've Known Before Choosing a High School
LuHi is blessed by many transfers each year. Hear their advice for choosing the right high school.
Lutheran High School is blessed with many transfer students who come in from other area high schools each year. Often times, these transfer students are looking for a school culture where teachers build relationships with their students, understand their learning styles, and are willing to invest time into them.
It's a joy for LuHi teachers to watch a student who may be discouraged, disappointed, or disheartened with their current high school experience to come to life and begin to thrive in classes and extracurriculars soon after arriving at Lutheran.
There are many school options in the South Denver Metro area and choosing the right one for a student can feel like a full time job. As parents and middle school students research, visit, and weigh the different options, hearing testimonies from current high school students can help guide priorities and conversations.
We've asked some of our transfer students to share their thoughts on what 8th graders should know when looking for a high school as well as what they wish they would have known before they choose their first high school.
1) Developing a relationship with teachers is vital to success. "I wish I knew that being able to have a lot of one on one time with a teacher is important for success. I think the most important part of high school is being able to prepare yourself for college and having a support system that will help you get the grades that you need to be able to receive scholarships.
Having gone to both [a local public school] and Lutheran I realized that LuHi has more teachers wanting the student to do well. At my old school, there were too many kids for teachers to actually get to know you and develop a relationship with you. It was hard for them to help students individually and push them to do their best." – Emma, class of 2017
"I wish I would have known how important it is to be able to talk to your teachers, ask questions, and know them really well." – Makenna, class of 2018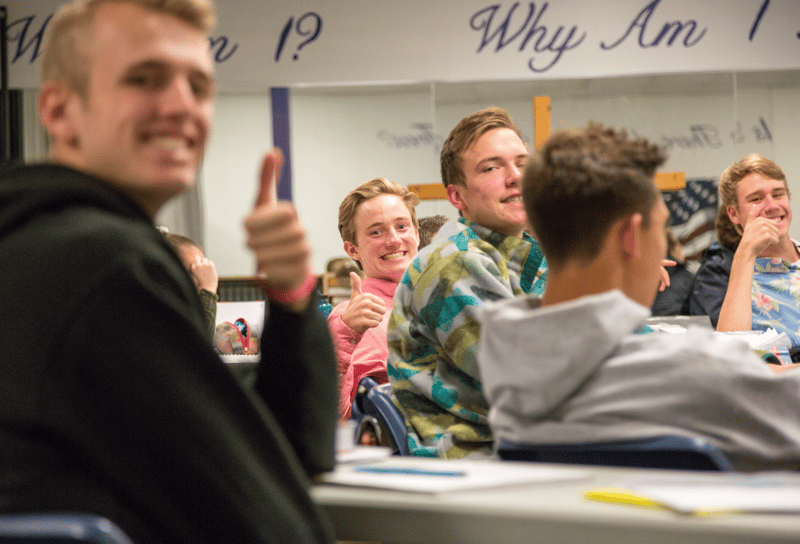 2) Find where you fit in. "I wish I would have known how fast you can get swallowed up in a big school. I shadowed at Lutheran my 8th grade year and liked it, but thought the larger, public school was more appealing. I spent 2 years at [a public school] and the whole time I had no identity. I had a small friend group there, but didn't feel like I mattered to the school or like anyone cared if I was there or not.
For me, Lutheran is the complete opposite. My tight knit friend group is still small, but despite that, I know my presence here matters and I've been able to make a positive impact. People care that I am here. I had lunch with a couple buddies from my old school the other day and they asked why I wasn't playing soccer there anymore. They didn't even notice that I had transferred a year and a half ago." – Erik, class of 2018
3) Avoid the temptation to chose a high school based on where your friends are attending. "What I wish I knew before I chose my first high school was that just because your friends are going there, it doesn't mean you have to. Your friends will change while you're in high school so you want to make sure the high school you choose is the one you will feel comfortable in.
I was in public school until 4th grade and then I was in a charter school. After going through public school again for my first two years of high school, I realized how much I took for granted at my charter school.
I would recommend seriously considering a smaller, more private school. You feel so much more involved and cared for in smaller schools. In public school you can feel swallowed and invisible. Some people thrive in these environments, I did not. You have to understand and know what you like and how social you are because that will greatly influence your decision." – Sarah, class of 2019
"What I wish I knew about high school before I went to high school was that things can change fast. High school can cause people to change, so you want to make sure that you are not going to the school because of friends, you're going there because of the environment of the school." – Andrew, class of 2020
4) Do your research. "My advice to an 8th grade student would be to do your research. Just picking a school because it's close to your house and where you're friends are going doesn't make it the right fit for you. Go on tours with your family and do shadow days so you know what you want in a high school." – Eva, class of 2019
5) Consider the school's culture because community matters. "I would tell an 8th grader looking at high schools to really consider community. For me personally, I would say the most important thing about high school is the friends you make, and so far at Lutheran, I have made so many. Coming to Lutheran was the best decision I have ever made. The environment with the other students is amazing, everyone is so nice." – Avery, class of 2019
The LuHi Admissions Department encourages families to tour multiple high schools so they can get a feel for the differences in culture, academics, and values of each one. Sending 8th grade students to a shadow day is the best way for a student to get a feel for if a school is right for them.
Most schools today offer similar honors and AP classes, boast of similar ACT or SAT scores, and are accredited. To find out what really differentiates schools, spend time asking the hard questions and getting to know a high school's culture and core values.
To learn more about LuHi's culture and core values, schedule your appointment with the Admissions Department today!