Greater Impact: Why Core Values Matter
At Lutheran High School our core values are being rooted in scripture, fostering a highly relational environment, and hiring the best of the best teachers.
After a student makes it through middle school, sometimes all the parent hopes is for their child to survive high school. But LuHi has a greater vision. "If we put students in the right environment surrounded by the right people where culture matters and Christian worldview is taught, God will work through them," says Executive Director Dan Gehrke. "I'm amazed at their faiths and I'm amazed at what they accomplish."
LuHi has that exceptional environment, thanks to our three core values. Let's dig into the key ingredients that create a school where students can thrive academically, spiritually and personally.
We surround your students with highly talented teachers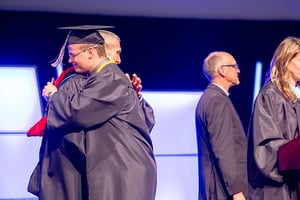 LuHi calls our teachers "talent whisperers" behind the scenes. Every single one of them is an expert in their field and has a passion to know, invest in and educate their students. They are all Christians, teaching from the same Biblical worldview.
LuHi teachers do not teach from a "one-size-fits-all" approach. Each teacher tailors their methods to their students, helping them own and analyze information for themselves, rather than simply regurgitating it back. In each classroom, interactive discussions are the norm. Students learn to think critically and develop a well-informed perspective on issues they will face professionally and personally.
LuHi meets and exceeds the standard academic measures for students due to the quality of the teachers. But that isn't all our teachers do. They also answer tough questions, pray with students, and prepare them for a life of service in the world.
We provide a highly relational culture
LuHi is a family. As such, we choose to respond to each other like a family in good times and bad. When a student was hurt in an athletic accident last year, teachers gave extra time and care to the students affected by the situation. We celebrate awards and achievements at events like the Senior Blessings night. We support each other in athletics and the arts, cheering on our fellow students. We laugh along with each other in traditions such as Christmas Spirit Week, wearing our ugly sweaters.
Living as a family also means working through conflict with love. As Christians, we approach difficult situations by acknowledging we are sinners in need of forgiveness. Expectations are clear for each student. There will be mistakes, but we all do our part in love to maintain healthy, Christ-like respect in our relationships.
We are rooted in Holy Scripture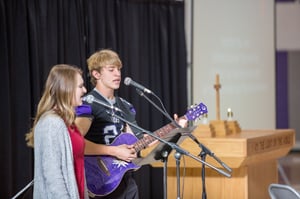 LuHi is a Christ-centered culture. We believe in God the Father, Son and Holy Spirit. We believe the Bible to be the inerrant, inspired Word of God which has the power to transform lives from the inside out. We believe in the saving power of Jesus' death and resurrection for anyone who has faith in Him.
At LuHi, our beliefs are expressed in many ways. Students take at least four Theology classes and can participate in Worship Class to lead Chapels. The entire student body attends chapel to worship three times a week. Devotions and prayer are offered before extracurricular activities. Staff and parents can encourage each other in groups like Thriving Parents and Parents in Prayer. The light of Christ shines when we take part in service projects around the community and in the world. In all these opportunities, students learn that faith is integrated into everything we do and forms the backbone of our character.
In short, LuHi does not want to be a place where students merely survive, or even achieve success for the sake of success. Instead, we seek excellence to give our best back to God and be world-changers for Christ. "We exist so that God can shape and transform lives," says Dan Gehrke. "We exist so that God can impact students and their families."