7 Tips to Help Make College More Affordable
College can be expensive. The large amount of college debt in America is no secret. Here are 7 tips to make college more affordable.
BY Lutheran High School Guidance Dept
College debt is now the largest amount of consumer debt in the United States, adding up to $1.7 trillion. While that's an astronomical number, it's also true that $46 billion in grants and scholarships are awarded to students by the U.S. Department of Education and colleges and universities every year. Take a look at the 7 tips below to see how you can afford a quality education.
Earn College Credits in High School
At LuHi you can take both dual-credit courses and Advanced Placement (AP) courses for college credits and potentially graduate early from college, thereby saving you tuition money. Our dual-credit courses are accepted at nearly 100% of accredited universities. Keep in mind that because it is a college course, each one requires a fee. But students that pass the course with at least a 78% will earn college credit.
With AP courses, students take an exam after the class and must receive a minimum of 3 or above on a scale of 1-5. Each test costs about $100. Not every college will accept a score of 3+ as college credit, so be sure to check in with the universities you are considering to see if AP is a good fit for you.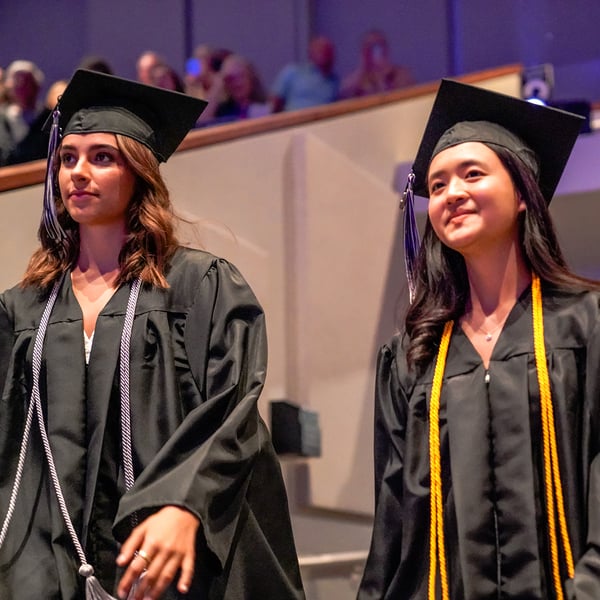 Fill out the FAFSA ASAP
A FAFSA is a Free Application for Federal Student Aid and is a must for every college hopeful. It might feel like a pile of paperwork, but it's worth it. In 2018-2019, federal aid met 31% of students' tuition needs. The FAFSA gives families access to need-based federal financial aid, scholarships, grants, and even work-study programs. The application is available on October 1st every year, so it's best to fill it out as soon as you can so you know how much aid is available to you.
The good news is that they're working on streamlining and shortening the application so it's easier for families to complete.
Widen Your Scholarship Search
Now is the time to ensure your hard work in high school pays off! First, check with our knowledgeable LuHi guidance counselors or meet with your college advisor for help with scholarship offerings. Then look at the admissions department of your schools of choice and also your major's departments to see what they will accept. Each college has its own requirements. Remember, some scholarships renew each year so note the application deadlines in your calendar and plan ahead!
Here's a list of some of the best scholarship sites which help you access merit-based, national, and local scholarships:
Consider In-State Schools
Don't have your heart set on a specific college yet? Community colleges can be inexpensive options for completing your first two years of general credits. Community college students pay about $3,800/year. If you plan to transfer to a university, talk with your academic advisor first about earning transferable credits.
If you want to attend a four-year university right away, consider your in-state schools first. Recent data from the College Board shows that out-of-state tuition is triple the amount of in-state tuition. Plus, you can save on housing and food by living at home with your parents (better check with them first, though!)
Textbook Hacks
Brand new textbooks can be expensive, adding up to thousands of dollars per term. Used books are more affordable, so head to the campus bookstore ASAP before they're snagged. You might also find used books at a nearby off-campus bookstore that buys back student books and sells them for lower prices the next year. Other options are to borrow them from the library or a friend or to look online at Chegg.com, Barnesandnoble.com or Amazon.com.
Do Your Housing Homework
Dorm living may or may not be the most inexpensive option since it depends on the typical rent in your college town. Dorm rooms are usually a flat fee including internet.
In off-campus housing, you'll most likely pay for rent, internet, utilities, and furnishings. You'll also need to consider the commute distance and cost. Remember that one or multiple roommates can be a fun way to make friends and also help share the cost of rent.
Meal Planning
Colleges provide a variety of meal plans and costs. Weigh the costs of an unlimited or limited plan with a certain number of meals/month. Check with your college to see if you can have a fridge in your room to make inexpensive breakfasts, lunches, and snacks.
If you're living off-campus, you'll most likely need a limited meal plan or grocery money. Keep in mind that shopping and cooking will take some time away from classes, studying, club, and social activities.
As you consider your college choices, don't forget to seek the wise advice of friends, family, and teachers, and don't be discouraged when you see tuition costs. Follow these 7 tips, make a plan early, dedicate important time to researching and filling out applications, and you'll be surprised at how affordable college can be!