Alumni Spotlight: Michelle Quinlan creating new cancer medicine
Michelle Quinlan, 2001 DLHS grad, is now working for Novartis as their Associate Director of Biostatistics in the Early Development Biostatistics Group.
What have you been up to since you graduated from Lutheran High?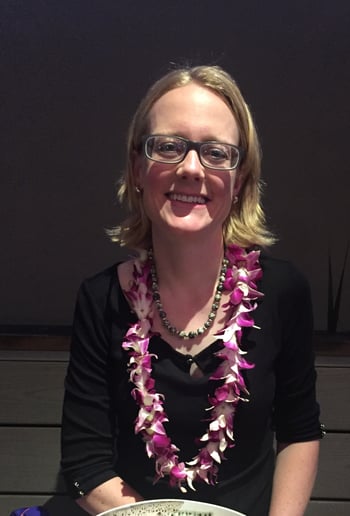 After graduating from Denver Lutheran High School in 2001, I attended Concordia University in Nebraska (CUNE) and graduated in 2005 with a BA in Math and Business, minoring in Actuarial Science. After that I attended graduate school in Statistics at the University of Nebraska-Lincoln (UNL), graduating with my MS in 2007 and my PhD in 2010.
At UNL I held both teaching and research assistantships. My dissertation research involved finding enhanced methods to estimate the shelf life of pharmaceutical products. After graduating with my PhD, I obtained a job at Novartis Pharmaceuticals in New Jersey as a Biostatistician working in the Clinical Pharmacology Biostatistics group.
I am still at Novartis and my current role is Associate Director of Biostatistics in the Early Development Biostatistics Group, working primarily on Oncology drugs.
My job involves designing clinical trials and analyzing the resulting data (e.g. to show whether a drug is safe and effective, to determine whether a drug can be taken with food or has interactions with other drugs), preparing documentation and analyses for drug submissions to the FDA and other Health Authorities for approval, and responding to questions from health authorities about data used to support claims about a drug).
Outside of education and work, I ran cross country and track for four years at CUNE. I continue to run and compete in races. I have now run five marathons (including two Boston marathons).
What are the biggest challenges and rewards you experience working in the Pharmaceutical Industry?
The biggest challenges are being able to effectively communicate on cross functional teams of people with various backgrounds. We all need to work together to get a drug approved but given we have differing areas of expertise (e.g. clinical, statistics, regulatory affairs, marketing access, data management) and speak different languages it can be challenging to work towards a common goal.
I need to communicate statistics to those who do not have a statistical background and at the same time understand others who are trying to communicate to me their area of expertise.
Another challenge is work-life integration. There are always urgent tasks that come up so it is important not to let work overtake areas of my life outside of work. Working in a global company such as Novartis there are emails arriving at all hours of the day, night, and weekends so it's important to set boundaries for myself.
The biggest reward is getting to see a new drug approved for patients in need. Working in Oncology, it is especially rewarding to know my work leads to the approval of new cancer treatments, prolonged life and/or quality of life for cancer patients, and hope for patients worldwide.
The treatment of cancer is an exciting field with new discoveries each day; it's rewarding to be on the cutting edge of new treatments which will benefit patients and in some cases save their lives.
It is also very rewarding to work with people of various areas of expertise (e.g. oncologists, clinical pharmacologists) to learn more about the science behind the drugs and data that I analyze to answer questions about the drug and its safety and effectiveness.
What did you value most about your time as a student at Lutheran High?
I valued most the Christian environment, excellent education (including AP classes and courses for college credit), and genuine care the staff had for us as students. The small class size was really important as it allowed teachers to give more individual attention to students. I also valued the opportunities that came from participating in cross country and track at a smaller school.
How did Lutheran High prepare you for college, career and life?
The quality education prepared me by giving me the background and tools I needed to be successful academically, in my career, and in life. The Christian education (including Bible classes and other classes taught from a Christian perspective) I received assisted me to grow in my faith and realize how important it is to maintain an active relationship with my Savior.
Being involved in cross country and track helped me learn to balance school with extracurricular activities, tools which were especially helpful in college.
With the gift of hindsight, how has your faith guided you through life?
My faith has allowed me to strive through various challenges in my life. When challenges arise, I know ultimately all that matters in life is my relationship with my Savior and He will always be there to guide me.
My faith has guided me to keep things in perspective and give God the glory for all successes, knowing He is always in control.
Are there any particular Lutheran High teachers, coaches or staff members that significantly impacted your life?
Yes; those that significantly impacted my life (in no particular order) include Mr. Brandhorst, Coach Stahl, Mr. Aufdemberge, Mr. Parrott, Mr. and Mrs. Hollenbeck, Mr. Block, and Doc Schaeffer (I'll never forget the great stories he used to tell!).
What are some of your favorite memories of participating in track and cross country at Lutheran High and in college?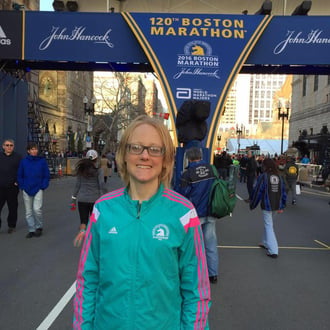 My favorite memories of cross country and track at LHS include the friendships I made with my teammates, Coach Stahl taking us to parks or places away from LHS for practice (e.g. Washington Park, the gullies, Ruby Hill, etc. which were much more exciting than running around LHS), team dinners, getting stranded in Pueblo after the cross country state meet was cancelled due to snow, my parents being so supportive and attending all my meets, and the rivalries with other schools and runners.
One of my favorite memories of cross country and track in college were the wonderful friendships I made with my teammates, encouraging each other during intense training sessions to reach our full potential, and hanging out outside of practice and meets.
Other favorite memories include morning runs, running on the quiet, peaceful country roads in Nebraska, trips to national meets, and writing RUN 4 THE ONE on the back of our legs before each cross country meet. My four years at Concordia (from both an academic and athletic perspective) were truly some of the best years of my life.
Is there any advice you would like to offer to the current and future students of Lutheran High?
I offer the following advice:
Take your education seriously and do all you can to learn more (e.g. ask questions, spend extra time studying) as it will pay off later in life.
The more you put into your education the more you will get out (this goes for others areas of life as well).
Seek out opportunities; be proactive rather than reactive.
Take advantage of the opportunities LHS has to offer (e.g. get involved in sports or extracurricular activities).
Lastly, appreciate the opportunities you have been given and communicate your appreciation to those people (e.g. your parents) who have been there to support you in life.