Alumni Spotlight: Audrey Biesk - Chief Bureau Reporter for WMBF News
Audrey Biesk, 2010 Denver Lutheran High School grad, shares her story about becoming the chief bureau reporter for WMBF News in South Carolina.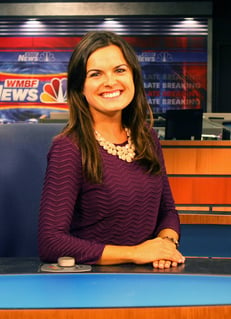 Audrey Biesk, a 2010 Denver Lutheran graduate and DLHS Principal Leadership of the Year award recipient, is currently the chief bureau reporter in Florence, South Carolina, for WMBF News - Myrtle Beach.
Audrey pursued her aspiration of becoming a TV news reporter at Concordia University Irvine, graduating in 2014 with a degree in Mass Communication Studies and a minor in Global Cultural Studies. She is now living out her dream while covering presidential campaigns, flooding, Hurricane Matthew, education, tragedies and triumphs. As Audrey says: "News is a wild ride, but everyday I thank the good Lord for keeping me safe and reminding me that telling people's stories is what I believe I was born to do."
When asked how Lutheran High prepared her for her career as a reporter Audrey shares, "Every teacher I was close to probably can remember that I told them I was going to become a news reporter. I think I told every single person in my life, for that matter, that it was my dream and I didn't need a plan B! My teachers and mentors never doubted me or thought it was "too big" for me. I think that was the overall atmosphere of the high school: Encouragement, love, support, advice, and forgiveness."
Audrey credits her 21 years of Lutheran education with preparing her to live out her faith in her everyday life through the way she speaks to people and the decisions she makes: "News is not the typical career one would think it is very "easy" to share your faith in, because most of the time we have to keep our stand unbiased and never mention God's name or our stance on religion.
That being said, I have found a different way to lead a life in the mission field that God calls us to do. The Great Commission in Matthew 28 really reminds me of how to spread the love of our Savior to every single person I interview and come across every day. There are ways I never knew before with how you can impact someone's life in a positive way; by a smile, empathy, honesty, and genuine selfless care to just listen to someone."
She went on to say that the importance of Christian education, family, and showing love to others are the most important lessons she learned from attending Lutheran High: "A daily walk with God is something every single teacher and staff member showed me. I firmly believe the relationships I created with teachers during high school impacted my life in college and my current day to day life in such a positive way."
When asked if there were any particular Lutheran High teachers that had a significant impact or influence on her life, Audrey fondly remembers Mr. Bredow and Ms Oates: "I felt like not only did both of them teach my favorite classes - and were extremely talented at teaching - but also took the extra mile in getting to know me as a person and invest in my well-being.
I felt like I respected them dearly, yet could talk to them as a close friend. That open line of communication and close relationship is so vital during high school years as we grow and mature during those times and never want to feel alone. I always think about when I have children one day and when they go through high school, how much I can only hope and pray for them to have the kind of experience that I did."
She also remembers Mr. Zoeller's Spanish class as the most entertaining and fun class at Lutheran High: "To be able to sing and play guitar and connect with high schoolers is alone a huge feat, and to make learning a new language fun is another. He did both! His sense of humor is impeccable and I know everyone would agree with how awesome of a person and teacher he is."
Finally, Audrey encourages current and future students to not take their years at Lutheran High for granted. "It is a privilege to attend Lutheran High and be a part of Christian education. Not very many young people can say they get to experience that in their lifetime. So that being said, be thankful every single day.
Take advantage of being around some of the best and most selfless teachers out there. Get as involved as you possibly can. Extra-curricular activities, sports, leadership, anything! It helps those years in more ways than you will know. Never feel 'bored' because there are plenty of opportunities to grow, learn and have fun outside of the classroom! Pay attention during Chapel, and Bible class, and don't get complacent in your walk with God. Be thankful you can pray together, sing together and encourage one another on a deep level."