Alumnni Spotlight: Ryan Langewisch, Software Engineer and Programmer
2011 Denver Lutheran Grad, Ryan Langewisch, is now a software engineer and programmer after graduating from Mines with his Masters in Computer Science.
What have you been up to since you graduated from Lutheran High Denver in 2011?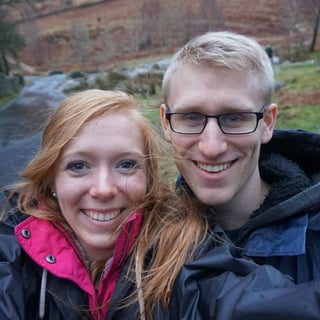 Since graduating from Lutheran High, I acquired my B.S. and M.S. in Computer Science from Colorado School of Mines, and now work as a Software Engineer in downtown Denver at ReadyTalk, developing audio and web conferencing software.
I also met my wonderful wife Mary at the end of 2014, and we got married in the summer of 2016. Outside of work, I have continued to pursue many of my creative hobbies (game development, music, etc.) which I blog about at www.ludolodge.com, and I am still involved as a musician with the worship teams at Bethlehem Lutheran Church.
Over the last year, I also started teaching game programming classes for kids through my wife's art studio.
What are the biggest challenges and rewards you experience in your current career?
My biggest challenge thus far has simply been the learning curve of joining a team working on commercial software that has over a decade of development history. It has really pushed me to keep learning daily, and not be afraid to ask lots of questions.
I do find programming to be a very rewarding profession though. I always have the opportunity to solve interesting problems and build solutions that have a direct impact on the business, and there are never a shortage of things to learn and areas to improve.
What did you value most about your time as a student at Lutheran High?
I think I most valued the relationships that I had with the teachers and staff at Lutheran High. Not only were there a lot of good role models, but I felt that I had friendships that extended beyond the typical student-teacher relationship.
It is hard to quantify the effect that these relationships had on my life, but seeing as high school is a time of major personal growth and development, I suspect it was significant.
How did Lutheran High prepare you for college, career and life?
Academically, Lutheran High checked all the prerequisites necessary to pursue my goals in college and beyond, but I think some of the intangibles were even more meaningful.
I think about how my involvement in sports fostered many important life skills (teamwork, discipline, etc.) that are applicable to so many areas of life beyond athletic competition. Having so many quality role models among the Lutheran High staff also helped me mature in my perspective about what is important in life.
With the gift of hindsight, how has your faith guided you through life?
My faith has always been the common thread running through my life, and looking back on my past only further strengthens that faith as I am reminded of all the ways God has blessed me over the years.
More than anything, I feel my faith has helped me to keep things in perspective, realizing that the stresses of life are so insignificant in comparison to the reality that we live as redeemed children of God. While my faith has felt stronger in some seasons of life than others, it has always been the one thing that circumstances are unable to take away from me.
Are there any particular Lutheran High teachers, coaches or staff members that significantly impacted or influenced your life (funny stories are always welcome)?
As indicated by my earlier answers, I have had a lot of really positive relationships with Lutheran High staff over the years. So while I can't acknowledge them all, there are a couple that come to mind: Sr. Zoeller, who shared similar creative interests on which we built an ongoing friendship beyond high school, and Ryan Bredow, who was the coach that I connected with most closely.
I am sure there are plenty of funny stories that I am forgetting, but I definitely recall all of the Zeatles gigs, playing classic hits like "Let J.C." for chapel services, as well as spending the morning of the State Basketball Championship talking about board games with Bredow over breakfast.
Is there any advice you would like to offer to the current and future students of Lutheran High?
Tried and true advice would emphasize the importance of keeping your faith at the center of your life and decision-making (which is great advice), but in an effort to provide something more unique, I'll say this: schools don't own education.
By that I mean, just because you take a class does not mean you really learned something, and you can learn something without taking a class at all. It is really easy to fall into the routine of simply achieving good grades, and kind of miss the point of getting an education.
The reality is, it isn't your grades that come along with you after you graduate, but rather the things you actually learned. Schools such as Lutheran High provide an awesome environment for learning, so see it as an opportunity and take advantage of it!
And if you are passionate about learning something, go for it and don't let the pacing of school hold you back! You will find that a genuine spirit of learning will benefit your life in more ways than you would expect.