Alumni Spotlight: Pastor Singer aids in Hurricane Harvey cleanup
Pastor Chris Singer, DLHS Class of 1987, shares how his congregation got involved in Hurricane Harvey relief and cleanup efforts.
What have you been up to since graduating from Denver Lutheran in 1987?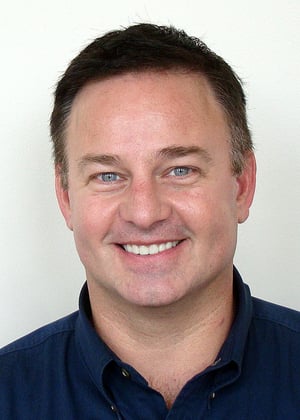 I graduated from Concordia Irvine, worked as a Manager for the Mustard Seed Christian Bookstores, was a Field Representative for Diamente Music in the Christian Music Industry, and went into full-time ministry as Contemporary Worship Leader at St. John's Lutheran Church in Orange, CA. Then, I became a pastor and served there for 18 years. I then took a call to be senior pastor at Trinity Klein Lutheran Church in Spring, Texas where I am now.
I have been married 23 years to my wife Jeanette with whom I have five children: Caleb is a graduate of Chapman University and is finishing his CPA examination, Hanah is a junior at Concordia Austin Texas, Rachel is a sophomore at University of Mary Hardin - Baylor, and Benjamin and Jacob are Seniors at Concordia Lutheran High School in Tomball, Texas.
When did you know you wanted to be a Lutheran pastor and how did God lead you to pursue that call?
I was sitting in church at University Hills Lutheran after a lengthy debate of whether or not I should go to church that morning. The Spirit moved my heart, and I argued with Him throughout the entire service. Then I told my dad following the service I was headed into ministry. I took a detour after college but God led me right back to that calling.
What are the most significant challenges and blessings you experience in your role as a Pastor?
Certainly being a pastor is something I consider myself to be unworthy of. The blessing is to see God use the gifts He has given me to be a blessing to others for His sake. The greatest challenge is not losing heart in the face of so many difficult situations that we go through personally and as God's people.
Please share with us how God used the church you currently serve, Trinity Klein Lutheran Church, to help the people affected by Hurricane Harvey last year?
After evacuating our own house when it flooded with 51" of water, we went to the church. Along with five other families, we started praying and then decided to do something. Before you knew it, we had mobilized search and rescue teams using social media, phones, and texts to reach different member families.
As we found out which areas were hit, we targeted families we knew were in that area. Families started showing up with boats, trucks, coats, food, and all kinds of needed help. They would drive their truck as far as they could, then jump on jet skis and boats and move into neighborhoods.
We pulled out about 30 families and intended to shelter them at the church for a few hours until they could make other arrangements. But, the need in the community called for us to open overnight shelters and serve the first responders with cots and hot meals. By the second day, we had 300 volunteers. They were awesome because things were shifting by the hour.
When we got past the emergency relief, we moved into recovery and restoration. We mucked out over 200 homes, then settled on fifty that would have the biggest struggle, with the goal to get them back in their homes.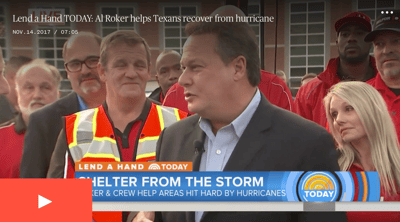 A few months in and we were starting to get stuck with homeowners needing things like roofs repaired before we could drywall. That is when a producer from NBC contacted me, and later Al Roker came with a crew to film the Today Show on our site.
Al Roker looked at us and said,"I can't believe what you guys are doing. The fact that your own house is devastated-we need more people in the world to help others when they're struggling."
The Today Show Crew brought gifts and supplies from Lowes to our, and we also received a $100,000 check from Balfour. Every dollar has gone into helping these homeowners get back into their homes.
Volunteer teams from all over the country have come to our operations as we joined with a sister congregation and my good friend and colleague at Salem in Tomball and started Heart for Texas.
Just recently Heart for Texas raised nearly $400,000 with a matching grant from Lutheran Disaster Relief and local furniture store owner, "Mattress Mack." We are now placing beds and dining room tables in many of these homes.
Jeanette and I have found ourselves at moments saying we are so upset for what we've gone through with the hurricane, but the very next moment saying we're so very thankful for the hurricane. With so many positive things the Lord is doing through people and seeing the response of so many, we wonder "Did it have to take a hurricane for all of us to do what we should have been doing all along?"
How did Lutheran High prepare you for college and your future calling and what did you value most about your time there as a student?
The teachers who were excellent at educating us were also ones who loved us and demonstrated God's grace to us. Some of us needed it more than others. They knew that, and they weren't afraid to extend that grace and love from God.
With the gift of hindsight, how has God directed, guided and led you through life to where you are currently serving?
I know that things we go through, even when challenging, are always within His ability to use as a blessing. He proved that in the worst of situations at the cross. An item that was utterly grotesque, twisted, and meant for humiliation is now one of forgiveness and beauty, and a straightener to even the most crooked path.
Are there any particular Lutheran High teachers, coaches or staff members that significantly impacted or influenced your life?
I could write forever about this as Denver Lutheran felt like an extended part of my own family to me. But, I would mention specifically Mrs. Betty Janke. Her dedication to excellence, her passion for service to the Lord through music, and her encouragement to me personally led me to try out for Choir, Light Brigade, All-State Men's Choir, and to pursue other music that led me to a career. It is still a part of me today when I lead worship from behind the keyboard.
Is there any advice you would like to offer to the current and future students of Lutheran High?
Isaiah 43:1-5 was a passage that I heard at a funeral once held in the gymnasium of the Denver Lutheran Campus. I remember hearing it under such a painful circumstance and feeling a strength returning to me and my faith.
So my advice is just a passing on of those very words from God "Do not fear, for I have redeemed you; I have summoned you by name; you are mine…" The light that shines through you is one that first shone for you!