Club Spotlight: National Honor Society
National Honor Society is a club at Lutheran High School in Parker, CO that focuses on academic excellence and community service.
Most of the clubs here at LuHi welcome every student who is interested. National Honor Society (NHS) is an exception. This unique club admits students based on several important criteria and provides them with opportunities to further develop core areas while attending Lutheran High.
What it takes to join National Honor Society
By its definition, National Honor Society is an organization created to recognize exceptional high school students. As a result, the application process is arduous, requiring a number of recommendations from outside of LuHi as well as from classroom teachers at Lutheran. In addition, students are required to prepare an essay and list of service participation, as well as any notable accomplishments.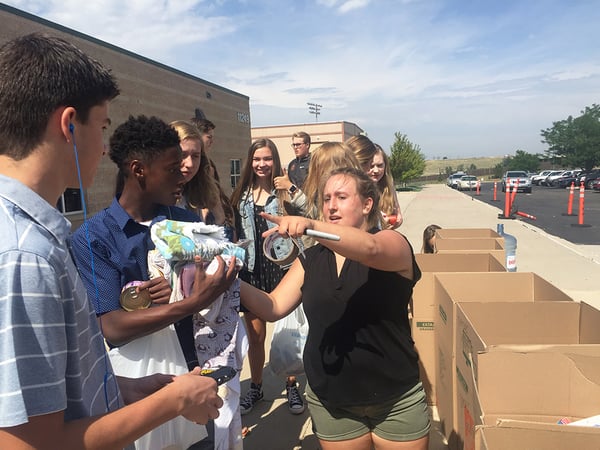 Here at LuHi, students' eligibility is determined by meeting the following criteria:
Academic performance: Students must have at least two (2) consecutive semesters with a 3.75 or higher GPA
Involvement: Since students in NHS are chosen to reflect the "best of the best," it's important for club members to be actively involved in school and/or community activities
Demonstrated excellence: LuHi faculty and leadership will consider students based on their demonstrated excellence in the areas of Leadership, Scholarship, Service, and Character.
In order to meet the rigorous academic requirements for entry into National Honor Society, students may apply for induction in January during their sophomore year. Some freshmen have joined LuHi's chapter because they were a part of the National Junior Honor Society at their middle schools. While these freshmen have already done most of the application process, they still are required to provide LuHi teacher recommendations.
Participating in National Honor Society
As representatives of Lutheran High, National Honor Society members represent Lutheran High out in the community. NHS students are active members of the community, participating in events and activities like:
Food collections for Parker Task Force
Sorting medical supplies for Project Cure
Raising money for the Lymphoma & Leukemia Society
Running the spring blood drive for Bonfils, and much more!
We are always planning new events and activities for NHS students to give back to the community. During the 2018-2019 academic year, National Honor Society also helped serve the homeless at the Table at Bethlehem Lutheran Church.
While on campus at Lutheran High, NHS club members are always "on call" to serve as ambassadors for our school in any capacity. From school events like our auction and canned food drives, to Grandparents' Day, Veteran's Day chapel, Veteran's Day supper, Open Houses, and taking international students to buy school supplies, National Honor Society students are constantly representing the best of our school to help others.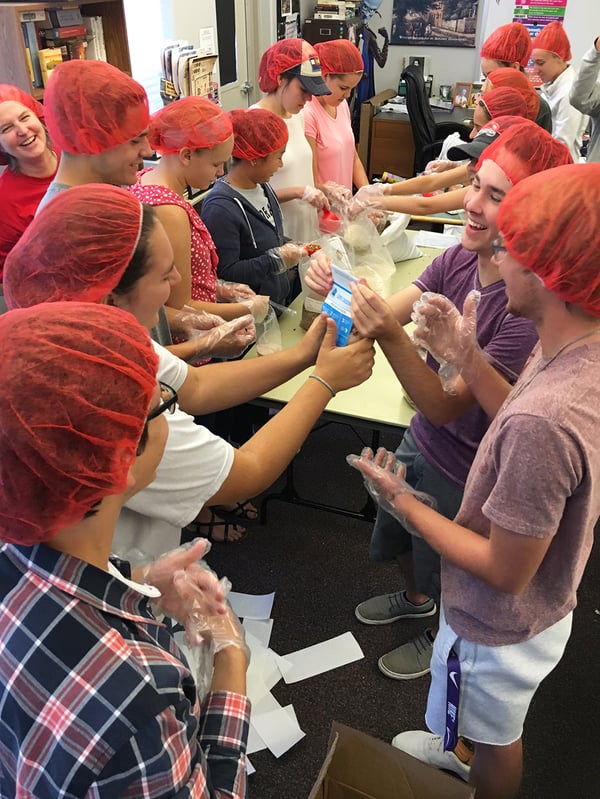 Maintaining eligibility in NHS
In order to remain a "member in good standing," students must maintain the high academic standards required for initial entry into NHS. That means students must maintain a minimum GPA of 3.75. In addition to our service requirement of 20 hours for every Lutheran High student, NHS members must complete an additional 20 hours of NHS-specific service (for the above activities, as well as others) throughout the school year.
As our Lutheran High family continues to grow substantially, our NHS membership continues to grow. We are extremely proud to share that LuHi NHS members delivered over 800 hours of service during the 2018-2019 school year. Our goal for next year is to top 1,200 hours – with passionate students who truly enjoy giving back, we are confident in our goal.
NHS club members are proud to represent Lutheran High in the community.
To learn more about National Honor Society, other clubs, or about life at LuHi, please contact our admissions department to schedule a tour.