How We Build a Christ-centered Community at LuHi
Keeping Christ at the core of who we are in highly important to us. Here's some ways we keep Him at the center.
At LuHi, one of our core values is to maintain a highly relational environment. In all our relationships, be it teacher to student or student to student, it's our goal to grow together as people and in our relationship with God. He is a community within himself—the Trinity of the Father, Son and Holy Spirit. Therefore, we become a stronger community when we learn to relate like He does. So what does that look like for the LuHi family?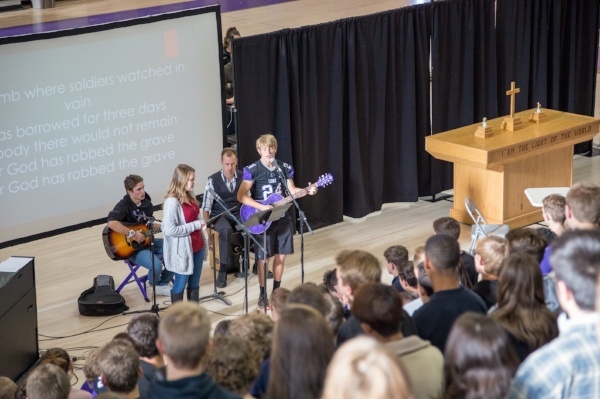 Our Family's One Foundation
First, it means being clear on what we believe. "There is one body and one Spirit--just as you were called to one hope when you were called—one lord, one faith, one baptism; one God and Father of all, who is over all and through all and in all" (Ephesians 4:5).
At Lutheran High School, we believe and teach that we are saved by grace alone through faith alone in Christ alone. Our educational and disciplinary methods are founded on sound, Biblical truth and modeled by God's loving relationship with us. We want students to be able to understand the reason for their faith, to respond to conflict with grace, and to express truth in loving, Christ-like ways.
Learning as a Family
Our Theology classes are designed to be a safe environment for students to have real discussions about the Bible, their faith, and the day-to-day application. Every staff member at LuHi is a Christian and they are able to pursue continuing education in the area of Theology. They are here not only to teach, but to be discerning sound boards and positive role models for our students.
Student McKenna McSpadden says that Theology classes have played a major role in her life. "As a freshman, I knew the basics, but now I know so much more about the Bible and I'm able to defend my faith. Teachers are able and willing to answer all my questions about the intricacies of the Bible." Theology classes cover the Old and New Testaments, Apologetics and Christian Living.
Worshiping as a Family
Chapel is a high priority for our school. "Where two or three are gathered in my name, there am I among them (Matthew 18:20)." We meet together each Monday, Wednesday and Friday for twenty-five minutes to honor God and hear the Word together. A teacher, guest speaker or the Worship Class will offer a message, and singing will often follow, sometimes led by the music students. It's an opportunity for the entire school to gather as one body, demonstrating the truth that even as each part of the body has different gifts, we are all one under Christ, who is our head (Ephesians 4:14-16).
Engaging and Serving as a Family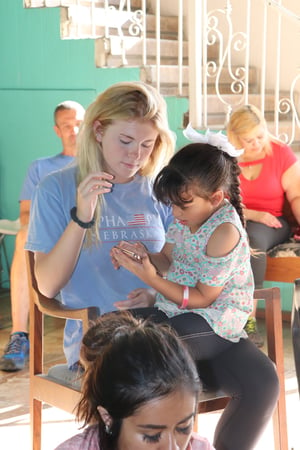 At LuHi a student's spiritual health forms the foundation for healthy physical, emotional and intellectual health. We don't limit our engagement with God to the classroom; it extends into everything we do.
In our athletic programs, prayers and devotions are spoken before practices and games. Music is an opportunity to share the Gospel through voices and instruments. In our 'Saved to Serve' program, each student completes twenty hours of service in the community to give back all that God has given us. Some students choose to go on mission trips, such as the one taken this past year to El Nino, Mexico. And there are countless other opportunities for growth, many of them occurring organically as we live life together.
With God's help, our LuHi family will continue to grow stronger as we learn, worship, serve and build each other up in love.