Greater Impact: Partnership Matters
A partnership between the parents and teachers is critical for success far beyond high school. We lay the building blocks of a transition into adulthood.

Your 14-year-old student is about to enter high school. It's obvious they are nervous; they spent the last 10 hours deliberating over what they are going to wear the first day of school. But we know you feel the anxiety, too.
So, what gives you peace of mind? If someone could promise that your son or daughter would excel in all their classes, make every team they tried out for, find the right group of friends, and have significant relationships with their teachers, that'd bring it, right? Then you could rest easy.
If that perfect promise doesn't exist this side of heaven, the least we can do is offer up what we know facilitates an easy transition into high school.
Accessible Teachers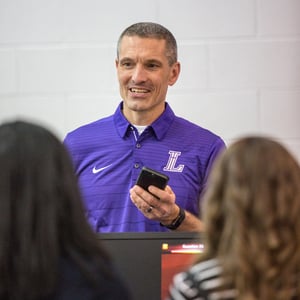 Helping students mature and thrive through their high school years takes a partnership between teachers and parents.
Partnership at LuHi often looks like:
A steady rhythm of communication
Alignment on core values so what's shown at home echoes what's taught in the classroom
Trusted guidance and leadership from teachers
Alignment on goals so all parties are working towards the same end goals
Accountability for student expectations
Repetition of the message of care and love
Teachable moments handled in a Christ-centered way
LuHi provides strong freshmen teachers that get it. They understand the stumbling blocks brand new high schoolers encounter. Moreover, they can foster a smooth transition.
The most crucial part of a partnership is a steady rhythm of communication. At LuHi, teachers return phone calls and emails to parents within 24 hours. It's a customer service oriented policy that furthers your peace of mind.
Doing the Small Things Well
As Mrs. Luplow mentioned in the video, "I think [the teachers] look at the kid and say, this kid has great potential."
Teachers who take notice of each student adjust, plan, and attend better to the needs of students. Without a level of personalization in the classroom, students don't thrive. Understanding how an individual learns most effectively is a small thing that goes a long way.
Holding students accountable to expectations is an everyday labor of love. People fall short of expectations. We're all sinners; we get it. The focus of our discipline at LuHi is on future opportunities a student will encounter. We want students to take ownership of the situation, make it right with all involved, and adjust.
Our goal as a community is for students to be impactful members of this community. With emphasis placed on accountability and honesty, we equip students to impact their future communities in a God-pleasing manner.
Freshman guarantee
Our Freshmen Guarantee exists to give you peace of mind. We put on paper what we expect of our freshmen teachers. The Guarantee includes:
Proactive check-ins with parents throughout the year, especially when the student is struggling or not reaching their full potential
Mid-semester comment reports
Staff time for collaboration on engaging, teaching, and helping freshmen Intentional conversation to find their "thing"
Checking on alignment with our core values
We have a system to check in, provide resources, and adjust. The reasoning is twofold:
First, we don't want parents caught off guard with how their student is performing. Instead, we want parents to be up to date with how their student is doing in and out of the classroom.
Second, this is a way to give students the opportunity to take ownership of their education.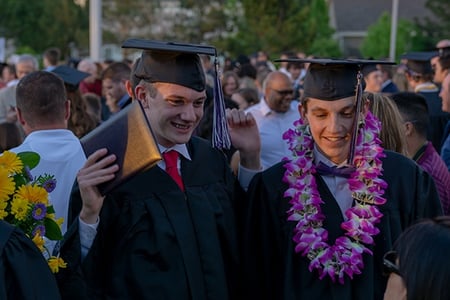 So what will actually give you peace of mind as your student heads into high school? Trusting they will survive the next four years is an OK goal.
But, in all reality, it's ok to expect more. You should want your student to thrive. You should ask for accessible teachers and consistent accountability from schools. You should expect schools to challenge your student to live up to their potential. And when something slips off course, schools should offer strong support to help put things back on track.