Alumni Spotlight: Lacey (Davidson) Morefield
Lacey (Davidson) Morefield graduated from LuHi back in 2009. She shares in this blog how LHS impacted her life.
Lacey (Davidson) Morefield graduated from Lutheran in 2009. She then went on to Liberty University where she studied graphic design with a minor in photography. Lacey lives with her husband, Michael, and their little boy Asher in Kansas City. She owns a wedding photography studio where she captures one of life's most precious moments. In this blog Lacey shares how LuHi shaped her life.
1)What have you been up to since you graduated Lutheran High?
After graduating Lutheran I headed off to school in Virginia to get my major in Graphic Design and minor in Photography! I met my (now) husband at my sister's wedding and it didn't take long for me to know he was the one! We got married almost eight years ago and moved to Saint Louis where he completed his Masters. We now call Kansas City home where he is an Associate Pastor and I own my own business as a wedding and family photographer! This last year we had the joy of growing our family and becoming parents to the coolest little dude around!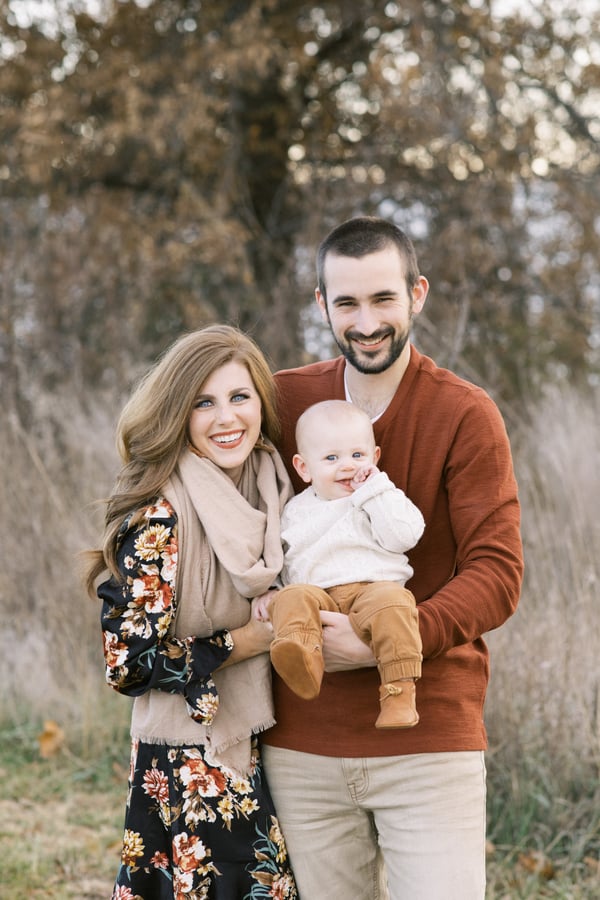 2) What did you value most about your time as a student at Lutheran High?
I loved learning day in and out in an environment where faith was valued and treasured. There was a strengthening of character, knowledge and understanding. Looking back I see the impact that had in the formative years of molding who I am today.
3) How did Lutheran prepare you for college and your future career?
The Lutheran staff were incredible with AP classes and applying them toward college credits! It was because of this that I was able to go into my college experience with credit hours which allowed me to graduate in three years with my degree! I'm so grateful for their individual care for each student and how their flexibility and support fast tracked my college years into my career!
4) With the gift of hindsight, how has your faith guided you through life?
Faith in a good, all-knowing, ever present God has been monumental through each season of my life! From choosing my college, to deciding on a degree, to waiting for a husband, to becoming an entrepreneur and starting a business, to walking through infertility and waiting on God's good time and way to grow our family. Each step held so many unknowns—but knowing the God who walked alongside me (and often times carried me), claiming His promises and resting in His character reminded me over and over again that He had a good plan for my life, my career, my family.
5) What is the most important lesson you learned at Lutheran?
The most important lesson I learned is working diligently always pays off (in education, sports & friendships)!
6) Is there a particular Lutheran High teacher, coach or staff member that has significantly impacted or influenced your life?
Mrs. Hill! When I attended Lutheran High Mrs. Hill was the track coach and AP Lit teacher. Little did I know at the time the impact that she would have (and continues to have in my life!) While she was teaching at Lutheran she was also beginning to grow her own business as a wedding & family photographer. At the time, I had no idea that that would be the path that I would end up taking as well! I went to college for a degree in Graphic Design and minor in Photography.
After graduating my husband and I were engaged and looking for our own photographer! Mrs. Hill had shot my sister's wedding (the same one I met my husband at!) and so we hired her to shoot ours. Once Michael and I were married I began realizing that I didn't want to pursue design as my main source of income, but photography. As newlyweds we had just moved to Saint Louis where Michael was completing his Masters and I had been in touch with Mrs. Hill. Come to find out, we were going to be living eight minutes apart from one another!!
During the formative years in my business growth, she took me under her wing and allowed me to shadow her at weddings, talk about contracts and workflows and helped form a solid foundation for the thriving business I'm grateful to run full time now! She was such a blessing and I will forever be grateful for her role in helping me become the business owner I am today!
7) Is there any advice you'd offer to current and future students of Lutheran High School?
You don't have to have it all figured out....that's what God's for. Right now all you have to do is be diligent to take the next step and He'll be sure to be there with you.
8) How does your job enable you to share the Gospel?
I love being a wedding and family photographer because of the incredible, real relationships it allows me to build with countless couples, families, extended families, friends & guests! The touch points that Christ allows me to have being His joy in both their everyday and some of the most important moments of their lives is a gift and an honor. My heart comes alive when I'm able to share on my website and social media about His goodness in my story & how He's shown up in the most unexpected ways!