Looking Forward to the Senior Retreat
Each year our seniors head to the mountains for some class bonding! The Retreat focuses on spending time in the Word together.
Senior Theology teacher Marty Kohlwey always looks forward to the senior retreat each fall, but this year he believes it may be more necessary than ever.
"This is the chance for seniors to start off their year right," he says, remembering that the 2020 retreat was held in April due to the pandemic. "The last year has been a struggle with Covid, masks, and without doing chapel together in the same room. So students are asking, what does Christian culture look like?"
The senior retreat helps to answer that question by reviving deep community among the seniors, helping them connect with God and each other. On September 26th and 27th, about 174 seniors and a few LuHi staff leaders will get to enjoy two nights in stunning Estes Park at the YMCA of the Rockies. The goal is to help the students see the opportunities and gifts they have to grow closer to God and to influence the underclassmen, especially as they prepare for leadership in the next stage of their life.
The weekend includes team-building activities, student-led worship music by the Worship Class, Bible study with Marty Kohlwey, and small group discussion facilitated by faculty and staff.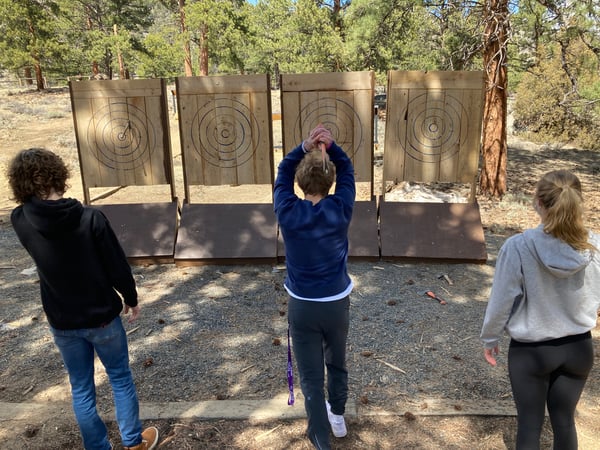 Outdoors, students get to enjoy archery, a climbing wall, roller skating, mini golf, sand volleyball, gaga ball, basketball, tennis, and a new fan favorite—ax throwing. Another tradition is to hike to Bible Point and share in a devotion at the top of a mountain.
Many of the seniors say their favorite part is the Monday morning "Prayer Challenge." Students carve out an hour for personal quiet time with God's Word outside in the majestic mountain scenery. Their challenge is to talk only to God, which includes the extra difficulty of turning off their phones! They debrief afterwards and share about the challenges and blessings they experienced.
Another highlight of the weekend is Sunday night's campfire worship where they sing praise under the stars and enjoy s'mores together. Afterwards, bunco master Mr Loesel leads a bunco tournament which is a huge hit for everyone.
The theme verse for this school year is John 15:16-17:
"You did not choose me, but I chose you and appointed you so that you might go and bear fruit—fruit that will last—and so that whatever you ask in my name the Father will give you. This is my command: Love each other."
The senior retreat is one of the powerful tools God uses to speak to our students each year. No matter what the world throws at them, our seniors will be equipped with assurances of God's love for them and be taught how to build lasting relationships with each other.
"Our students will be reminded this year that God chooses them and loves them," says Marty Kohlwey. "Because of who we are in him, we are given the ability to bear fruit: enjoying his love and sharing that love with each other."
Please join us in praying for our seniors, faculty and staff as they prepare for and enjoy the exciting weekend God has designed for them!