Spotlight on Student Directed One Acts: Kaden Groce
LuHi senior Kaden Groce took on the challenge of writing an original play to direct for the One Act Performances hosted by the Theatre Department.
Our Theatre Department has a longstanding tradition of student-directed one-act performances each fall semester. This year 4 seniors, Ben Sparling, Kaden Groce, Addie Eloe, and Kendall Savage, took on the challenge of directing one-act plays. Kaden Groce took on the challenge of writing his own one-act plus an original song to go with it. Let's dive in to learn more about Kaden's process.
Finding our Melody
Written and directed by Kaden Groce
How did you choose that play?
"Finding our Melody" is a story revolving around the main character Spencer, a musician who has always dreamed of becoming famous, and his wife Delilah, who used to share Spencer's dream but is now wanting to start a family. In the show, Spencer has heartbreaking news that he is going blind. The show spans Spencer's progression of losing his sight and his hopes of a music career. Ultimately, he loses who he is. He and Delilah face conflicts in their marriage, but overall she is his rock throughout these weeks. The message of that story is that even though Spencer is going blind it shouldn't stop him from following his dreams.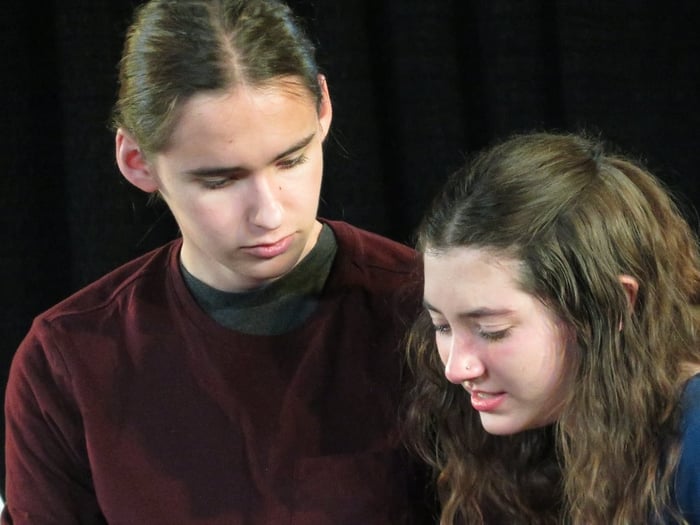 What was your inspiration for writing this play?
This is my second year of directing and through the process of picking a show, I couldn't find a show that I was in love with. This time around, I wanted a show with a strong message. One day, my dad asked me if I ever thought about writing my own show. I replied, "No that's crazy, I can't do that." He asked me to think about it, which I did and I ended writing my own show. I was brainstorming ideas and I wanted to highlight how much music means to me. Through this story, I wanted to tell everyone that nothing can hold you back from following your dreams.
What was your favorite thing about being a director?
I absolutely love the relationships I made during this experience. There usually are a lot of underclassmen that audition and because of that I am able to meet and help mentor these underclassmen. My cast becomes my family and it is amazing to watch these individuals grow not only as actors but also as people. It is also amazing to experience this opportunity alongside the three other directors. I have grown so close with them all and I absolutely cherish our memories together. I couldn't imagine this experience with anyone else.
What was the hardest part?
The hardest part of directing a show is probably putting everything together; the tech, props, stage, lights, etc. You want your vision to come to life and sometimes you have to face challenges and think outside the box to problems that oppose that vision.
Did you get to choose your cast? What was that process like?
Auditions were held during the first week of school. Over 40 students auditioned with a variety from each grade. We wanted to cast every person that auditioned in at least one of the 5 shows (including Mrs. Lietzau's show). Auditions lasted for a week, followed by callbacks. After auditions, the four directors hashed out who we wanted for our shows for about 3 hours in the music room.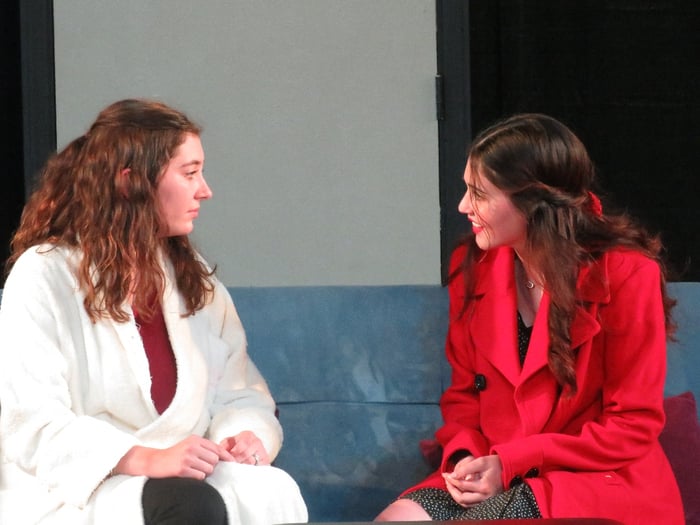 I hear you wrote an original song. Can you walk me through your process? Did you collaborate with anyone?
During this whole experience, the easiest part was actually the song. After I figured out my storyline I knew I wanted to write a song for my show. I called my friend and fellow director Addie Eloe and we ended up meeting and writing the song in about 3 days. We eventually found a local recording studio where we professionally recorded our song. The song features Addie and I singing from the perspectives of my main characters: Spencer and Delilah. It was an amazing experience to learn all the technical stuff for recording a song and we plan to put our song which is called "Our Melody" on Spotify.
What advice would you give to future seniors who want to direct one-acts?
My advice for future seniors is to enjoy it while it lasts. These shows fly by so quickly. I know some days you may want to just cancel a rehearsal, etc. Time flies by so soak it all up before it's gone.
Great work Kaden! Come back next week to learn more about the rest of our senior-directed one-acts by Addie Eloe, Ben Sparling, and Kendall Savage!