Photographer Gracie Oertli shares her talent and light with clients
If you're on Instagram, have been in the market for a wedding photographer, or both you've probably heard of Gracie Oertli, LuHi Class of 2016.
"When people get married overseas, they want a photographer who wants to have fun with them," says 2016 graduate Gracie Oertli. "But you also have to be adaptable and think fast on your feet."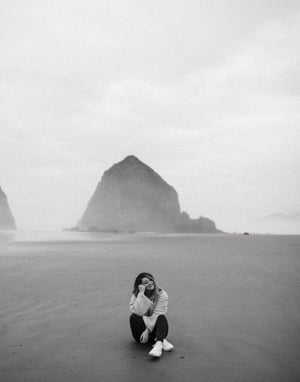 If you talk to Gracie, it's easy to understand how this nationally published photographer gets invited to the far corners of the globe. Her enthusiasm, ingenuity, and adventurous spirit splash into her words, whether she's talking about photography or traveling or faith.
Gracie describes her photojournalism style as playful, candid and real. Covering weddings, couples, births, maternity, families, seniors, and more, her artistic eye has taught her how to capture the raw essence of her subjects. "I try to be a photographer that doesn't pose," says Gracie. "I love the natural laughing photos—the photos where you can feel the emotions."
But Gracie doesn't just rely on her unique talent; she's also resourceful. Much of her success is due to her marketing savvy with Instagram which has grown her creative portfolio. She's been featured in Rocky Mountain Bride Magazine and was named a 2019 featured artist in Wedding Pioneer. It's also made her globetrotting dreams possible.
Her business has taken her to some of her favorite spots on earth, including New Zealand, Italy, Mexico, Australia, New York City, and the great state of Oregon.
So far New Zealand has been her favorite country, but her favorite trip was a photojournalism experiment with one of her photographer friends. Together they traveled through Europe using Instagram to find and connect to couples and offer their services. While in Venice, they randomly ran into a couple from her friend's high school. "We spent the entire day with them, walking around and taking pictures of them in the different shops. It was out of the blue and something we couldn't have planned. That's what I love about photography: you can capture the moments and the present you're in. It's so magical."
Gracie didn't always believe she could be a professional photographer, but looking back she can see God directing her one step at a time. When she was little, it was the camera she took with her everywhere. At LuHi, it was sharing her ideas with supportive teachers who were always in her corner. After graduating from LuHi in 2016, it was her connections at Colorado Christian University. Even though she began college undecided, she finished with an Associates degree in Communications and with ten weddings to photograph in her first year of business due to the small college couple connections. "God put me in that spot even though I didn't really know what I wanted to do, and it took off on its own," Gracie says. "Looking back, I'm so thankful."
But she wants LuHi students to realize that pursuing a dream career isn't easy. "It took a lot of convincing for me to dream big and actually do what I wanted to do. I felt like I had to take the safe option. When I took a step back and realized I wanted to do photography the rest of my life, I didn't want to disappoint anyone. But I took my steps hand in hand with God and said: 'If this is something you want me to do, let it take off.' It's better to step out in faith and be expectant than to settle."
A dream job still has its share of monotonous and challenging work. A typical day for Gracie includes hunkering down at the computer in the morning for editing, emails, and social media, and in the afternoon, a photoshoot at least three times a week. Plus, the pandemic caused its share of disappointments, including trips abroad canceled. But Gracie turned it into an opportunity, setting up "front porch photos." Gracie has learned that this difficult season has caused people to cling to each other even more. And it's another reason she integrates her faith into her profession as brightly as she can.
"Being a wedding photographer and Christian—it's amazing how you can reach people. Marriage is nothing without Jesus, which is a cool perspective I've been able to have throughout this process. With my couples, I get to be loud about it. So many brides are accepting of my faith. It's all over my Instagram and in the way that I treat people and the way that I talk, and I hope that that inspires people in the long run as well."
Gracie will be capturing a few of the 2.5 billion weddings expected in the 2022 Wedding Boom, but one of them she will not. Later this year it's her turn to be the bride, having just gotten engaged! Her photographer will have some talented heels to fill.
You can follow Gracie's photography on her Instagram or website. Here are some of her personal favorite shots: