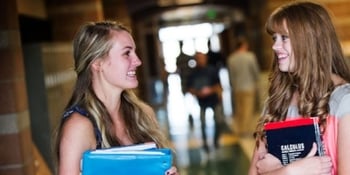 New to this whole, high school parenting thing? Or maybe are you on your last kid getting ready to finish high school? As educators of high schoolers that spend 45-55 hours with them a week, we spend a lot of time looking at resources on ways to best teach and impact your children. We want to share a collection of some of the best advice and research on raising this generation of teenagers as well as give you a glimpse into some of the educational philosophies of Lutheran High School. Here are 4 things you can do for your child as they navigate the ever changing world of high school.
Assure them of their identity
If you peel back the layers of the typical, American high school student; a search for identity is central to why students do what they do. Whether it is identity through achievement, looks, athletics, arts, or social status; high schoolers just want to know that they are known and loved. Reminding your child that they are loved by Jesus Christ on a daily basis can keep them grounded on a foundation that does not change even amidst the ever changing landscape of high school. Check out how the 2016-2017 theme verse speaks to this.
Empower your student to serve others
In today's social media, selfie infused landscape, we tend to focus on self a disproportional amount. Instead of focusing on how students can bring attention to themselves, encourage students to bring attention to someone who really needs it. The Denver metro area has needs in every corner from those that are hungry to those that are orphaned to those that need someone to simply love them. What better way to create character and inward growth than to serve those in need. Make it a family outing and take a day or even a couple hours to serve someone in need. Need a place to start? Check out the service opportunities on our website - http://www.lhsparker.org/service-opportunities
Help them manage the digital landscape
"Growing leaders" did a study on teens social media habits. Today's teens spend an average of 63 hours a week on digital media while parents believe that their child spends a mere three hours a day in front of a screen. Social media has upsides but it also has the potential for some serious downsides as well. "Growing Leaders" gives some excellent tips on how to help your teenager manage the vast world that your child is a part of on a daily basis. http://growingleaders.com/blog/potential-upside-social-media/
http://growingleaders.com/blog/potential-downside-social-media/
http://growingleaders.com/blog/raised-day-social-media/
Provide appropriate levels of support and accountability
Do high school students need support? Absolutely. Do high school students need accountability? Most certainly. Do students need parents, teachers, coaches, and other adults to bail them out of every problem they face? No. If adolescents become completely dependent on others to fix their problems and praise them for every minor achievement, are we setting them up for success in high school? One of the best things we can do for teenagers today is to help them learn to problem solve and to take responsibility for their actions instead of fixing everything for them. That will create students of character and integrity ready to face the real world. Want some more perspective on these dangers?
http://growingleaders.com/blog/helicopters-and-boomerangs/