Staff Spotlight: Lynne Rodefeld, Serving behind the scenes
Get to know one of our staff members, Lynne, who works behind the scenes in the front office but is a critical part to keeping LuHi running! Thanks Lynne!
It's important to step back from our daily rhythms sometimes and reflect on all the wonderful work God is doing at Lutheran High. Thanks to His provision, our student body is growing and thriving; our facilities are growing; our teachers lead with compassion and wisdom; and even when we don't see them in our classrooms and hallways, many staff members work tirelessly to keep the engine under our "ministry hood" running efficiently.
You may not know them well, but our office staff are essential to keeping our ministry working. Today we have the opportunity to get to know one of those valuable people, Lynne Rodefeld.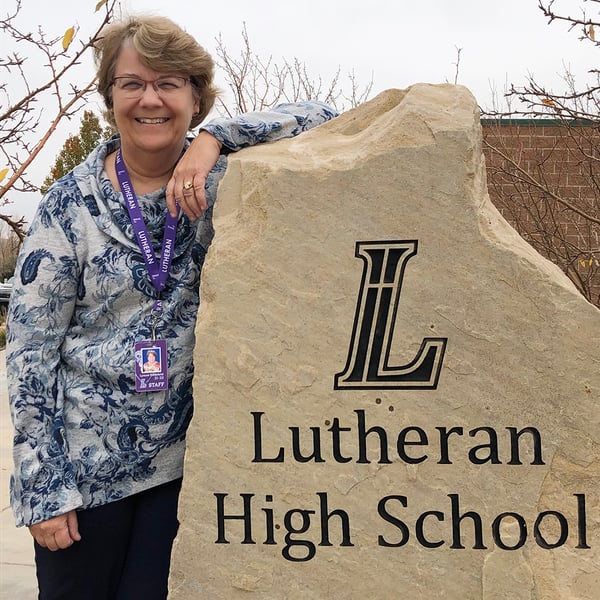 Lynne is our CPA and Controller and has been stewarding our finances at LuHi since July 2019. She was one of those rare high schoolers who knew what career she wanted to pursue by the time she was a junior. How many of our students can say they already know what they want to do when they graduate?
God gave Lynne a particular talent for details and numbers, so she followed her passion to Arizona State University and earned her Bachelors of Science degree in Accounting. For many years she worked in accounting in the secular realm, but it wasn't until later on that she discovered how rewarding it is to work in Christian environments. In 2006, God began opening doors for her to work with Christian nonprofit organizations, and in 2019, he brought her to LuHi.
As LuHi's Controller, Lynne is responsible for managing the school's finances by balancing budgets, keeping careful track of funds, and conducting regular audits to ensure that all the records are accurate. "A day of work revolves around my computer, calculator and a lot of paperwork," says Lynne. "What it's mainly about is keeping this organization running smoothly from a financial standpoint. Fortunately, I work with some talented people who help me manage that goal."
Lynne grew up in Phoenix and moved to Denver where she quickly met Keith at church, and he became the love of her life. They've been married for thirty years and have three children. All of their children graduated from LuHi. In her spare time, Lynne enjoys crafting, gardening and gathering with family and friends.
Lynne remembers a special moment that reminds her of the gift it is to work at LuHi. "One of my favorite memories was from May 2020 when the school had been closed to in-person learning. It had been a quiet few months in the office without students or faculty in the building. Many of the staff gathered one afternoon to circle the parking lot as the seniors drove through and were showered with well wishes and God's blessings on their graduation and futures. It was a huge testament to the community that is Lutheran High School."
We asked Lynne a few more questions to get to know her better:
If you were given an all-expense paid trip, where would you go?
Wow, if I were given an all-expense paid trip I think I would choose to go see Europe as I have never been there. More specifically, I would love to visit Switzerland, Germany and Austria where I have roots.
What is your favorite Bible verse?
My favorite Bible verse (although there are countless ones) is Philippians 4:13: "I can do all things through Christ who strengthens me."
What words of wisdom would you like to share with our students?
I would tell them that high school is a special time, but it will pass quickly. The things that seemed so important then will not be a big deal later. Be sure to solidify life-long friendships and find ways to stay connected even when you take different paths. Relationships are the big takeaway from high school!
We are so grateful that God brought Lynne to LuHi and for all the work she does behind the scenes to steward our finances well. Thank you Lynne, and may God continue to bless your ministry and life!