The Benefits of In-Person Learning
We highly value in-person learning at LuHi. This article offers resources and reasons for why in-person learning is important for students.
Just two years ago, an article about the benefits of in-person learning wouldn't have needed to appear on this blog. Oh, how much the world has changed! The coronavirus has affected the entire world but certainly has caused more decision fatigue and stress in certain groups, such as teachers, school kids, and their families.
However, Lutheran High has the great blessing of continuing to offer in-person learning, even as a possibility of returning to virtual learning looms over some school districts. Keeping students on campus, having face-to-face interactions with their teachers and peers is a top priority for us. Why? Because your kids are our priority, and in-person learning has proven to be the best learning.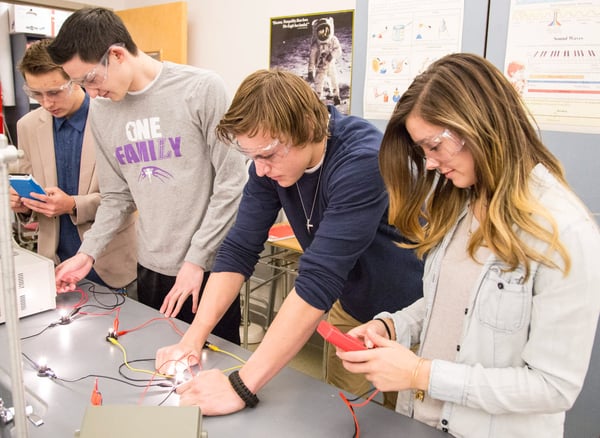 The downfalls of virtual learning
Research has shown that virtual school falls far short of in-person school. Students who learned online had lower test scores and were less motivated. In a national survey of teachers this past year, 2/3 of teachers said online students stopped completing homework.
A computer screen doesn't engage the same attention from kids. Without a teacher or peers holding a student accountable and providing positive social pressures, it's easy to get distracted or bored with school.
Connection with teachers
LuHi has built an excellent reputation in large part due to our talented, relational teachers. Their passion for students is naturally conveyed best in a classroom, where they're able to have direct eye contact and face-to-face conversations. In person, they can also maintain the quality of their teaching, not having to adjust their methods to fit a virtual model.
Chances are you've experienced how limited a Zoom classroom discussion can be. It's often hampered by technical glitches or poor sound quality or dogs barking. In online learning, students aren't as likely to volunteer or reach out to teachers with questions. They easily get lost in the noise and their education suffers.
At LuHi, in-person learning allows for the one-to-one interaction that we prioritize. Our teachers love meeting students in the hallway and checking in with them, or following up at the end of a class before they walk out the door. It's these small conversations that create a lasting impact. They show students they are valued, which results in confident students able to take ownership of their education.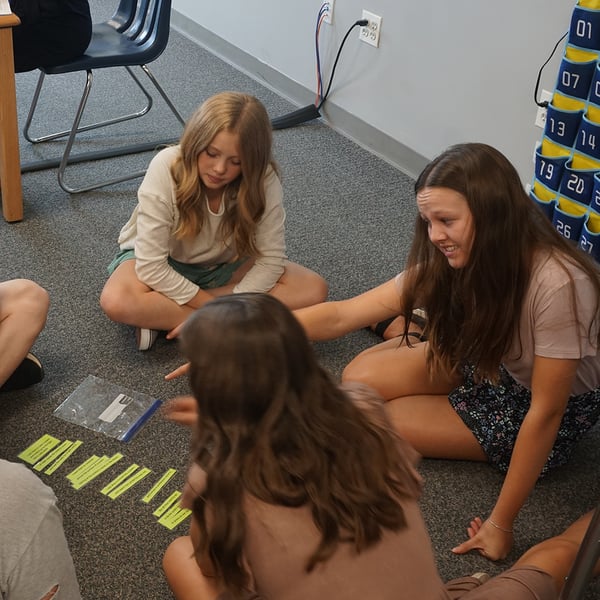 Connection with friends
Campus life is the fun, memory-making stuff of high school: the Friday night football games, Homecoming week, concerts, plays, dances, chapel, competitions, servant events… it's what makes LuHi, LuHi! Without this active, in-person Christian community, students can quickly lose touch with friends, their sense of self-identity, and their mental health.
Studies show that not only do friendships inspire joy, but they also strengthen teenagers' brains—brains that are at one of their most vulnerable points in development. Peer connection helps students better understand themselves, their place in the world, and people who are different from them. It's an integral part of growing up and becoming independent adults.
Participating in extracurriculars
Over the last year and a half, we have seen how important extracurricular activities are for high schoolers, and LuHi has continued to offer a wide variety of in-person clubs, sports, and activities. Not only do these opportunities give students a chance to grow in their personal passions, skills, and interests, but they also impact their futures and create connection points. This article shares, "Participation in these activities helps students to be more attractive applicants to colleges, universities, and future employers. More importantly, though, participation in these activities is an important part of students' identities. They provide a "tribe" of others with whom a common interest and skill set is shared."
Check out all the cool extracurriculars LuHi offers our students:
"In this world, you will have trouble," begins Jesus in John 16:33, "But take heart! I have overcome the world." Every day we experience the truth of Jesus' words with our troubled world and unknown bends in the road. But no matter what our schools, country, or world faces, LuHi will continue to prioritize our students' physical, emotional, and mental safety with Christ-centered, exemplary education.