Last month, we took a look at four foundational values that can help set up your child for success. Assuring a child of their identity, empowering your student to serve, helping them to manage the digital landscape, and providing appropriate levels of support and accountability can all go a long way to assist a child in their development in the high school years.
If you didn't get a chance to check out part one, I'd encourage you to start there and then move on to these next four tips.
While the first four tips were more focused on foundational principles such as identity and selflessness, these four get into some more practical suggestions as you navigate the high school years.
Encourage Face to Face Relationships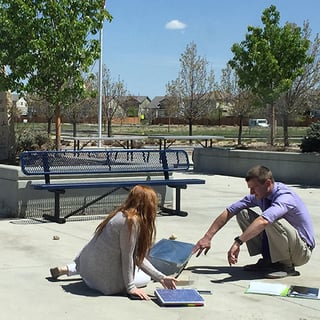 There is a new paradigm in education, parenting, and life that has emerged as the result of the internet as well as the smartphone. Students have access to a wealth of knowledge that they previously had to rely on adults for. The tendency with this kind of power is for students to rely on themselves and Google instead of seeking out the guidance of trusted adults and mentors. As much as students - and even adults - may fight it, nothing can replace the value of face to face relationships. The mentoring and influence that can come from the positive impact of an adult role model is essential to the healthy growth of a child. Google can give knowledge but a Godly parent, teacher, coach, or mentor can give wisdom.
Want to know where to start with surrounding your child with positive, adult influences? Check out this article: http://growingleaders.com/blog/seven-different-mentors-students-need/
Honor both short and long-term commitments
Our society has moved away from valuing both long and short term commitments. The common verse that is heard when someone asks if they would like to participate in an activity is, "Let me see and I'll let you know" which translates "Let me see if a better option comes along". Honoring short term commitments is a character builder for both high school students and adults. It teaches scheduling, responsibility, and valuing others for who they are not just for them being the "best option" for someone's plans.
Honoring long term commitments is another component of character building. Making a commitment to a team, club, ensemble, or class is something that should be honored for the duration of the commitment. Obviously, extreme situations can come up but if we can help students understand the importance of sticking with something through its completion we can build a value will pay dividends for life and show honor and respect to the people to whom the commitment was made.
Provide structure and assistance with studying
High school students need parents' help with homework. The students do not need parents to do it for them but they do need someone to give them structure and tools to complete it well. Give students a good, well-lit environment, free from distractions to work. Imagine the difference in productivity between sitting on a couch in front of a TV with the cell phone in hand versus a distraction free area. You can help your student be successful in homework by giving them goals, boundaries, and structure.
Take attendance seriously
There are plenty of reasons that students can come up with to miss school. While some are legitimate, helping students to understand the importance of being in school will help them not only in their high school experience but in post-high school life. Showing up to class, work, and other commitments is a life skill that can lead to success.
These final two tips come from the website kidshealth.org which published an article with some practical tips to help students succeed. I'd encourage you to take a look at all ten tips given in the article: http://kidshealth.org/en/parents/school-help-teens.html?ref=search#kha_52