Devo: What To Do When You Don't Know What To Do
Today, let's look at a passage in James and a passage in Hebrews to see what scripture says about asking and believing when we don't know what to do.
Ah, decisions. They're so much fun to make! (said no one ever.) Whether you're trying to choose classes or college, a prom date or job, pizza or Thai food, small and big decisions come at us hard and fast every day and can paralyze us.
Recently I came to an unexpected crossroads in my life. I had sensed a growing need for change, and after a lot of prayer, God confirmed the decision in multiple ways. Afterwards I felt peace, but later I questioned it and wondered if I should change my mind.
As I sat praying and doubting one night, God brought to mind a passage that has always confused me: "If any of you lacks wisdom, you should ask God, who gives generously to all without finding fault, and it will be given to you. But when you ask, you must believe and not doubt, because the one who doubts is like a wave of the sea, blown and tossed by the wind. That person should not expect to receive anything from the Lord. Such a person is double-minded and unstable in all they do" (James 1:5-8).
Immediately I understood what God was saying. I had asked him for wisdom. He had given it to me. But now, I was doubting him.
As you think about the big decisions in your life, let's look at the invitation God gives us in these verses in James.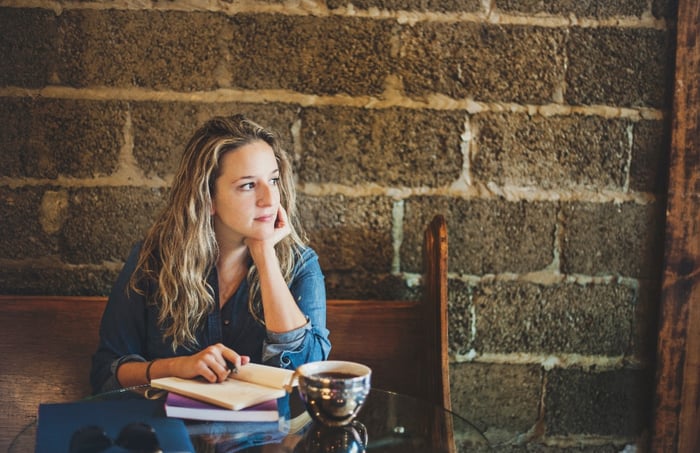 Ask
"If any of you lacks wisdom, you should ask God, who gives generously to all…"
God, the Creator of the Universe himself, makes his wisdom available to you! But are you listening? In our noisy world, we have to fight for quiet time to hear God's voice. He speaks to us through his Word we read, his Word we've memorized, through other people and in circumstances, but we often aren't looking. Jesus himself had to escape to solitary places to hear from his Father, and he lived before smartphones existed.
Think about ways you can set aside time to be quiet with God. For example, when you wake up in the morning, spend a few minutes inviting the Holy Spirit into your day before you touch your phone. Pray as you walk or go to bed. Then pay attention to how he's working and speaking throughout your day. You'll be surprised at what he shows you when you're actively, unceasingly, seeking His guidance.
Believe
"But when you ask, you must believe and not doubt…"
Wisdom is propelled by faith. It doesn't work on its own. Solomon had more wisdom than anyone else on earth because he asked for it, but he replaced his faith in God with faith in his wives and their foreign gods, and that was his downfall.
There will be times when it's harder to discern God's leading—when he seems silent, or when you have more questions than answers. This is when you can rely on the gift of faith. We're not always promised answers, but we're always promised God's presence. Pastor Jon Tyson of City Church in New York says that God often confirms his leading in multiple ways:
A growing sense of call
Inner witness (the Holy Spirit in you and guiding you)
Discernment of trusted advisors
Divine Doors
When you've asked for wisdom and God has given it, trust him!

Step Out
Now it's time to step out in faith.
Hebrews 11 is the "By faith" chapter of the Bible. In it we hear a long list of Biblical heroes of faith that stepped into the unknown because they trusted God. Abraham didn't know where God was leading him; Moses didn't know what awaited him beyond the Red Sea. But they stepped out in faith.
Newton's 1st Law of Motion says that an object at rest stays at rest and an object in motion stays in motion with the same speed and in the same direction unless acted upon by an unbalanced force. This is an apt depiction of faith. When we're in motion, it's easier for God to direct us and correct us, but it takes that first step of faith to demonstrate to him and ourselves that we believe he's in control.
As you face the big decisions in your life, let these words from James remind you to ask, believe, and step out. Consider reflecting on Hebrews 11 this week, and remember that God is waiting to shower wisdom on you generously!
Prayer
Father, I don't know what to do, but my eyes are on you. Give me wisdom; give me faith; give me motion as I step out into the unknown with you. Thank you for holding me and guiding me as I go. Amen.