Why Paying for High School Pays Off at LuHi
Learn about the process of applying for tuition assistance and see some reasons why paying for a Lutheran High School education is worth your investment.
Tuition payments can be one of the biggest turnoffs when it comes to applying to a private high school. Why pay for high school when so many free options exist? The reality is that free Christian secondary education - especially one that values a highly relational environment and talented teachers (like Lutheran High School) - doesn't exist.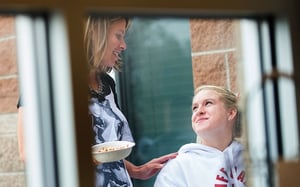 You may not realize that one of the deeper values at Lutheran High is that we do everything in our power to make high school affordable for families who value and desire Christian education.
Is a Lutheran High Education worth the investment?
Several things set us apart from other high schools - both private and public. A Lutheran High School education provides value.
As parents, you know that your investment in who educates your children is critical in their development. Value exists in surrounding your kids with people who share your worldview, care for your children, and are talented enough to nurture the abilities that God has given them.
Lutheran High's culture is unique - students can't fly under the radar here. Teachers will know their names, their learning styles, and how to help them improve. Moreover, they want their students to succeed now and in the future.
Combined with daily encouragement in their faith, we believe that our graduates will look back at their time at Lutheran High School as a critical step in their development.
"I walked out of Lutheran High School my senior year as a different person than I walked in my Freshman year. Each day I was challenged both academically and spiritually by my peers, coaches, and teachers. The relationships I made with my teachers have shaped me into the person I am today and they inspire me to pursue godliness in my academic, social and spiritual life. The lessons that they have instilled in me have helped me come into college academically prepared, ready to serve, lead and love as I follow the example they have set for me."
— Kayla Murphy, 2016 LuHi Grad
A financial investment in your child's future
At the same time, it is highly likely that paying tuition at Lutheran High School can actually save you tuition dollars in the long run.
In the 2015-16 school year, our graduates were offered a total of $6,662,908 in college merit scholarship offers over four years. That divides out to about $80,276 offered to each graduate over four years of college (or $20,069 per graduate per year of college). 681% more in merit scholarships were offered to LuHi students than to Douglas County public school graduates last year.
While the value of a Lutheran High School education is indeed so much more than just scholarship value at the next level of education, it is good to know that many families will see a quantitative financial return on their high school investment.
Can my family afford Lutheran High School?
Not every student pays full price to go to Lutheran High School. Generally speaking, about 50% of the LuHi student body receives some level of tuition assistance.
The FACTS
The process we use to determine a level of assistance for families is similar to the college financial aid process. The only factor that determines what a family pays to go to Lutheran High School is financial need based on a summary of a family's financial situation that is provided through FACTS.
Based on the FACTS report and often honest conversation, we are almost always able to find a fair monthly tuition amount that may stretch, but generally matches the means of the family. Conversations with families to explain special circumstances or needs not reflected in their tax information are welcomed and encouraged. It is then rare that cost would keep an interested family from attending Lutheran High School.
FACTS applications open up early in September each year. Eighth grade families are welcome to start the application process even before they apply for admission to the school. Incoming families will know their tuition assistance amount before it's time for them to make a final choice for high school. We understand that tuition costs will play a role in your high school decision.
Your resource through the Admissions Process
As you begin the process of applying for tuition assistance as well as applying for acceptance, feel free to contact Hannah Buchholz (hannah.buchholz@lhsparker.org or 720-822-7981) with questions.
We never want the cost of tuition to be the reason a student doesn't get a Christian education. At LuHi, the relationships built in and outside of the classroom along with the quality of our teachers create an atmosphere where academic excellence is nurtured and growth in Christ is encouraged.
"Lutheran high school taught and prepared me for my future more than I would have ever imagined academically, spiritually, and emotionally. The relationships that I built here between students and teachers helped me grow in my faith and help build who I am as a person. The community cares about each student, and helps anyone who will put in the work to achieve their goals."
— Joshua Bjorgum, 2016 LuHi Grad